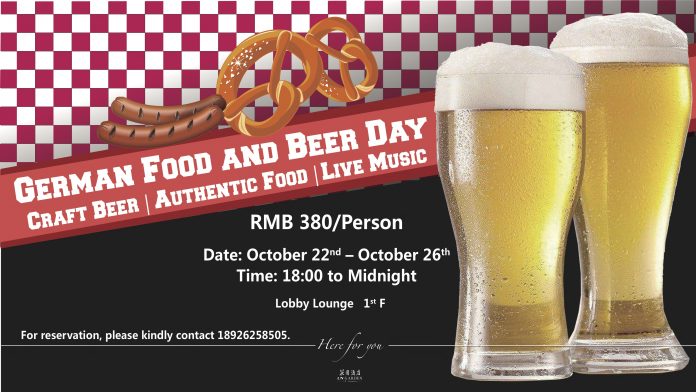 Experience the true Bavarian culture at the newly transformed Lobby Lounge of Garden Hotel, by celebrating 'German Beer and Food Day' from 22nd -26th October, 2017. Raise your glass, dance to the live music, gorge on the authentic German food and lit up the October spirit in you.
No one parties like Germans do! This is evident from the scale of beer festivals organized in the months of September and October in and around Germany; attended by people from around the world. These usually are not only "beer drinking events", they are fun fairs and folk festivals. Such festivals are perfect for you to engorge in German beer, soak it up with German food and dance it all off to German music. Join us at our Lobby Lounge to feast on Juicy sausages with scrumptious sauces, savory Pretzel and German Kaiser rolls, Munich style sauerkraut and of course the types of Draft German beer.
At Garden Hotel, experience the German food and beer culture as you sit our newly transformed Lobby Lounge. From furniture colors to the modern styled drop lamps, everything is being intrinsically designed to enhance your feel. Evenings are pepped with the live band music to end our day on a relaxed note. To sip in cocktail with splendid waterfall view and the landmark gold statue of Marshal Liu standing a tall, visit to our lounge is a must!
---
German Food and Beer Day
22nd to 26th October
Time: 18:00 – Midnight
Venue: Lobby Lounge – 1/F, LN Garden Hotel
For reservations, please contact (+86) 189 2625 8546