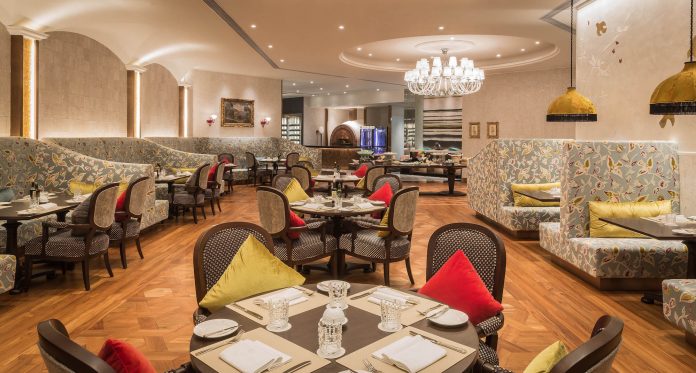 为庆祝圣诞节,新葡京酒店正式揭开节日礼品屋的神秘面纱,旨在庆祝传统的欧洲圣诞节。位于酒店大堂中心的礼品屋满满放置了由酒店西饼行政主厨村中德仁(Norihito Muranaka)与面包烘焙主厨Yusuf Cekirge手工製作的节日经典礼品,其中包括圣诞果子面包、圣诞蛋糕、梅子布丁、圣诞糖霜曲奇等。在揭幕仪式上,Yusuf师傅还展示了澳门最大的葡式国王蛋糕,这款蛋糕重逾10公斤,直径近1米,是葡萄牙最受欢迎的圣诞节蛋糕。
In celebration of Christmas, Grand Lisboa Hotel officially unveiled a very special holiday Hamper House designed to honour the traditions of a European Christmas. Set in the heart of the hotel lobby, the Hamper House is filled with all of the holiday classics of Christmas stollen, log cakes, plum pudding, Christmas icing cookies and more – all delicately handcrafted by Executive Pastry Chef Norihito Muranaka and Head Baker Yusuf Cekirge. At the unveiling, Chef Yusuf also presented Macau's largest Bolo Rei – weighing 10kg and nearly 1 metre in diameter – to celebrate Portugal's most popular festive Christmas cake.
本年度推出的豪华节日礼篮由酒店才华横溢的厨艺团队精心制作,主打新鲜出炉的葡式国王蛋糕以及一系列手工节日礼品。今年,新葡京酒店为了让宾客可安于家中轻松就餐度过温馨的圣诞佳节,提供全新设计滑轮式火鸡或火腿派对庆祝美食礼盒。「大厨」与「当奥丰素1890意式料理」亦为庆祝节日的宾客提供圣诞节及除夕晚膳菜单。
All of the luxurious festive hampers on offer include freshly baked Bolo Rei and an array of beautifully handmade creations from the talented culinary team. Grand Lisboa is also making it even easier for guests to dine at home this year with new, cleverly designed hampers that take the weight off carrying roasted turkey and ham. Or, for those who wish to venture out and celebrate at The Kitchen or Casa Don Alfonso, each restaurant is offering special Christmas and New Year Eve dinner menus.
葡式国王蛋糕
Bolo Rei
Bolo Rei即「国王蛋糕」,是一款在「国王日」或「主显日」享用的传统葡萄牙甜品。这个节日是为了纪念三位国王面见圣婴耶稣并赠其黄金、没药和乳香作为礼物的故事。色彩缤纷的国王蛋糕象徵著国王的这三份礼物。蛋糕金黄的脆皮代表了黄金,乾果代表了没药,而蛋糕芬芳的香气则代表了乳香。
Bolo Rei or "King's Cake", is a traditional Portuguese pastry enjoyed on the Day of Kings or Epiphany. This holiday celebrates the tale of the Three Kings who visited baby Jesus and brought gifts of gold, myrrh and frankincense. The colourful Bolo Rei symbolises the three gifts from the kings. The golden, glazed crust represents the gold. The candied fruit is the myrrh, and the sweet, fragrant aroma is the frankincense.
Yusuf师傅与他的团队为了制作全澳最大的葡式国王蛋糕,严格遵循了葡萄牙的传统做法,将水果在冧酒中浸泡了一个月,而且不含任何添加剂。厨师团队使用逾6000克的面粉制作面团,以及于蛋糕面上放了200多片干果。更值得一提的壮举是,通常制作这个大小的蛋糕需时约一星期,但厨师制作这个巨型葡式国王蛋糕都是圣诞礼品屋开幕前短短8小时完成。
Chef Yusuf and his team created Macau's largest Bolo Rei by strictly adhering to the traditional Portuguese recipe in which the fruit is soaked in rum for one month and no additives are used at all. The pastry chefs poured more than 6,000 grams of flour into making the dough and placed over 200 pieces of candied fruit on top of the king's cake. Remarkably, all of this was completed within just 8 hours for the opening of the Hamper House. This is a true feat, as normally it would take at least one week to make a cake of that size!
节日礼物
Festive Gifting
豪华的新葡京节日礼篮摆满了手工制作的精美节日礼品,其中包括葡式国王蛋糕、圣诞果子面包、色彩缤纷的圣诞糖霜曲奇、各款自制圣诞朱古力、意大利传统圣诞蛋糕及香槟等。每个节日礼篮的价格为澳门币2,388元*,可于大堂礼品屋预购。宾客还可购买一系列圣诞节礼品,由干邑、杏桃白兰地、黑冧酒及砵酒制成的传统圣诞蛋糕,到充满冬日香料及干果风味的传统梅子布丁,应有尽有。
The luxurious Grand Lisboa Festive Hampers are overflowing with exquisitely handcrafted seasonal gifts including Bolo Rei, Christmas stollen, colourful Christmas icing cookies, an assortment of chocolates, Panettone, a bottle of champagne and more. Each hamper is priced at MOP 2,388*, and is available for purchase at the Hamper House. Guests may also purchase an array of Christmas goodies, from Christmas fruit cakes made of cognac, apricot brandy, dark rum and port wine to classic plum pudding packed with the flavourful spices of winter and dried fruit.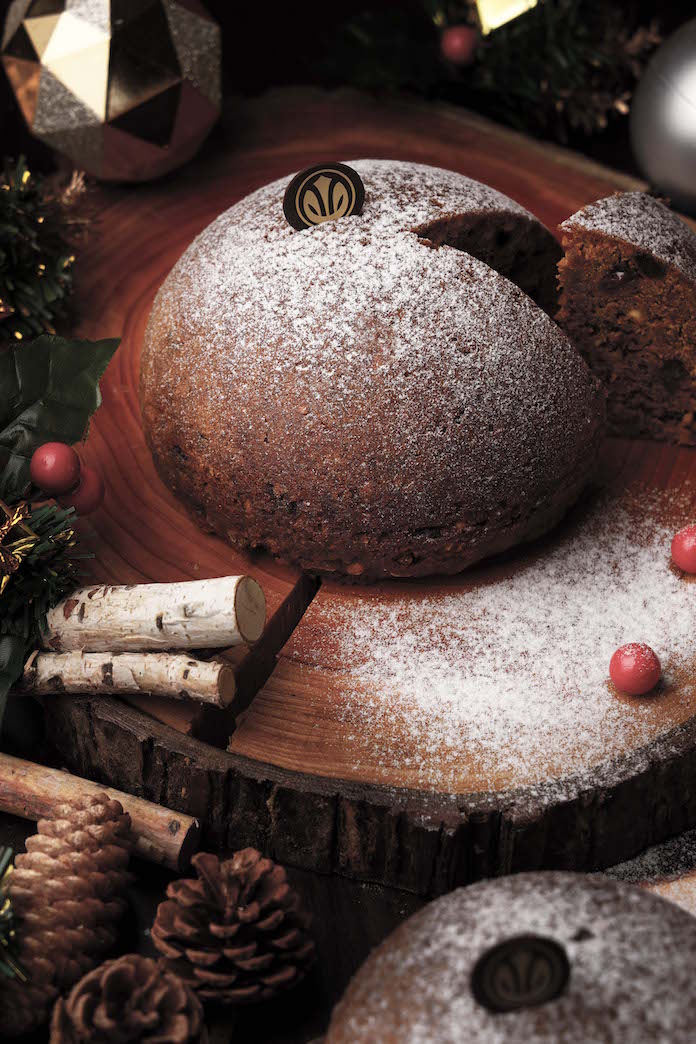 安于家里共享节温馨
Holiday Dining at Home
今年,新葡京酒店为了让宾客能够更轻松地在家中庆祝节日,巧妙地设计了全新的「滑轮式」礼盒,每只重达23磅的圣诞烤火鸡或18磅的圣诞蜜糖烤火腿都会被放入带有滑轮的美食盒中,让宾客可将晚餐轻鬆带回家。烤火鸡搭配覆盘子酱、火鸡肉杂汁及香煎卷心菜,而蜜糖烤火腿则配以蜂蜜汁和香煎卷心菜。圣诞烤火鸡和圣诞蜜糖烤火腿礼盒价格为澳门币1,688元,凡购买圣诞礼盒可获赠香槟一瓶。由2020年11月27日起至12月26日期间供应。所有订单需提前两个工作日预订,并于大堂礼品屋领取。
This year, Grand Lisboa is making it even easier for guests to celebrate at home with brand new, cleverly designed hampers. To take the weight off, each 23-pound Butter Ball Turkey or 15-pound boneless Gammon ham is packaged in hampers with wheels for guests to conveniently bring their dinners home. The roasted Butter Ball turkey comes with cranberry sauce, turkey giblet gravy and sautéed Brussels sprouts. The boneless Gammon ham is roasted and served with honey gravy and sautéed Brussels sprouts. The turkey and ham hampers are priced at MOP 1,688 and guest can enjoy a complimentary bottle of champagne when purchasing the hamper. Orders are available from 27 November 2020 until 26 December 2020. A minimum of two working days is required for all orders and are available for collection at the Hamper House.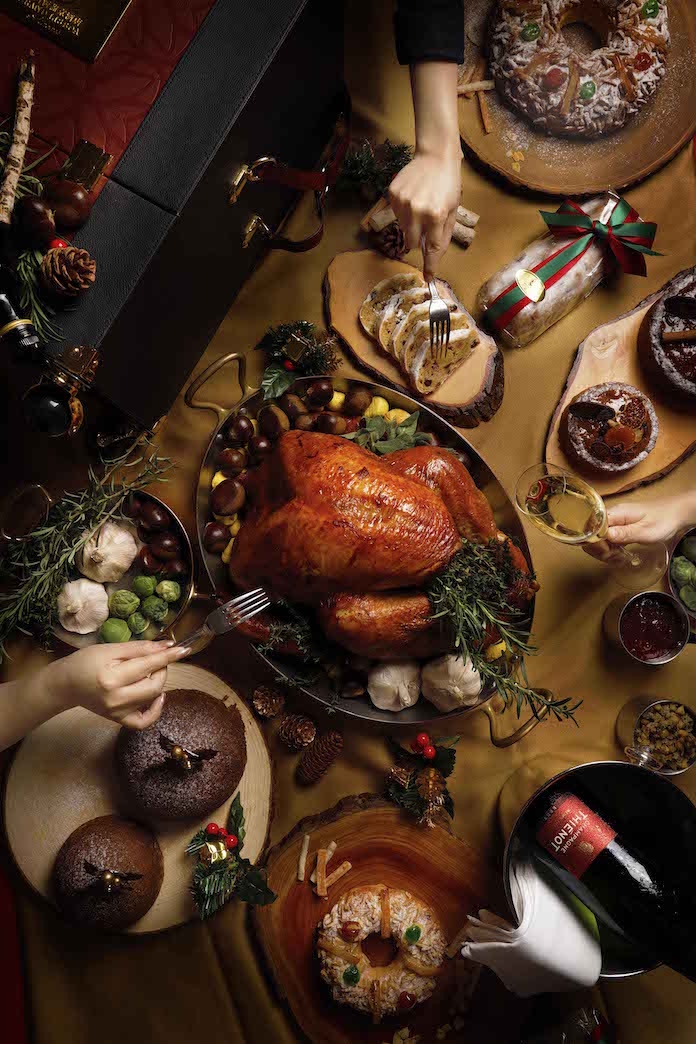 于新葡京酒店尽享节日晚宴
Experience Festive Dining at Grand Lisboa
新葡京酒店的米其林一星餐厅「大厨」为平安夜、圣诞夜及除夕夜奉上精心打造的七道菜和八道菜晚宴。价格为每位澳门币1,600元*。
Grand Lisboa's one-star Michelin restaurant The Kitchen will serve exquisite 7-course and 8-course dinners on Christmas Eve, Christmas Day and New Year's Eve, priced at MOP 1,600* per person.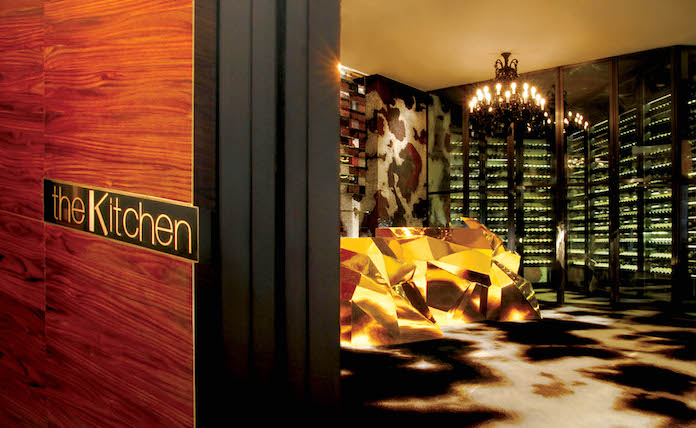 「当奥丰素1890意式料理」打造了富有意大利传统风味的圣诞节和除夕六道晚宴菜单。价格为每位澳门币1,200元*。
Casa Don Alfonso has crafted the 6-course menu for an Italian-style Christmas and New Year Eve featuring traditional holiday dishes. The menus are priced at MOP1,200* per person.
*以上价目需另加一服务费
*Subject to 10% service charge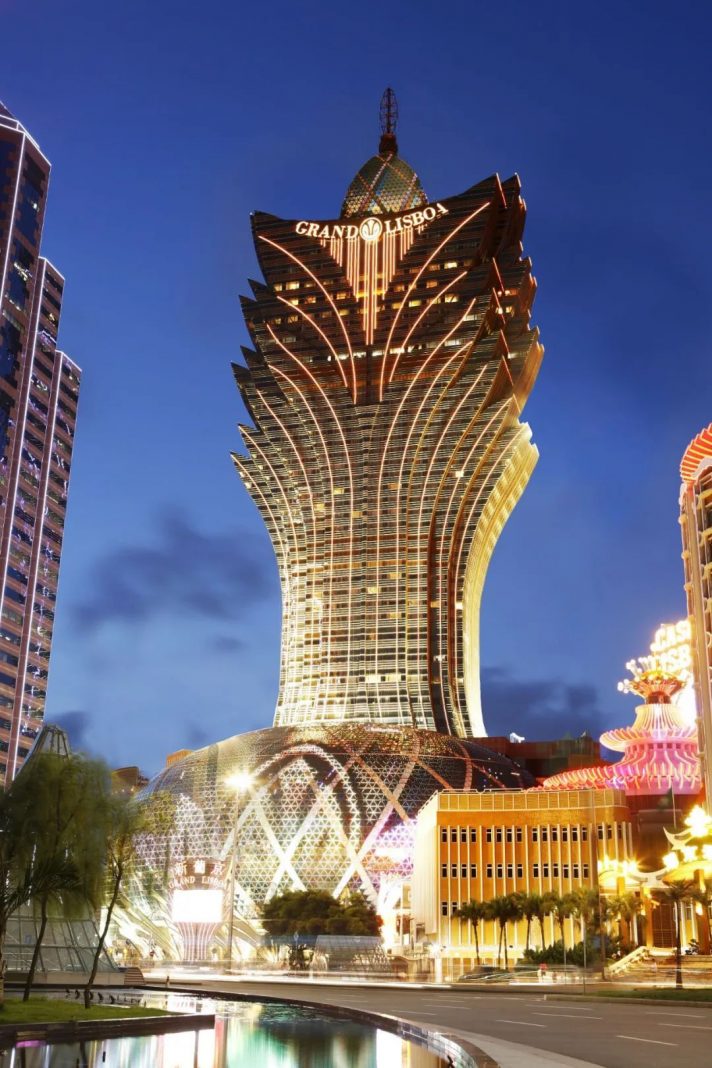 关于澳门新葡京酒店
About Grand Lisboa Hotel
矗立于澳门半岛文化、购物及娱乐中心地带的新葡京酒店,以澳门特色的莲花标志为建筑设计,充分展现了这座城市的历史与文化传承,亦是本地颇具代表性的建筑之一。屡获殊荣的酒店拥有逾 400 间气派雅致的客房及套房,内饰豪华,同时亦坐拥澳门的壮丽景致。新葡京酒店以其非凡的餐饮体验闻名遐迩,其中包括荣获米其林三星的「天巢法国餐厅」及高级中菜食府「8 餐厅」、获得一星的创新扒房「大厨」,以及提供正宗意大利风味的「当奥丰素 1890 意式料理」。新葡京酒店亦是全球少数获得四项备受瞩目的《福布斯旅游指南》五星殊荣的酒店之一。酒店、新葡京水疗护理中心、「天巢法国餐厅」和「8 餐厅」均获得五星评级。酒店还因其拥有逾 17,000 款名酒佳酿的丰富酒藏而收获了众多重要奖项,其中大多数酒款皆获得由罗伯特·派克(Robert Parker)创办的《葡萄酒倡导家》(Wine Advocate)杂志所评予的 91 分以上的高分评价。此外,酒店亦是中国首家摘得《葡萄酒观察家》所颁发的「荣誉大奖」(Grand Award)的酒店。新葡京酒店作为商务及休闲旅客的热门目的地,周围环绕著城中备受欢迎的景点。同时,酒店交通亦十分便利,距离澳门国际机场仅 15 分钟车程,距离港澳码头仅 5 分钟车程。
Soaring above the heart of Macau peninsula's dynamic cultural, shopping and entertainment district, Grand Lisboa Hotel is an iconic architectural feat inspired by Macau's lotus symbol and the city's rich heritage. The award-winning hotel offers more than 400 beautifully appointed rooms and suites that feature plush interiors and unrivalled views overlooking Macau. Renowned for its unparalleled dining experiences, the hotel is home to the Michelin three-starred Robuchon au Dôme French restaurant, the Michelin three-starred Chinese restaurant The 8, the Michelin one-starred The Kitchen steakhouse and Casa Don Alfonso, an authentic Italian restaurant. Grand Lisboa ranks among an elite few hotels – globally – to earn the coveted quadruple Forbes Five-Star distinction. Forbes Travel Guide awarded Grand Lisboa five-star accolades for the hotel, The Spa at Grand Lisboa, Robuchon au Dôme and The 8. The hotel has also garnered a number of prestigious awards for its extensive wine collection of more than 17,000 labels, the majority of which are rated over 91 by Robert Parker's Wine Advocate. The hotel is also the first establishment in China to receive the "Grand Award" honour from Wine Spectator magazine. A popular destination for both business and leisure travellers, Grand Lisboa is surrounded by the city's best-loved attractions. It is also conveniently located within a 15-minute drive from the Macau International Airport or a short, five-minute drive from the Macau Ferry Terminal.
如欲查询更多有关新葡京酒店咨询,请浏览:
https://www.grandlisboahotels.com/zh-hant/grandlisboa
For more info on Grand Lisboa Hotel, please visit:
http://www.grandlisboahotels.com/