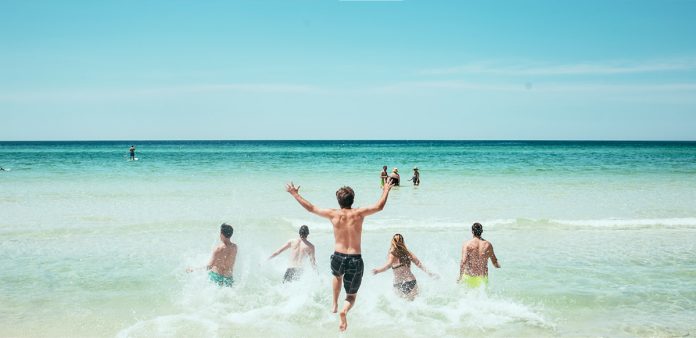 随着中国疫情渐趋稳定以及复工复产有序推进,旅游业在中国市场也逐渐复苏。中国海滨度假胜地三亚,在后疫情时代的旅游业复苏和旅游经济增长等方面为全国乃至全球的旅游目的地树立了标杆。据三亚凤凰国际机场数据统计,2020年机场全年完成运输旅客1541.2万人次。仅在2021年1月1日至3日期间,共有40.74万旅客选择在三亚度过元旦假期,为当地旅游业创造了9.64亿人民币的开年收益。
Sanya, the popular resort city located on the southern tip of Hainan Island, has seen its tourism sector rapidly recover in the second half of 2020, following China's control and stabilization of the COVID-19 epidemic. In 2020, a total of 15.412 million passengers traveled through Sanya Phoenix International Airport. Between January 1-3 of this year alone, Sanya received 407,400 tourists for the New Year holiday, generating revenues of RMB 964 million and delivering a promising start to 2021 for the city's tourism industry.
在海南自由贸易港建设政策的整体指引下,三亚旅游业自2020年5月开始稳步复苏,更是从第三季度起,过夜游客人数和旅游总收入同口径比基本持平。特别是在去年中秋国庆"双节"黄金周期间,三亚接待游客同口径比增长12.69%,旅游总收入同口径比增长39.33%。
Sanya's tourism sector began its steady recovery in May 2020, buoyed by the Chinese government's policy to establish the Hainan Free Trade Port. The number of overnight tourists and total revenue has remained stable since the third quarter of 2020, especially given last year's unique calendar that saw the Mid-Autumn Festival and National Day both occur during Golden Week. As a result, Sanya saw a 12.69% increase year-on-year in tourists during this period, while total tourism revenue skyrocketed by 39.33% year-on-year.
三亚位于南海之滨,坐享约6000平方公里的广阔海洋面积,拥有极为清澈的海水和壮丽的水下景观,水下能见度通常可以达到8至16米,使其成为进行各种水上和水下运动的最佳场所之一。
Located on the coast of the South China Sea, with a vast sea area of about 6,000 square kilometers, Sanya is blessed with extremely clear sea water and magnificent underwater landscape, and the underwater visibility can generally reach 8 to 16 meters, making it one of the best places for all kinds of water and underwater sports.
三亚有着漫长的夏季和温暖的冬季,是典型的热带气候。这里不仅是冬季避寒的绝佳度假胜地,而且还是全年丰富多彩的旅游胜地。绵长的海岸线,椰子种植园,标志性的渔港,迷人的历史地标和当地文化,以及现代化的度假村和免税购物区,这座城市迅速成为不仅受中国游客,还有世界各地游客喜爱的热门目的地 。
Enjoying a tropical climate with long summers and warm winters, not only does Sanya serve as a spectacular getaway from the cold, but it is a rich and diverse year-round destination. With its miles of coastline, coconut plantations, iconic fishing ports, fascinating historical landmarks and local culture, as well as modern resorts and duty free shopping complex, the city has quickly emerged as a popular destination for tourists not just from China but across the world.
三亚市旅游推广局致力于通过利用岛上丰富的资源积极培育新的目的地和旅游方式,针对不同的旅游细分市场创建了一系列宣传主题。例如,"三亚新青年奇趣岛"全新主题近期上线,打造与年轻客群贴合度更高的旅游元素,希望吸引更多高消费力、高传播力的年轻游客来到三亚旅行。
Dedicated to actively cultivating new destinations and modes of tourism by leveraging the island's rich diversity and resources, Sanya Tourism Promotion Board has created a series of promotional themes targeting different tourist segments, such as the recently launched "Wonderland Sanya" which seeks to attract young travelers to explore Sanya's unique and vibrant possibilities across the five angles of food, travel photography, culture, outdoor activities, and luxury hospitality.