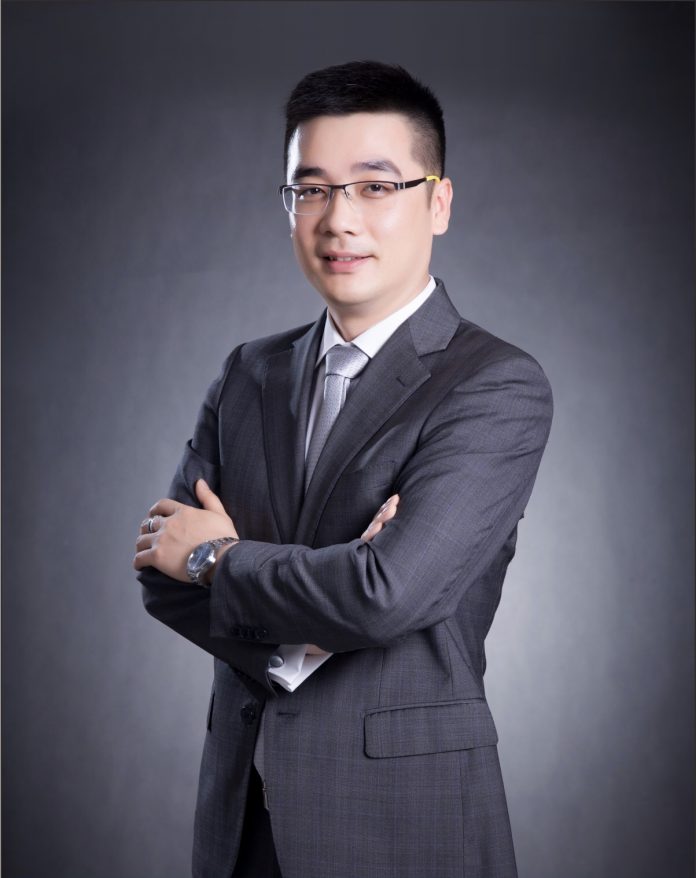 DB:是什么契机让您进入酒店服务行业?
What inspired you to enter the Hospitality Industry?
进入酒店服务行业其实是一次机缘巧合。对我来说,进入酒店业代表着"跨行业、跨职业、跨城市"。
A stroke of serendipity led me to enter the hospitality industry. For me, to be involved in the hospitality industry meant that I had to change my occupation to work in a different industry in a different city.
最早我在制造行业和金融行业工作,从来没有接触过酒店相关工作。在华侨城设立的香港公司工作的近七年的时间里,正值国家大力地推进"退二进三"政策,要大力发展第三产业服务业。华侨城作为改革开放的先锋者,我作为华侨城的一员,更要积极响应国家的号召。与此同时,也想充实自己的人生、丰富工作阅历,把自己培养成一名综合性人才。于是我决定进入酒店服务行业,担任威尼斯睿途酒店财务总监,在专业方面继续发挥自己的优势。从此开启了我的酒店服务业生涯。
I worked in the manufacturing and financial industries to begin with and never approached any jobs related to the hotel industry. I spent nearly seven years working for a Hong Kong company in Oversea Chinese Town (OCT) in Shenzhen. This was around the time the government decided to support the policy of suppressing the second industry in order to develop the third industry, which strives to develop the service industry. As a member of OCT, which is one of the pioneers of national reform and open policy, I was expected to respond proactively. At the same time, I really wanted to enrich my life, gain work experience and train myself to be a comprehensive talent. Consequently, I decided to begin my career in the hospitality industry by taking on a role as financial controller in The Venice Raytour Hotel. This is why and when my journey in the hotel industry commenced.
从财务总监转变为一家酒店的总经理,更是一次全新的尝试和挑战。
It is definitely a completely new and challenging experience for me to transfer my position from a financial controller to a general manager.
大家普遍认为财务工作者会有原则性,更循规蹈矩。我不是一个传统的财务工作者,反而更倾向于做与人打交道的综合管理者工作。
Generally, the public consider financial workers to be more principled and disciplined. In my mind, I am not a traditional financial worker. I prefer to communicate with people as a general manager.
于是我攻读了香港理工大学酒店管理专业的研究生。在学习的过程中,我发现从事酒店行业的人都有着乐观的生活态度、包容性强,同时又有谦卑的特质。
Consequently, I furthered my study and gained a Master of Hospitality and Tourism Management at the Hong Kong Polytechnic University. During this period, I found that those working in the hospitality industry were positive, tolerant and humble at the same time.
事实证明这个决定是明智的,这段学习经验带给我的不仅仅是酒店管理专业知识,同时还开阔了视野,改变了我对待事物的思维方式,使我变得更有想法和追求。
Facts indicated that my decision was sensible. This study experience not only brought me knowledge about hospitality management, but also broadened my horizons, changed my way of thinking and made me become more insightful and motivated.
现在我已经成为一名完完全全的酒店人了。很开心我的初心没有变,有得力的工作伙伴,对这个行业一直保持着好奇心和包容心。
Now, I am a genuine hotel person. I am glad that I keep my beginner's mindset unaltered. I still maintain the continuous curiosity and tolerance towards this industry I had back then.
希望我能继续做一名合格的酒店人,更好地发挥自己的优势。
Hopefully, I can keep utilizing my strengths to be a more qualified hotel person.
DB:威尼斯睿途酒店和华侨城是一种怎样的关系?
What's the relationship between The Venice Raytour Hotel Shenzhen and Overseas Chinese Town?
首先用一句简单的话来形容威尼斯睿途酒店和华侨城的关系就是:相辅而行,相得益彰。
A simple sentence to describe their relationships is: They are complementary to each other and bring out the best in each other.
2001年10月28日,由华侨城集团投资兴建的深圳威尼斯酒店开业。这是中国首家以意大利威尼斯文化为主题的酒店,开创了中国主题酒店的先河。同样,这家酒店的开业,对于华侨城集团来说也很重要,拉开了华侨城主题酒店的序幕。
On October 28, 2001, the Venice Raytour Hotel Shenzhen invested by Overseas Chinese Town Holdings Company (OCT Group) was established. This is the first hotel with the theme of Italy's Venetian culture in China. At the same time, the establishment of this hotel is the start of themed hotels in the Overseas Chinese Town Holdings Company, which also means a lot to OCT.
酒店自开业至2011年底,聘请了洲际酒店集团的管理团队进行管理,成为一家国际连锁的五星级品牌皇冠假日酒店。从2012年起,深圳威尼斯睿途酒店由华侨城国际酒店管理有限公司全面接管。2016年5月,华侨城国际酒店管理有限公司进行了品牌战略升级,推出"睿途"和"嘉途"两大酒店品牌。威尼斯酒店也正式升级为"深圳威尼斯睿途酒店"。
From the opening day to the end of 2011, management teams from InterContinental Hotels Group PLC have been invited to the Venice Raytour Hotel and have made Raytour a five-star international hotel brand of Crown Plaza Hotel. In 2012, the Venice Raytour Hotel was fully taken over by Shenzhen OCT International Hotel Management Co., Ltd. In May of 2016, Shenzhen OCT International Hotel Management Co., Ltd. upgraded the brand strategies and launched two hotel brands: "Raytour" and "Gleetour". The Venice Hotel was also upgraded to the Venice Raytour Hotel.
"途Tour"是旅游、观光之意,契合华侨城的旅游和文化基因,寄意华侨城酒店致力于为人们旅途带来体验与惊喜;"睿Ray"意为闪现、发光,"睿途(Raytour)"致力打造"寻味世界经典的灵感之旅",为旅途中的客人提供上乘服务,奉献灵感与思想。
"Tour" refers to travel and sightseeing, which combines the travelling and cultural genes of OCT and delivers the experience and element of surprise that OCT Hotels wish to bring to their customers. "Ray" refers to 'flash and shine'. "Raytour" therefore strives to create "an inspiring journey for seeking world classics", in which Raytour will provide superior service for customers.
深圳威尼斯睿途酒店延续华侨城优质生活创想家的品牌基因,以浓郁人文情调、细致服务与优雅格调,为追求高品位的客人带来无限的放松及惬意,立志成为中国优雅旅居生活的最佳代言。
In keeping with the brand ethos of OCT, the Venice Raytour Hotel brings unlimited relaxation and comfort for guests who seek great quality and lifestyle. Additionally, the hotel offers meticulous service and elegant style, with the aim of becoming the best representative of graceful travelling locations in China.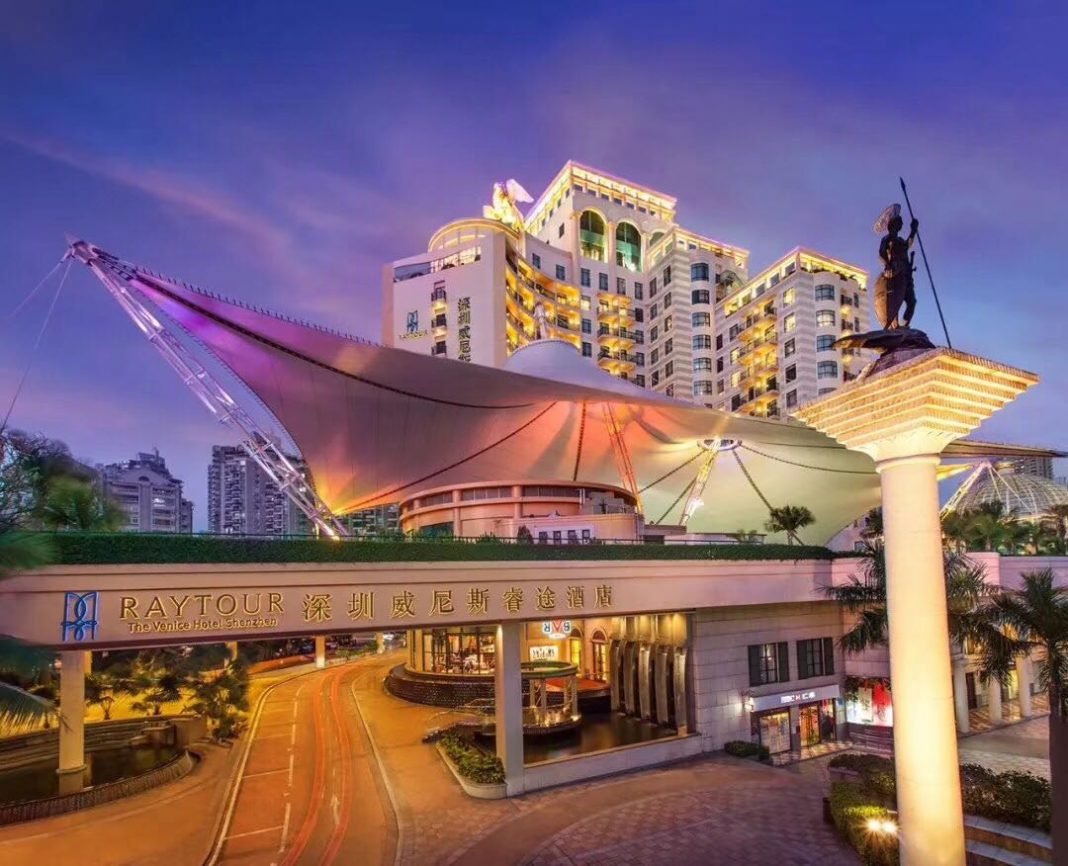 DB:深圳威尼斯睿途酒店是华侨城国际酒店管理公司旗下首家以威尼斯文化为主题的五星级酒店。您可以跟我们介绍一下酒店的威尼斯文化体现在什么地方吗?
The Venice Raytour Hotel Shenzhen is the first five-star hotel with theme of Venetian culture under Overseas Chinese Town. Can you tell us more about the Venetian culture in the hotel?
作为中国首家以威尼斯文化为主题的酒店,威尼斯文化是深深镶嵌在我们酒店的每一个细节之中的。
As the first hotel with the theme of Venetian culture, Venetian culture appears in each detail in our hotel.
首先是酒店的建筑风格和装修设计。金光闪烁的圣马可狮屹立在主体建筑之顶,圣马可狮是威尼斯城的象征,狮子所持的书上写着传统的拉丁文是威尼斯由圣马可狮守护的声明。圣马可翼狮的后腿站在水里,前肢站在土地上,标明了威尼斯共和国统领陆地和海洋的力量。矗立在广场标志柱上的威尼斯守护神圣西奥多脚踏鳄鱼,一手执长矛一手执盾牌,日夜守护着驻足威尼斯酒店的尊贵客人。
First of all, you can observe the culture through the hotel's architectural style and decorative design. Sparkling Lion of Saint Mark stands at the top of the main building. Lion of Saint Mark is the symbol of Venice. The Latin written in the book held by lions is the statement that Venice defends. Lion of Saint Mark's hind legs stand on the ground while its forefeet stand in the water, which signifies the Republic of Venice dominate both land and ocean. Standing on the marked pillar, Saint Theodore steps on a crocodile with a spear and shield in his hands, guarding the Venice and its distinguished guests day and night.
"水"是威尼斯酒店园林景观的灵魂。蜿蜒如威尼斯运河的水渠以及玲珑的石桥,张扬起美丽白帆的空中泳池,随风轻摇的"贡多拉"船,各式的叠水与涌泉如梦如幻,威尼斯的"水"恰如一串灵动的音符,堪称中西合璧的佳作。
"Water" is the soul of Venice's landscape. There are canals winding around such as the Grand Canal and the exquisite stone bridges. There are Gondolas gliding on the sky pool, causing a layer of waves. The water in the Venice is like a string of notes, which can be experienced as the combination of Chinese and Western ideas.
酒店的威尼斯风情餐饮服务也是一大特色。
Venetian cuisine is the other core feature reflecting the Venetian culture of our hotel.
典雅的意大利餐厅提供一流欧陆传统美食,各种意式海鲜、精选牛扒,给客人带来纯正意式风味。
The elegant Italian restaurant provides superb European and Asian cuisines, including various kinds of Italian seafood and selected steak, which brings authentic Italian cuisines for customers.
别具风情的咖啡广场极为休闲写意,可以一边聆听曼妙的琴声,感受意大利街头气息,一边品尝中西式午茶。
The extraordinary coffee square is relaxing and comfortable. Guests can enjoy beautiful music and Italian street atmosphere while tasting Chinese and Western high tea.
自助餐厅咖啡厅出品一流的国际自助餐和欧亚美食,现制的意式披萨更是城中一绝。
The cafeteria provides a world class international buffet made up of European and Asian cuisines. The freshly-made pizza is the most representative of Venice.
酒店的宴会服务也充满着浓浓的威尼斯风情,还首家推出以威尼斯文化为主题的"贡多拉爱之船"主题婚礼 。
The banquet service in the hotel also embraces the Venetian style. We are the first hotel to promote the theme of the "Love Gondola" wedding.
酒店还深挖主题元素,制作威尼斯特色的面具、小狮子、吉神娃娃、跑步包等欢迎礼物,给客人全方位、多角度地展示了极具立体感的威尼斯主题特色。
The Venice Raytour Hotel delves deeply into Venetian culture. It makes Venetian masks, little lions, triangles, running bags as welcome gifts to provide guests with a richer understanding of Venetian culture.
酒店的员工也身着威尼斯特色服饰,为客人提供优质的服务。
In addition, the staff in the hotel wear Venetian style clothing and provide quality service for customers.
全方位的设计,让宾客走进这家酒店仿佛行至意大利威尼斯,有城中之城的穿越感和满足感。
Hopefully, the comprehensive design of our hotels can help guests feel as if they are in Venice within the city centre.

DB: 我们注意到贵酒店的宣传风格多样,关注不同的顾客群体,比如女性、情侣、家庭。您觉得群体特征的不同给酒店管理带来最大的挑战是什么?您有什么诀窍?
We notice that you have different promotional styles and target various groups of customers, such as female, couples, family, etc. What do you think is the biggest challenge of hotel management when faced with different customers with different needs? How did you manage it?
群体特征的不同给酒店管理带来的最大的挑战就是要提供能满足各种消费群体需求的服务产品。
The biggest challenge of welcoming various different groups of clients is in providing appropriate services and products to meet the desires of different consumers.
威尼斯睿途酒店的定位是商务型酒店。商务客人较多,管理体系和产品模式都是以商务酒店为主的。同时酒店处于世界之窗、欢乐谷等景区,给酒店增加了广大的旅游度假客户群体。
Primarily, Venice Raytour Hotel is a business hotel. Business visitors are our main guests so all management systems and production models mainly focus on being a business hotel. At the same time, as our hotel is located near Windows of The World, Happy Valley and many other attractions, our targeted customer groups have increased.
度假客人和商务客人所关注的服务、产品都不同,因此必须要适应这两种群体的住店需求,这种挑战也是每家酒店不同业务拓展时必须要面临的。
Business and leisure travellers focus on different products and service. Therefore, each hotel has to fit the needs of these two groups of guests. This is also the challenge that each hotel has to be faced with when extending their business.
作为总经理,我感受到了压力。酒店越开越多,客人的选择也越多,酒店的消费者市场细分也越来越多。如何让客人选择我们,如何带领自己的团队满足日益多元化的群体需求是目前酒店经营的关键问题。
As a general manager, I often feel stressed. More hotels are being established, which means there are more choices for customers. Market segmentations are more scattered. How to make guests choose our hotel and how to lead my team to meet the increased and diverse needs of customers are the crucial problems for current hotel management.
因此,酒店必须要抓住细分市场,建立酒店本身特色并深入挖掘,定位需求此特色的目标顾客,并以适宜的方式将酒店特色传达给目标客户。
Consequently, hotels must follow market segmentations and develop their own characteristics to fit our target customers' needs. At the same time, they must promote their features in an appropriate way to appeal to their target audience.
为了更好地应对这种挑战,威尼斯睿途酒店的诀窍是:在保证服务质量的前提下具体问题,具体分析。
To overcome the challenges more effectively, the tactic of Raytour is: analyzing and solving specific problems with specific ways under the premise of ensuring the service quality.
这就体现在,为不同的客人提供不同的服务,在不同的时期提供不同的服务。
This is demonstrated by the way we provide different services for different guests and in different periods.
工作日沿用商务酒店的管理体系,做好细致的各项服务,最大限度地满足商务客人的工作需求。
During weekdays, we use the original management system for a business hotel and offer meticulous service. We do our best to fulfill our business travellers' needs for working.
周末及节假日针对度假客人设置主题产品,例如儿童、女士主题房间,开发有景区特色的服务产品;与第三方公司合作举办儿童泳池派对、亲子活动等。
During weekends and holidays, we offer themed products for leisure customers, such as themed rooms for children and females. We also cooperate with third-party companies to hold pool parties for children and family-friendly activities.
酒店还将继续打响品牌活动的招牌,将威尼斯啤酒节打造成酒店独一无二的名片。
Raytour will also keep promoting brand activities and make "Venice Beer Festival" a unique staple of Raytour.
服务是酒店经营的本质,对于酒店顾客而言,服务是永远的追求和衡量标准。威尼斯睿途酒店始终坚持做好口碑信用和服务,为客人提供舒适的产品、方便快捷的服务流程、友好亲切的服务态度,给不同的消费群体留下好的印象,从而一再选择和我们,并为他们的亲朋好友或工作伙伴积极推荐我们。
Service is the nature of hotel management. For guests, service is what they pursue and the metrics. Raytour insists on building good reputation and providing satisfied service: providing appropriate products, convenient service with friendly attitudes. Hopefully these can leave good impression on various groups of consumers and they can choose us again and again. At the same time, they will recommend our hotel to their family, friends and colleagues.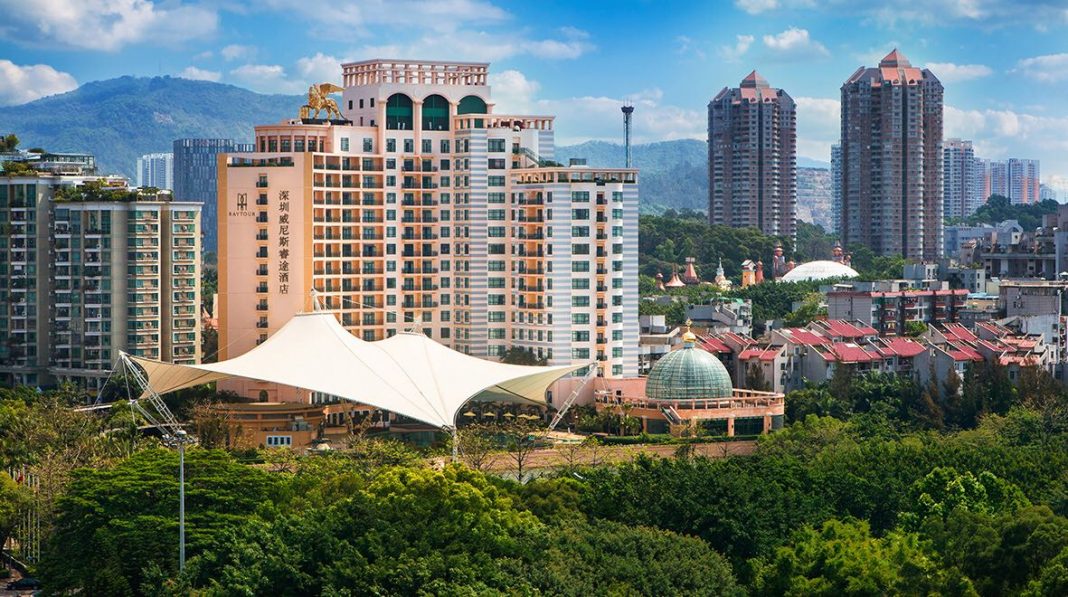 DB: 深圳威尼斯睿途酒店屡屡获得国内外大奖,您觉得威尼斯能保持如此高的认可度的秘诀是什么?
The Venice Raytour Hotel Shenzhen has been awarded many prizes. What do you think are the secrets that gain Raytour its high recognition?
威尼斯睿途酒店的企业文化始终是酒店持续发展的内核动力。
The corporate culture of the Venice Raytour Hotel is the foremost motivation to develop continuously.
对于酒店来说,员工是最重要的。想要获得成功,最重要的经营秘诀就是员工关怀。
威尼斯睿途酒店一直有一句平实而温暖的口号——"有情有爱威尼斯,相亲相爱一家人"。只有员工能开心地工作和生活,找到归属感,才能把良好的精神面貌展示给客人,把这份关怀和愉悦传递给客人。
For a hotel, the employees are the most important. If a hotel wants to succeed in its business, the most important strategy is to care their staff.
There is simple and warm slogan at the Raytour: "Loving Venice, loving family." It is only when staff feel a sense of belonging and joy in their daily life and work that they can pass their joy and care onto the guests.
在十七年的时间里,威尼斯睿途酒店能够一直保持着较高的服务水平和产品质量,都得益于员工们的辛勤工作,以及他们的创造力和新思维。
Over the past seventeen years, the reason Raytour can maintain quality service and products is down to the hard work and creativity of our stuff.
我们尊重每一位员工的个性,把他们当作自己的家人。我们欢迎每一位积极进取、充满信心的同事在威尼斯的舞台上发挥出更多的优势。
We respect each employee's personality and regard them as our family members. We encourage each proactive and confident colleague to exercise their talents at our hotel.
酒店还培养了很多的酒店管理人才,为每位员工规划职业生涯出正确的选择,给予他们前进的动力,让他们在酒店行业里实现自身价值的最大化。
Raytour has also trained lots of professionals in hotel management. We provide appropriate advice for each employee's career planning, encourage them and help to maximize their self-actualization in the hospitality industry.
同样的,我们的管理团队也相对稳定。十年及以上的工作经验,每个人对酒店行业的发展方向有着深刻独到的见解。以个人能力提升整体团队的质量,用积极的正能量去影响团队内的每一个人。
Furthermore, our management team is relatively stable. With more than ten years of work experience, each member has his or her own insightful and unique understanding of the hospitality industry. We all apply their personal abilities and positivity to improve the team as a whole.
丰富的工作经验、优秀的领导力,以及细致入微的人文关怀,都能够激发员工的工作热情和信心,真正地把酒店当成自己的大家庭。
Rich work experience, excellent leadership and a considerate humanistic approach can enhance employees' passion and confidence. This cultivates the feeling of the hotel team as a family.
在硬件方面,我们持续投入相应的资金,对酒店进行翻新改造,使酒店得以保持较高的市场竞争力,也让员工们在工作中保持持续不断的热情和积极性。
When it comes to facilities, we continuously invest relevant capitals in retrofit. This can help the hotel retain relatively high competitiveness and keep up the staff's enthusiasm.
深厚的文化底蕴做支撑,员工充分发挥主观能动性,威尼斯酒店全体上下齐心协力,有共同的奋斗目标,才能得到客人、得到市场的认可。
Only when all employees in Raytour cooperate with one another in their shared objectives can our hotel win recognition from customers and markets.

DB: 深圳威尼斯睿途酒店最近有什么促销或者有意思的活动吗?
Do you have any promotions or activities coming up recently?
酒店正在打造全新的咖啡广场。以意大利水都威尼斯为主题,设计融入了拜占庭式、哥特式等风格建筑的特点,在吸取外来建筑设计精华的同时,又保留着自己典雅高贵、华丽气派的建筑理念,处处充满浪漫典雅的异域风情。
Recently, the Raytour has been working on a brand-new coffee square. The design of this coffee square will combine Byzantine and Gothic style with the theme relating to the city of Venice. Our elegant, noble and gorgeous ideas will result in the square being romantic and exotic.
酒店将要把咖啡广场打造成一个与众不同的欧式广场,成为大家休闲度假的好去处,增添生活的美意和新意,给宾客们带来一种别样的餐饮体验和生活方式。
The Raytour is going to transform the square into a unique piazza. This square will be an ideal place for people to relax and can provide them with a different catering experience and lifestyle by adding beauty and creativity to their lives.