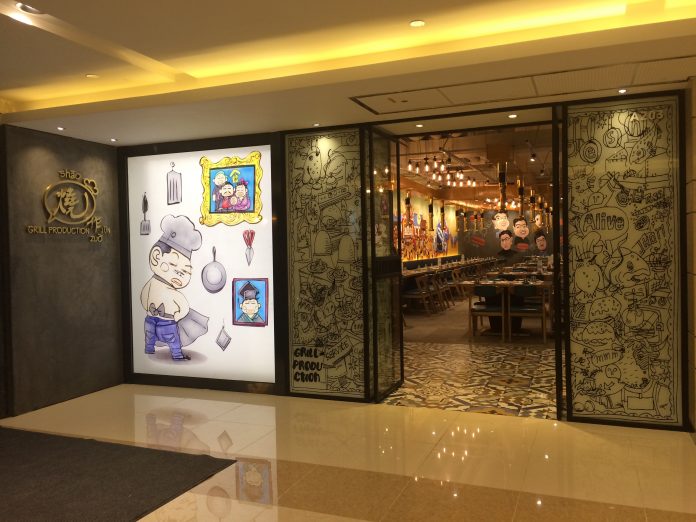 黄家健,佛山烧作牛肉海鲜炭舍出品总监 – Huang Jiajian, Production Director, Shaozuo Grill Production, Foshan.
DB: 你们从什么时候就有开烧作的想法?When did you put forward the idea of opening a grill restaurant?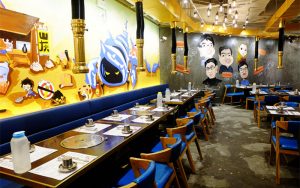 三年前的时候。
It was 3 years ago.
DB: 你自己本身喜欢烧烤吗?为什么?Are you personally a grill-lover and why?
喜欢,特别日式烤肉和烤海鲜,但是韩式烤肉的气氛和味道的多样性更有烧烤的趣味,融合两者的特点,最后诞生了现在的烧作。
I love it, especially Japanese barbecue and Seafood barbecue. But Korean barbecue brings more diverse tastes and better grilling experience, which Shaozuo also has.
DB: 烧作最受欢迎的三种用于烧烤的食物是什么?What are the three most popular food for grilling in your restaurant?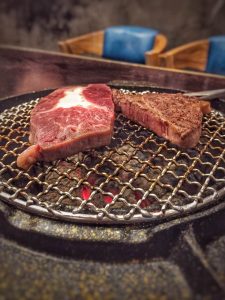 雪花和牛肉/牛肋条,调味猪颈肉,海鲜的话带子跟扇贝都挺多人喜欢的。
I think beef/beef ribs, seasoned pork chunks, and scallops are the three most popular food for grilling.
DB: 你觉得烧作比其他的烤肉店出色在哪? In what part of the restaurant do you think is better than other grill restaurants?
比起传统烧烤店来说,大胆引用韩式烤肉店的格局,丰富的主题人物更添玩味,紧凑的座位布局使用餐气氛显得更加活跃却又保有私密空间,在原有的烤肉当中加入新鲜海鲜做为搭配,降低只有烤肉的饱腻感,烧作想要表达的不单是烧烤,更多的是想把这份美味的幸福感分享给最多吃货。
Compared to other traditional grill restaurants, Shaozuo features Korean Barbecue style, with a diversity of fun elements for the decor as well as the compact seating arrangement, which makes it lively in general and also privately independent. Also, there is a wide selection of food such as meats and seafood to enhance your grilling experience. The restaurant not only offers a fun grilling experience but helps to bring the happiness of grilling to each grill-food-lover here.
DB: 你能告诉我们在烧烤过程中要做些什么才能让烧烤的乐趣更多? Could you tell us what to do to better our grilling experience while dining in your shop?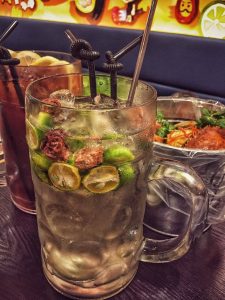 将一块鲜红的牛肉放到烤网上,由三百多度的高温烤制散发出的阵阵肉香夹杂着一丝丝碳火的烟香,把新鲜食材最原始的味道极致地呈现出来,近距离的感受着从生到熟的色香味过程,让烧烤更具乐趣。
Put a raw beef on the grilling net, feel the smell of the meat combined with the heat, and then taste each bite of the originality. It has so much fun to have a close witness on how the food is produced through grilling.
DB:我们能从什么渠道了解更多'烧作牛肉海鲜炭舍'?Where can we get more information about Shaozuo Grill Production?
微信公众号 WeChat Account: shaozuo6