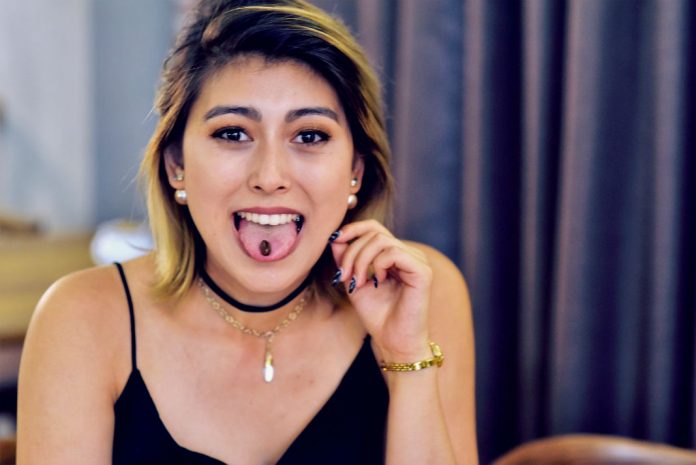 近期,DB采访了常德汉焙咖啡工坊的常务总经理Isabel Sum。这家咖啡工坊是德国的优质咖啡在国外发展的首家公司。DB recently spoke with Isabel Sum of the Hanover Coffee Manufactory in Changde, who is Chief Operating Officer of the premium coffee business's first location outside of its home country of Germany.
DB: 您和创建汉焙咖啡工坊的Berndt一家是怎么相识的?How did you first meet the Berndt family, who founded Hanover coffee?
从我在大学遇见Fabian开始,我认识到了Berndt一家。我们在同一所大学学习。有一回,我看见他拿了两杯咖啡给一个同学,发现他们在自发地品鉴咖啡,并对此非常好奇。我对专于研究咖啡的Fabian印象深刻,我也非常喜欢他给我品尝的咖啡。渐渐,我也开始专于研究咖啡,也在这个过程中认识了Berndt一家。
My first contact with the Berndt family was when I met Fabian in university. We studied together, and I remember one time seeing him giving two cups of coffee to a fellow student and became curious. I found out that they were doing a spontaneous coffee tasting. I was immediately impressed by the expertise that Fabian had, and of course by the very pleasant taste of the coffee he offered me. So, I got into speciality coffee more and more, and got to know the whole family.
2012年,Fabian的父亲Andreas和他以及他的弟弟Flemming共同创建了公司。从记事起,Andreas就将烘焙咖啡当做爱好和娱乐。后来,Andreas在德国一家著名的啤酒酿造厂担任销售总监,事业有成,但他还是决定把热情投向了一份新工作——成立一家专业的咖啡烘焙坊。
The company was founded in 2012 by his father Andreas, Fabian, and his younger brother Flemming. Andreas had roasted coffee beans as a hobby and for his own consumption as long as he can remember. After having a successful career as a marketing director at renown breweries in Germany he wanted to turn his passion into his new job and built up a speciality coffee roastery.
DB: 为什么中国成为了汉焙咖啡工坊海外分店的第一个选择呢?Why was China chosen for Hanover Coffee's first overseas branch?
自2012年开始,汉焙咖啡工坊便在德国发展的越来越好,且于2017年起便已经发展到年均产量100吨。然而,它仍是一个中小型的家族企业,所以据我们的商业计划是暂时不考虑扩展到中国的。然而机会不期而至。一个来自常德的代表团参观了我们在汉诺威市的工厂,并且对我们的理念印象深刻。他们说他们正在常德建立一个德国小镇,因此我们开始考虑在中国成立烘焙坊。
Since 2012, the roastery in Germany has experienced massive success and has grown to a production volume of around 100 tons per year in 2017. However, it's still a small to medium-sized family business so the next step according to the business plan would surely not have been to expand to China. Basically, an opportunity presented itself. A delegation from Changde was visiting our manufactory in Hanover and were really impressed by the concept. They mentioned that they´re building a German Town and we started brainstorming about building a second roastery in China.
在常德,我们有一个很好的生产地点,还有当地合作伙伴的大力支持,所有的条件都是那么的合适。本来进口生豆和一台老式博百优焙烧机(重量超过一吨)是必须的,但由于中国严格的海关规定,这些可能很难引进到中国。
All conditions were right in Changde as we have a nice production location and of course a lot of support from our local partners. This was necessary as importing green coffee beans and a beautifully refurbished vintage Probat roasting machine (that weighs over a ton) can be quite difficult to import to China due to the strict customs regulations.
DB: 您能跟我们谈谈汉焙咖啡工坊的烘焙方式吗,为什么说它是独一无二的?Tell me about Hanover Coffee's roasting method. Why is it unique?
我们的烘焙方式之所以独特,是因为在过去的25年里 Andreas游遍欧洲去学习不同的烘焙技术和风格,他结合了所有不同烘焙方法的优点,最终研发出一套独特的配方。
Our roasting method is so unique because over the past 25 years Andreas has travelled Europe to learn about different roasting techniques & styles, and has developed a unique recipe that combines all that he considers the advantages in the different roasts.
这个配方就是在低温下进行长期滚筒烘烤。这是一种中欧的传统烘焙法,又称维也纳烘焙。它的优点显而易见:长时间烘焙(至少超过15分钟)分解了咖啡豆中天然存在的绿原酸,对一些肠胃敏感的人来说,这些物质可能会引起胃部不适或消化不顺。然而,假如你花足够的时间来烘焙,咖啡豆里的化学物质就会被分解。这种烘焙方式给我们提供了非常温和易消化,并且散发着诱人芳香的咖啡。
The result is a long-term drum roast at low temperatures. This is a traditional way of roasting in middle Europe, also known as the Vienna roast. The advantages are clear: the long roasting time (minimum over 15 minutes) decomposes the naturally occurring chlorogenic acids that are in the coffee bean. For sensitive people these can cause an upset stomach or digestive problems.
However, if you take enough time for the roast, these fall apart into their chemical components and won't bother you anymore. This way of roasting gives us a very mild and easily digestible coffee packed with delicious aromas.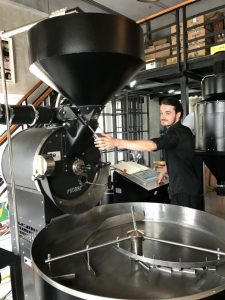 DB: 你们在广东省内的商业发展计划是怎样的呢?What are your plans for promoting business in the Guangdong province?
品尝咖啡是一种真正的感官享受,所以我们想在广东做更多的咖啡品尝体验活动,让人们亲自体验咖啡的芬芳和香气。在广东,我们会与许多合作伙伴一起举办各式各样的活动,从公司活动到食品和健康展览等。
As coffee is a real sensual pleasure, we want to do a lot of coffee tastings & bars in the Guangdong province to really let people experience the coffee aromas and fragrances in person. Here, we work with a lot of partners ranging from corporate events to festivals and food and health exhibitions.
DB: 你一直是咖啡的忠实爱好者吗?Have you always been a big coffee fan?
有意思的是,在遇见Fabian之前,我一直讨厌咖啡。此前,我完全不理解喝咖啡的重要性。对我而言,它就是不好喝,而且我不明白为什么我要像其他人那样必须喝咖啡。现在回首还真的是觉得好笑。很多人告诉我说他们不喜欢咖啡的口感,所以我总是问他们:"那你具体是不喜欢什么样的咖啡呢?是甜而浓郁的埃塞俄比亚豆呢,还是酸且明亮的肯尼亚豆呢,还是带有焦糖风味和巧克力香气的巴西豆呢?"
Funnily enough I hated coffee before I met Fabian. I was one of those people who never really understood the big deal about drinking coffee, for me it just tasted bad and I didn´t know why I should be obliged to drink it just because everyone else does.I really laugh at this today because I meet so many people who tell me that they don't like the taste of coffee. I always ask them: "Ah okay, so which coffee don´t you like specifically? Is it the sweet, full-bodied Ethiopian bean, the citric Kenyan coffees or rather the caramelly, chocolatey aromas of the Brazilian bean?"
其实同每种食物一样:品质不好,味道就差。品质好则可塑性高,且大多数人都会喜欢。拿汉堡来举例——大部分人都觉得快餐汉堡非常难吃,没烤透的面包夹着已经黄了的沙拉菜叶和滴着油脂的肉,非常恶心。但是大多数人都会喜欢那些精美上乘的汉堡,美味的肉,新鲜出炉的自制芝麻面包,还有一些新鲜的有机蔬菜和融化的恰到好处的芝士。所以,你不能宽泛地说"我不喜欢汉堡"或者"我不喜欢咖啡"。那很有可能只是因为很多人从来没有喝过好的咖啡,毕竟市场上大多数豆子都是工业生产的。
It's just the same with every food product: bad quality tastes bad and good quality has just so much more to offer and most people will like it. Compare it to burgers – most people would agree that fast food burgers aren't at all delicious and rather disgusting with their soggy bread, browned salad leaves and fat-dripping meats. However most people would like gourmet burgers with high quality, tasty meat, a freshly baked homemade bun with sesame topping and some fresh organic vegetables and nicely melted cheese. So, you can't really generally say "I don't like burgers" or "I don't like coffee". It's just that many people have never even tried good coffee as most of the available beans on the market are industrially-produced.
DB: 你喝什么咖啡?How do you take your coffee?
最近,我最喜欢用的咖啡器具是美式压滤壶 。它看起来像法式壶,但工作原理却不一样。热水受压力滤过装有咖啡粉匣萃取出一小杯强烈,浓郁,芳香的咖啡。与手工配制咖啡相比,这种方式更有微妙的优势。
Right now, my favourite coffee preparation is the American Press. It looks like a French press, but it has a different technique where the water is forced through the coffee grounds in a small pod, resulting in a strong, full-bodied and aromatic cup with the advantage of the fine nuances of a manual coffee preparation.
如果没有条件制出这种咖啡,我就会喝手冲咖啡或者美式咖啡。我从来不在咖啡里加牛奶。但别误会,不加牛奶仅为个人喜欢,但加了牛奶的咖啡也有可能非常美味!咖啡无关规则或条款,用自己喜欢的方式享受就好!
If that's not available, I'll have a pour-over or an Americano. I never have milk in my coffees, but don´t get me wrong, that can be incredibly delicious as well! Coffee is not about rules or regulations, just enjoy it how you like it!
Find Out More: