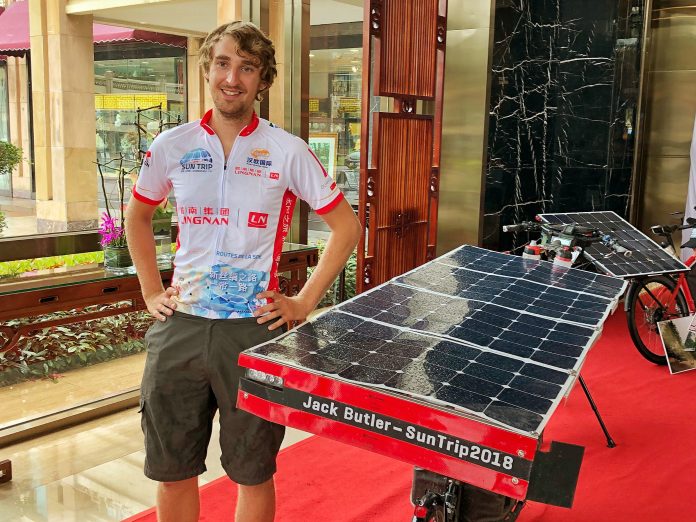 An official reception was held in Guangzhou on 30th August to welcome and award Sun Trip riders who have completed the journey. Sun Trip, which showcases new forms of mobility, encourages riders to use solar bikes to complete a full of adventure journey across many countries. After Kazakhstan in 2013 and Turkey in 2015, Sun Trip 2018 features a journey to the East, Lyon-Canton (Guangzhou). On a 12,000 km route crossing 10 countries, the Sun Trip 2018 rides along the New Silk Roads to commemorate the 30th anniversary of the Lyon-Canton twinning, the cities being respectively the second- and the third-biggest cities of France and China.
Jack Butler, age 24 from the UK, is the youngest rider of Sun Trip 2018. Delta Bridges had the chance to talk to Jack in Guangzhou about the challenges and stories during his 64 days of adventure from the west to the east.
 Delta Bridges:  How did you get to know Sun Trip?
 Jack Butler:  I've followed the previous Sun Trips, the past 2013 and 2015. As I was following the participants, I always thought this is something that I would like to do and challenge myself. When I heard about the announcement of Sun Trip 2018, I knew it is now the time for me to join and get on the adventure.
 DB:  How did you prepare? Did you make the solar bike all by yourself?
 JB:  Everything from my bike is built by me from scratch, including the wheels. For me, it was very important to stay within the budget that I did everything by myself and found components that were affordable and good enough to do the trip. I built my bike in the UK and then I came down to Lyon to get ready for the start. The engineering, it's all self-taught. My sponsor for Sun Trip also helped to make a big difference out of the bike.
 DB:  It took you 64 days to complete such a long journey. There must have been moments that you wanted to give up. What kept you going and pushed you to the destination?
 JB:  There are many difficulties. For example, things can go wrong; things can be out of your control, the weather, especially, can be really hard when it's hot. There are times that you think about maybe it's easier to give up. But when you're so many thousands of kilometers into an adventure like this, you have to think about all the good times that you had and just keep going, keep riding.
 DB:  Do you miss your family a lot during the trip, especially when you look at those endless long roads?
 JB:  I travel a lot. So, for me, it's something I've got used to over time. Also, it's so easy nowadays with internet connectivity. I can always call home, even in places such as the Gobi Desert in China, I can use WeChat and call somebody that I would like to talk to anytime. My family has been great. My mom, especially, is very supportive.
 DB:  What are the biggest differences you spot before entering china and now in China?
 JB:  The weather is certainly one. But china itself is so huge. We've ridden more distance in china than we did through all of Europe. It's like a different world from one side to the other. You can't compare. Different weather, different landscapes, different people, different language and food, everything is so different. It's also my first time to visit china. Before the journey, I looked into all kinds of different things, mainly places I wanted to go.
 DB:  Did you design your route by yourself?
 JB:  Yes, I did. Everybody plans their own routes. There is a live map on which you can see that some riders went further north and some further south. I went further north through Europe. By luck, the weather is better and the landscapes are flatter. By the beginning, I was actually quite fast towards the front, which really helps. Later on, I wanted to slow down to enjoy the journey and make video etc.
 DB:  When you were approaching the destination, what were you thinking?
 JB:  The last two to three days were crazy. Imagining this target that we've been shooting for Guangzhou for thousands of kilometres in weeks and weeks, and now it's just right in front of you. It's really hard to process all that before you arrive at the end. I would definitely like to join the Sun Trip again.