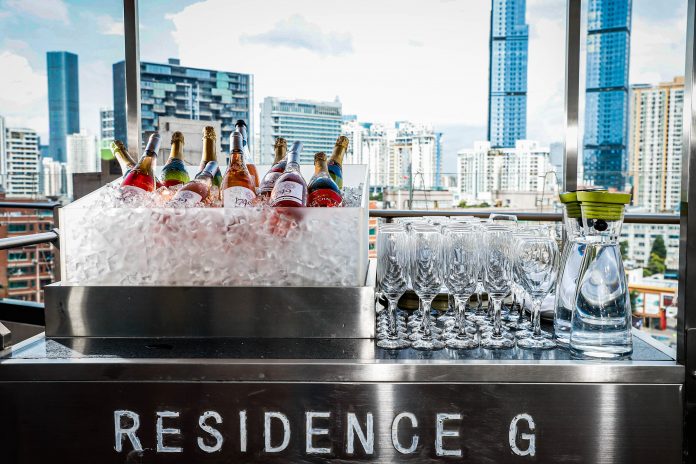 是时候来一次法式野餐,深呼吸户外的新鲜空气了!2020年8月26日至27日,深圳G公寓"夏日健康轻生活:法式G野餐"媒体考察团活动如期举办。此次活动由三角铃策划与协办,携手深圳G公寓一同打造精致的法式健康之旅.
It's time for a French picnic and take a deep breath of the fresh outdoor air! From August 26th-27th, 2020, "Live your healthy lifestyle with G picnic" Media Fam Trip was held as scheduled. San Jiao Ling(SJL) planned and co-organized this event, joined hands with Residence G Shenzhen to create an exquisite French health journey.
三角铃邀请了多家具有影响力的本地主流媒体以及自媒体参加考察团,媒体报道累积达到近6百万传播量,让越来越多的人了解到深圳G公寓的独特魅力。
SJL invited a number of influential local mainstream media and KOLs to participate in the Fam Trip. The promotion of these various media have accumulated nearly 6 million views, allowing more and more people to understand the unique charm of Residence G Shenzhen.

此次媒体考察团以展现深圳G公寓的独特调性与产品优势为出发点,设置了丰富的活动,旨在通过媒体的深度体验与分享,触达潜在客户群,向公众传递深圳G公寓倡导的法式精致生活方式。
The Fam Trip set up wonderful and diverse activities with the starting point of showing the unique tone and product advantages of Residence G Shenzhen, aim to reach potential customers through in-depth experience, and convey to the public the French exquisite lifestyle advocated by Residence G Shenzhen.
考察团在抵达深圳G公寓的第一天下午,在酒店露台共度了悠闲惬意的法式野餐时光。精心装饰的天台让人仿佛置身于法国田园风光之中,大家席地而坐,品尝新鲜烘焙的面包、甜点,举起香槟碰杯,聊天漫谈。夜幕降临,晚宴同样沿袭了法式风格,在露台举办烛光晚餐,晚风轻拂,烛火摇曳,考察团在浪漫的氛围中享用地道的法国美食,生活本应如此美好。
On the first afternoon of arrival, KOLs enjoyed a leisurely French picnic on the hotel terrace. The well-decorated roof makes people feel like they are in the French countryside, where people sit on the ground, taste freshly baked bread and desserts, hold champagne glasses and chat happily. Leisure time always flies very quickly, and it was time for dinner. The Candlelight dinner held on the terrace also followed the French style. The evening breeze gently, the candle flame flickering, KOLs leisurely enjoying the authentic French food, life should be so beautiful.
第二天一早,深圳G公寓为媒体考察团安排了醒晨瑜伽课,由资深瑜伽老师授课,带领大家用健康瑜伽的方式开启活力满满的一天。
The next morning, Residence G Shenzhen arranged a morning yoga class for KOLs, which was taught by a senior yoga teacher. The KOLs were led to start their day with healthy yoga.
三角铃与深圳G公寓达成了长期合作,根据深圳G公寓的品牌定位,运用自身在粤港澳大湾区强大的媒体关系网来组织系列媒体考察团活动,从而协助深圳G公寓与大湾区媒体圈建立良好的关系和提高其品牌知名度。媒体考察团是三角铃推出的最受酒店欢迎的宣传方式之一,三角铃为不同酒店量身定制策划方案,将酒店特色浓缩入两天一夜的行程之中,成为了酒店品牌宣传的高效之选。
SJL has reached long-term cooperation with Residence G Shenzhen. According to the brand positioning of Residence G Shenzhen, SJL utilizes its strong media network in the Greater Bay Area to organize a series of Media Fam Trips, so as to help Residence G Shenzhen establish a good relationship with the media circle of the Greater Bay Area and improve its brand awareness. Fam Trip is one of the most popular publicity methods launched by SJL. SJL customizes plans for different hotels, condensing the hotel characteristics into the two-day and one-night itinerary, which has become an efficient way for hotel brand promotion.