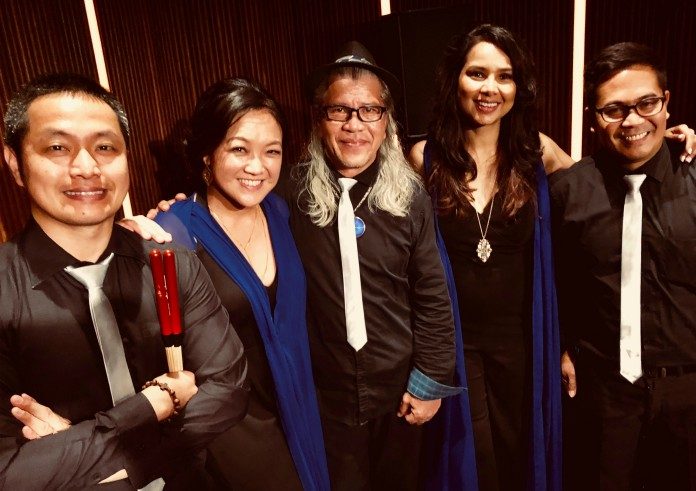 DB: 首先,能介绍一下您的乐队以及各位成员在乐队里扮演的角色吗?First things first, can you introduce yourselves and tell us a bit about your role in the band?
这个乐队有两个歌手,分别是Sandra Leung Waters和Debbie Mannas,键盘手是Bhoyet Samonte,鼓手是Satur Tiamson和贝斯手是Francisco Llorin。Sandra是个音乐全才,她的电视以及音乐剧表演的功底,并曾为Elton John所赏识;Debbie是诗人和作曲人,她曾出版个人专辑Deborah-Inspired。Bhoyet,Satur和"Kiko"也是出众的音乐家,他们曾在世界各地的管弦乐队和舞台上演奏过。
我们都非常热爱我们Syzygy团队!我们的两位主唱有着与众不同的声音和宽广的音域,他们完美融合,并且是在爵士乐三重奏的基础之上— 钢琴,贝司和鼓。这意味着我们可以在任意歌曲加入爵士的元素,混合和声,以制作独特的音乐。在音乐中,我们把乐队,音乐和观众融为一体时的奇妙时刻称为Syzygy,而每位乐队成员都会参与其中。
The band is Sandra Leung Waters and Debbie Mannas on vocals, Bhoyet Samonte on Keys, Satur Tiamson on drums and Francisco Llorin on bass. Sandra is a triple threat, with television & musical theatre roots, who has opened for Elton John; while Debbie is a poet and songwriter with a solo album under her belt, Deborah-Inspired, and every influence from Choral to Rock. Bhoyet, Satur and "Kiko" are also accomplished musicians who've played in orchestras & on stages across the world.
We love our amazing team Syzygy! Our two very different vocals and broad ranges blend perfectly and sit on a foundation of the jazz trio – piano, bass and drums. What this means is that we can take any song, interpret the music with a jazz twist and interweave harmonies for a unique sound. In astronomy, Syzygy is the alignment of three celestial bodies. In music, we say that SYZYGY refers to that magical moment when we blend the band, our music and our audience. Every member of the band has a part in making this magic.
DB:在音乐上,谁对您的乐队影响最大? Who are your greatest musical influences?
我们本质上仍是不成熟的爵士乐队。我们喜欢那些有着美妙旋律,歌词能产生共鸣的歌曲。我们听着三十到四十年代著名的爵士乐长大,而那些音乐是永恒的。对那些不熟悉爵士乐的年轻人,我们将爵士乐和经典流行歌曲结合在一起,使其更易被接受。那些赋予音乐美妙旋律和意义,使它们甜美悦耳的艺术家们一直激励着我们。
We are jazz babies at heart. We love music that has a melodic journey throughout the song with relatable lyrics and interesting rhythms. We grew up listening to jazz greats from the 30's and 40's. That music is timeless, but for younger generations who aren't so familiar with jazz, we make it accessible by taking iconic pop songs and re-styling it, jazz-wise. Artistes who can make their music melodic, meaningful and mellifluous inspires us.

DB: 从您的角度看,是什么原因使得Syzygy在香港音乐有独特的地位?In your own view, what makes Syzygy unique in the Hong Kong music scene?
香港听众希望能与本土音乐产生情感共鸣,让他们在忙碌的工作生活中得以舒缓。我们在创新音乐中,也让香港听众产生这种共鸣,并在其中顿悟到他们是认识这首歌的!有很多听众专程来告诉我们他们很喜欢我们的音乐。我们甚至收到了歌迷向我们推荐的歌曲,其中一些歌曲在我们之后的演出也有用到。在香港,我们是独创这种形式的乐队,灵感来源于我们的一次南法旅行—在法国里维埃拉蔚蓝的海边,我们惬意啜饮着最喜爱的鸡尾酒。而我们也希望我们的音乐能把当时的感受传达给我们的听众—伴随着复杂的爵士旋律,人们在熟悉的乐曲中觅得放松的时刻。
Hong Kong audiences want an emotional connection to their music so they can de-stress from their busy lives. Our music allows us creativity while also giving our audience that connection, that "aha" moment when they realise they know the song! We've had a lot of people come up to us and tell us how much they love the sound, and what they felt when the penny dropped! We've even had song suggestions from our fans, some of which we've used for next shows. There's no band in Hong Kong who does exactly what we do. Our inspiration came from a trip to the South of France – sipping a favourite cocktail on the French Riviera by the azure sea, and we wanted our music to transport our audiences like that – relaxing to familiar songs but with a sophisticated jazz twist.
DB:对您而言,一场成功的演出有什么关键因素? In your opinion, what are the key ingredients for a successful show?
我们的观众是这么评价我们的:我们是一个不同寻常的悖论,也是富有创造力的艺术家;我们专业,有组织性,富有责任感;我们既会倾听,也会传达;我们的成熟与经验反映在我们的表演以及与歌迷的互动之中。在表演开始时,我们通常会穿着标志性的披风,与打领带的男孩们在一起,从未在着装出现过问题!
The comments we receive from our clients and fans are that we are an unusual paradox, creative artistes who are professional, organised and committed, and that we listen and deliver; our maturity and experience is reflected in our performances and interaction with our fans. If the setting is intimate, we circulate and meet our audience. We usually start the show wearing our flowing signature capes with the boys in matching ties, and have never had a wardrobe malfunction!
DB: 目前为止,Syzygy乐队有什么亮点吗?What has been the highlight of your journey with Syzygy so far?
音乐!我们尝试制作新的音乐,并在舞台上将其与爵士乐和弦、节奏和和声融合,享受这种演绎过程。当我们有非常喜欢的旋律时,我们会尝试将它加入不同的歌曲中。现场表演的刺激之处在于保持灵敏的演奏。观众不会知道, 但我们的团队协作十分机敏。可以快速回顾一下我们在音乐中转间奏中对37小节的重复运用。我们都是很好的倾听者,如果我们在舞台上出现了技术失误,我们会倾听彼此的意见并确保我们的音乐平衡协调。
我们有幸在许多亚洲最豪华的活动场所出演过,从广大的舞厅舞台,到舒适的爵士乐场所。要说几个亮点的话,一个是在一个室外的舞台上,我们可以俯瞰美丽的香港港湾。在那里我们戴上了太阳镜(不仅是为了时尚,也因为它是猛烈阳光下的必需品!)另一个亮点是我们在会议展览中心举行的一场黑领结晚宴中演奏。屋子里都是光鲜亮丽的人们,他们都穿着各色亮片装饰的舞会礼服,梳着亮丽的发型。
The music!! Trying out new songs and watching them come alive with jazz chords, rhythms and harmonies blending on stage. We have some favourites and it's exciting to try and replicate those results with other songs. The thrill of performing live is being agile with whatever comes at you. An audience would never know it, but our team dynamics are astute. A quick glance can move all of us to the bar 37 repeat back into the bridge of a song. We are all good listeners, and if we ever have technical malfunctions on stage, we can still listen to each other and ensure our sound is balanced.
We've been fortunate to play at most of Asia's most luxurious event venues from huge ballroom stages to intimate jazz venues. Maybe a couple of highlights was on an outdoor stage overlooking the beautiful Hong Kong harbour where we got to wear sunglasses (not only for style, but a necessity in the brilliant sun!). Another highlight was a black-tie function at the Convention and Exhibition Centre playing to a room full of beautiful people, a rainbow of sequinned ballgowns and fabulous hair.

DB:最后,我们的读者可以在哪里观看乐队的演出? Finally, where can our readers listen to/watch you play?
可以关注我们的脸书@SyzygyHongKong,我们会更新我们的演出信息。我们接受私人或企业机构等的演出邀约,所以如果你们的活动有音乐演出需求,可发邮件至@goldenvoiceasia.com–期待你们的来信!
Follow us on Facebook @SyzygyHongKong and we'll keep you up to date with our public performances. We are in demand for private and corporate functions, so if you want sophisticated music for your next event please email us personally at info@goldenvoiceasia.com – we'd love to hear from you!