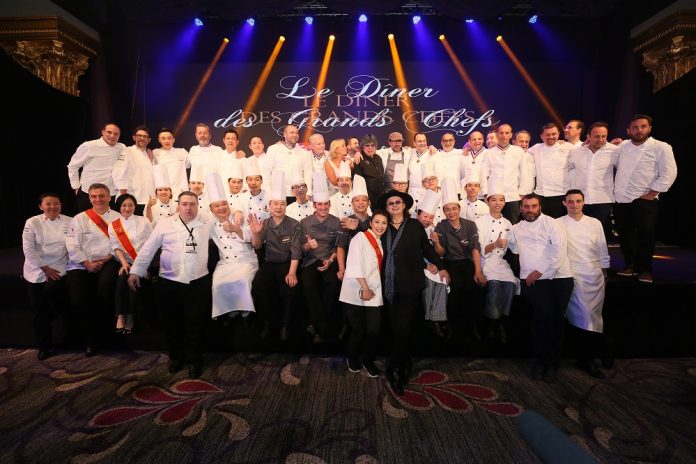 Wednesday, May 9th, 2018: The LN Garden Hotel, one of the first luxury hotels in Guangzhou and a city landmark, successfully hosted the "Le Diner des Grand Chefs" with over 100 famous chefs, including those from several Michelin-starred restaurants, on May 8, 2018. It was a joint effort of GL Events and the Lingnan Group that brought together leaders, distinguished guests, Michelin star chefs and participant chefs of the Bocuse d'Or for a memorable gala dinner. The dinner was presented to over 300 guests by 5 chefs holding Michelin Stars in cooperation with the LN Garden Hotel's professional chefs and service team.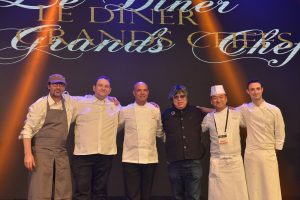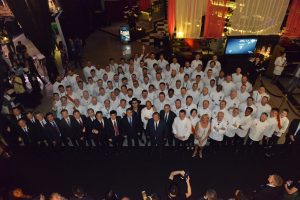 This marks the very first time in the history of the contest that the Bocuse d'Or Asia-Pacific has been held in China. Mr. Olivier Ginon, president of GL Events, invited the international chefs for the 'Diner des Grand Chefs'. It was a mutual cooperation between GL Events and Lingnan Group that the event was a success.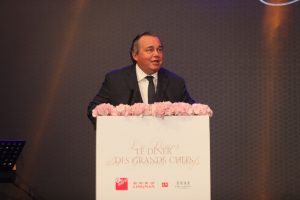 The 'Diner des Grand Chefs,' held at the platinum 5- star LN Garden Hotel, Guangzhou, was a high profile gala dinner organized a day before the final selection of Bocuse d'Or Asia Pacific, 2018. It was an evening in the spirit of late Chef Paul Bocuse, a pioneer of Nouvelle Cuisine. This dinner brought together more than 300 guests and some of the world's greatest Chefs including Marc Veyrat, Yoshiharu Kakinuma (3 Michelin star chef, Hong Kong), Emmanuel Renaut (3 Michelin star chef, France) and other renowned chefs. Chef Jerome Bocuse (son of late Chef Paul Bocuse) also graced the evening and addressed the audience saying "My father would have been proud to see all of you tonight in Guangzhou. Please join me for big round of applause to all the chefs for keeping the spirit alive."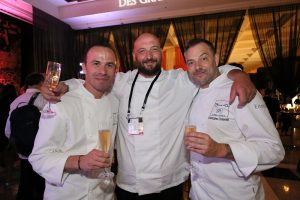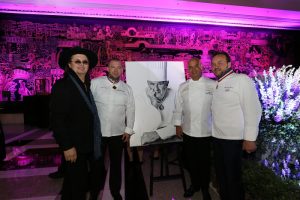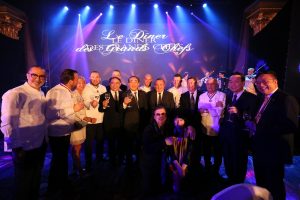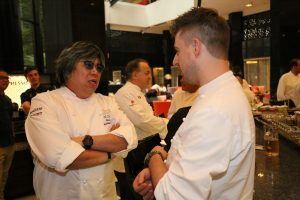 The GL Events and LN Garden Hotel event teams worked together to create this epic event experience. The theme of the evening was "Starry Night," inspired by the plethora of Michelin star chefs and upcoming culinary stars who participated in the contest. The lobby was transformed into a street in France's iconic city of Lyon on a starry night, and the luminous ballroom warmly welcomed the chefs and the guests.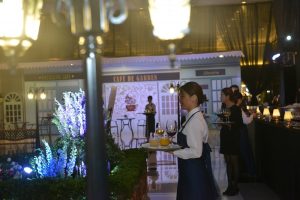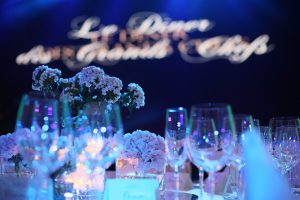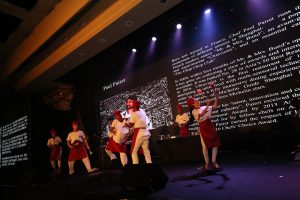 A special handcrafted feast was presented by five Michelin star chefs for the evening. 3 Michelin Star Chef Paul Pairet presented an innovative 'Very-Sea Sea-Scallop' dish which combined the freshest flavors of sea including scallops, sea urchin, seawater and soya sauce base – a hint of Asian flavor.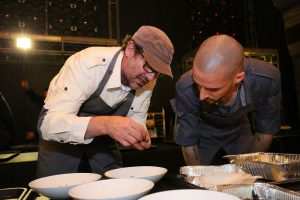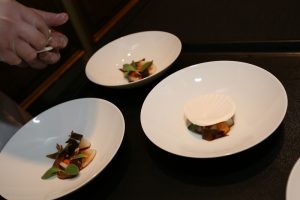 2 Michelin star Chef Arnaud Dunander Sautheir from Bangkok introduced a delectable fusion of French and Thai cuisine, 'Homard des cotes bretonnes' (French blue lobster served with green capsicum curry).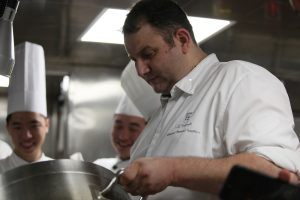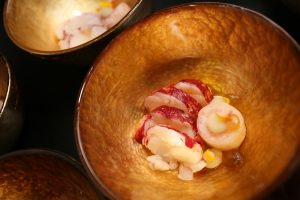 3 Michelin Star Chef Alvin Leung from Hong Kong served a special dish which presented a perfect harmony between yellow croaker fish from China's Yangtze river and sacred Buddhist Lotus seeds and roots in his dish 'Lotus et Poisson Yangtze.' This dish symbolized peace and friendship for the Bocuse participants.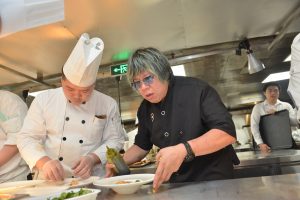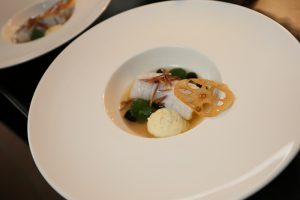 Japanese Master Chef Hisamitsu Hataji deliciously showcased four different seasons of the year in a dish with four traditional Japanese culinary delights with 'Grilled WAGYU in Japanese UMAMI awesome flavored'.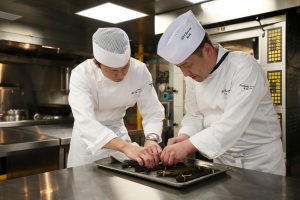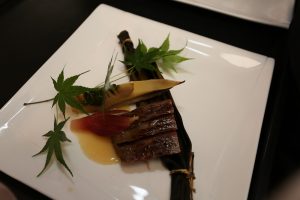 The dinner concluded with a sweet treat from Chef Clement Ayache who presented a dessert in the style of the legendary Chef Pierre Gagnaire's. The LN Garden Hotel's professional chefs and service team then expertly executed this elaborate feast for over 300 guests.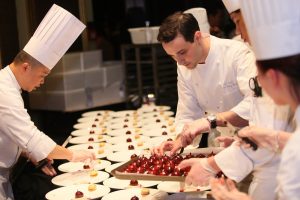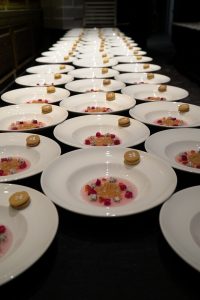 The LN Garden Hotel has a proven track record of hosting large-scale, iconic events for renowned organizations. In 2017, it hosted the outside catering service for the 2017 Fortune Global Forum Gala Dinner for more than 1000 distinguished guests. Another iconic event hosted by the hotel was the "Guangzhou-Oakland-LosAngeles Tri-City Forum". The hotel's charismatic venues, 8 Multi-function rooms and the glorious Grand Ballroom, complemented by its experienced and professional team, provides for remarkable and memorable event experiences that can be customized for a vast multitude of occasions.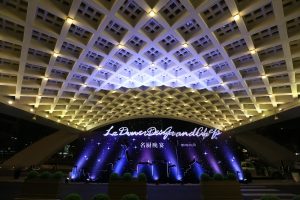 About LN Garden Hotel
The LN Garden Hotel, Guangzhou, is one of the city's first luxury five-star hotels, and showcases a perfect blend of Cantonese heritage and contemporary sophistication. The Garden Hotel offers warm service, an unforgettable guest experience and classic gourmet cuisine. With 828 rooms and suites, 150 apartments, 8 multi-function meeting rooms, 1 International convention center and 9 restaurants, the Garden Hotel is the ideal choice for business or leisure travel in Guangzhou.
Chef Bios:
Paul Pairet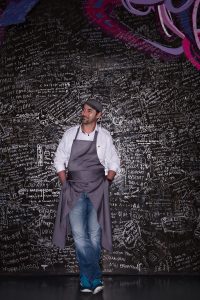 Born and trained in France, Chef Paul Pairet runs three restaurants of different natures in Shanghai: a popular French modern eatery "Mr. & Mrs. Bund", an avant-garde and experimental "Ultraviolet", and an essential carvery "The Chop Chop Club".
In 2009, within four months of Mr. & Mrs. Bund's opening, it has gone on collecting a slew of awards and international accolades. It was ranked No. 28 in Asia's 50 Best Restaurants in 2016. Ultraviolet is the first restaurant of its kind attempting to unite food with multi-sensorial technology, in order to create a fully immersive dining experience. In the second edition of Michelin Guide Shanghai in 2017, Ultraviolet received three Michelin stars.
Being recognized for his "talent, innovation and contribution to Asia's restaurant industry", Pairet received the first ever Lifetime Achievement Award by 2013 Asia's 50 Best Restaurants. Voted for by fellow chefs on Asia's 50 Best Restaurants list, Pairet earned the respect of his peers and was given the 2016 Chefs' Choice Award.
Arnaud Dunand Sauthier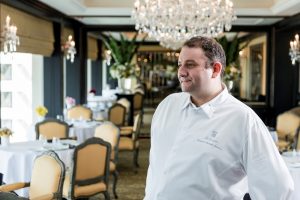 Originally from Savoie, Arnaud Dunand Sauthier is the Chef de Cuisine at renowned Le Normandie of Mandarin Oriental, Bangkok – a connoisseur of French dining in Thailand since its establishment in 1958.Chef Arnaud has over two decades of experience in fine dining, having worked with renowned culinary talent worldwide, including Georges Blanc in Vonnas and Marc Veyrat in L'Auberge de L'Eridan. He also spent three years at Maison Lameloise in Burgundy before venturing to Le Crillon in Paris under the leadership of Jean-Francois Piège.
His philosophy is to source only the freshest ingredients from around the world and the best produce his native region of Savoie has to offer. His menu is mainly inspired by his home in the French Alps and his dishes are the imprints of his culinary identity.
Alvin Leung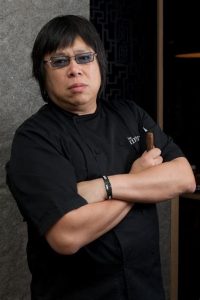 Alvin Leung – aka Demon Chef from Hong Kong, holds three Michelin stars at his restaurant Bo Innovation, one Michelin star at MIC Kitchen and one Michelin star at Bo Shanghai in China. Alvin has modernized Chinese cuisine and single handedly created new taste sensations which give diners a unique experience every time. His X-treme Chinese cuisine is like an art form. What he does to Chinese food is like what Picasso did to art – he breaks down traditional Chinese food to its bare essence and uses it to create new interpretations in modern forms.
"I like to challenge people's expectations, to surprise and excite them. My aim is to have people say 'That was the best meal I've ever had' and I just work backwards from that," says Chef Leung.
Hisamitsu Hataji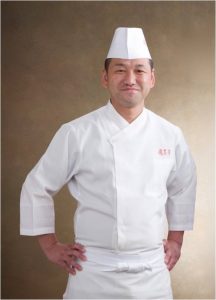 Born in 1973, Hisamitsu Hataji is the Master Chef of Kaikatei in Fukui, Japan – the annex of an historic, established Japanese restaurant, Kaika-Tei, which opened in 1890. Being the youngest recipient of "Meilleuers Ouvriers de Japon" in the Japanese cuisine category, Chef Hataji serves distinctive interpretations of classic Japanese dishes with a modern twist. His constant pursue for excellence has led Kaikatei to gain 16.5 point in "Gault et Millau" and ranked #38 in "La liste 1000".
Clement Ayache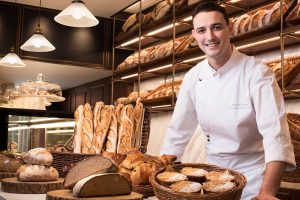 Born in Courbevoie, France, Chef Clement Ayache is the Executive Pastry Chef at Le Boulangerie-Hotel Capella Shanghai, a charming bakery alongside the casual chic French dining concept, Le Comptoir de Pierre Gagnaire. After pursuing a formal education at Ferrandi Paris, a leading culinary institute in France, he found his calling in traditional French pastry and began his career as a pastry chef in Paris. In 2006, a fateful meeting with world renowned Chef Pierre Gagnaire's colleague resulted in a sterling career under the guidance of his mentor. For the last decade, Chef Ayache has worked with Mr. Gagnaire and travelled around the world from his restaurants in Paris, Caribbean, and Vietnam and now in Shanghai. Clement has honed his expertise and passion to create quality and classic recipes for the diners.