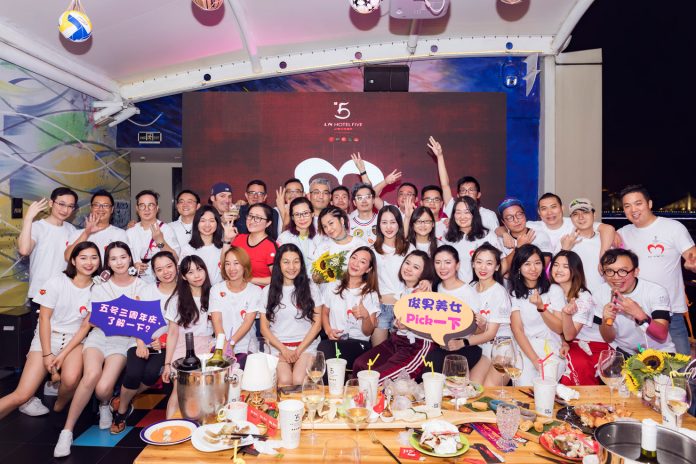 In 2015, Guangzhou received its first upscale boutique hotel with the opening of the Lingnan Hotel Five (LN Hotel Five).  The LN Hotel Five is the first and flagship boutique hotel of the Lingnan Group, designed for travelers seeking rich cultural experiences and modern sophistication. The LN Hotel Five brand name was inspired by Guangzhou, the "City of Five Rams," and from the classical Chinese 'Theory of Five Elements'.
In 2016, LN Hotel Five became Guangzhou's first and only member of the Small Luxury Hotels of the World TM (SLH).  SLH is an alliance of 520 independent boutique and luxury hotels in more than 80 countries around the world.
On the evening of August 31, 2018, LN Hotel Five celebrated the Anniversary of its third successful year by thanking media guests and loyal patrons with an 'All Star Party' featuring a sports theme.
The evening was graced by over 50 representatives from the media and loyal patrons who enjoyed 3 mini versions of football, badminton and ping-pong, all designed to showcase hotel's energetic and enthusiastic vibe. After the fun and games, guests were escorted to hotel's newly upgraded Roof Top Bar overlooking the Pear River, which was enlivened with a sports atmosphere.
Dinner was arranged family-style on communal tables, offering a dining experience that was at once intimate and upscale. This special arrangement provided guests to share the food among friends, inviting everyone to interact and to dine at their own pace.  As the evening continued, guests were treated to Cantonese specialties handcrafted by the Hotel's Executive Chef Bob Wu, including Braised Chicken with Premium Soy Sauce and Huadiao Wine, LN Hotel Five Signature Roasted Goose with Preserved Vegetable. Bartenders served up classic cocktails, keeping guests in high spirit throughout the evening as they enjoyed the vivacious music and the splendid Pearl River view.
The LN Hotel Five's Lounge 5 and Roof Top Bar are perfect venues for small meetings, private banquets and relaxation. Over past three years, the hotel team has been hosting events with meticulous planning and personalized execution, to ensure an intimate cultural experience with modern comfort.
Presiding over the Pearl River and located at the heart of a cultural district, the LN Hotel Five offers guests a journey through the ancient and rich Cantonese culture; like an an art gallery within a Hotel. The architectural design of the LN Hotel Five echoes the cultural integration of Guangzhou's urban character and presents guests with a unique journey through time. Old Guangzhou and new city fashion are naturally intertwined in the hotel's ambience. Designed to balance the senses and soothe the soul, the LN Hotel Five is the pitch-perfect retreat for local and international travelers alike.
LN Hotel Five,Guangzhou
277, Yanjiang Road, Yuexiu District, Guangzhou
For more information and enquiries, please contact 020-89310505 or email  rsvn@LnHotelFive.com.cn