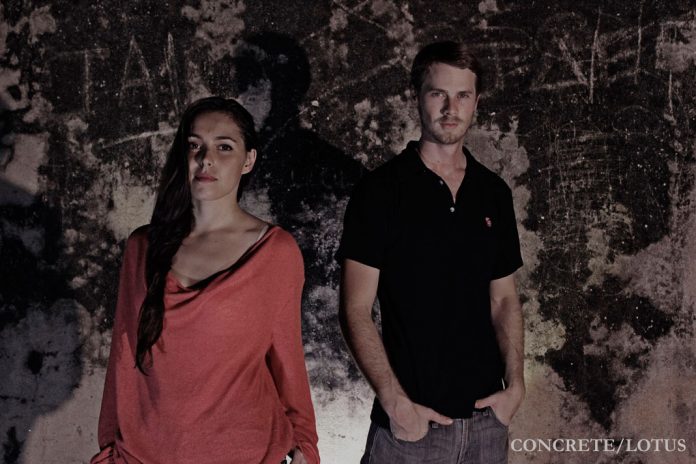 Macau band Concrete/Lotus proudly announce the release of a new single and music video, on Friday, the 16th. After the first two singles, "Elevate" (10 months ago) and "Fighter" ( 8 months ago), the Macau duo keeps pushing for the local music scene with a new original song called "Hold Me Back". The music video is, yet again, filmed and edited by the band members. This time, Concrete/Lotus features an artist from Hong Kong that participated on Secret Walls, a global live art competition, Anastasyia Lisovska. The location of the filming shows, as usual, the place the band calls home: Macau.
Like the first two singles, "Hold Me Back" will be online for free download after.
Don't miss it!
Friday, the 16th at 9pm. The music video/single will be released on the band's website, Facebook page and YouTube channel. Happy moon festival!
www.concretelotusband.com
www.facebook/concretelotus
www.youtube.com/concretelotus
CONCRETE/LOTUS BIO
A musical project that explores the complexity of live music creation and performance: Concrete/Lotus is comprised of producer, singer and multi-instrumentalist Kelsey Wilhelm and vocalist Joana de Freitas. Live and in the studio, Concrete/Lotus brings a melodic progression through acoustic and electronic elements that blend together vocals, drums, guitar and synths into a live performance using looping.
The Macau based band draws a strong influence from various genres including Hip Hop, Jazz and Blues, Funk, Dub and Dubstep, with a sprinkle of Dance music. By combining electronic elements with guitar, keyboards, singing and rap Concrete/Lotus builds each song into a journey, to adapt the show to various crowds and preferences always expounding on the message of each individual original song.
Concrete/Lotus launched their first single and music video as the new duo ten months agor – for the song 'Elevate' – filmed by Edite Sofia Ribeiro and Kelsey Wilhelm. The band then launched the second song, "Fighter" – filmed by themselves and with two amazing Macau athletes (António Barrias e João Ramos) and is currently preparing its second album, while continuing live shows. Having performed in a variety of venues and festivals in Macau and outside, including the Hard Rock Café Macau, the Venetian Resort Macau (Cotai Jazz and Blues Festival), Secret Island Party in Hong Kong, Beishan World Music Festival in China, the Global Gaming Expo (held at the Venetian Macau), World Music Day, the Fringe Festival in Macau and Les Nuits Esthethes in Shenzhen, Concrete/Lotus is no stranger to the stage or the studio.