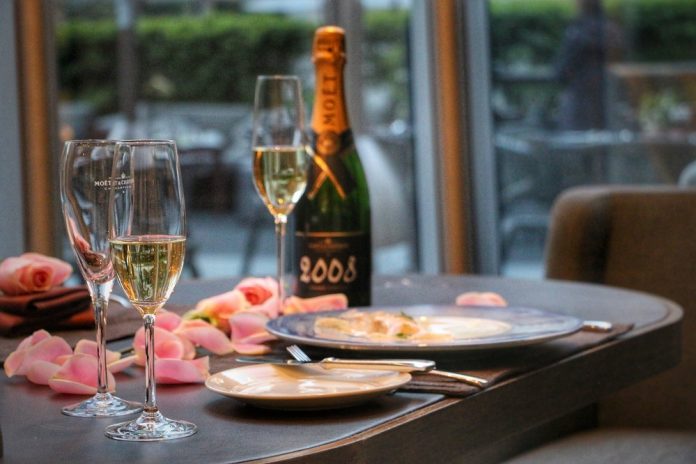 尽管这个情人节将在新年除夕夜的前一日,何不借此机会在参加不计其数的亲友团圆聚餐之前,甜蜜地度过一个只有"你和我"的二人世界?在一年一度最浪漫的日子里,与您的挚爱度过一个甜蜜时光,创造属于你们的专属记忆。今年的浪漫开始尽在广州文华东方酒店。
28 December 2017, Guangzhou, China – Although this coming Valentine's Day falls a day before the Chinese New Year's Eve, why not take this opportunity to relax and enjoy a moment of just 'you & me' before the hustle and bustle of family reunions during Chinese New Year? Spend some quality time and spoil your loved one on the most romantic day of the year in a beautifully designed and elegant setting, only at Mandarin Oriental, Guangzhou.
甜蜜情人节双人水疗套餐
Valentine's Day Spa Treatment for Two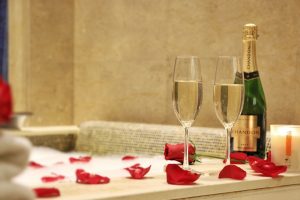 甜蜜浪漫的情人节,从水疗中心的120分钟远离电子设备的骚扰开始。在这专属的两小时内,抛开所有电子通信设备好好享受二人甜蜜世界。浪漫的水疗体验从双人玫瑰花瓣泡泡浴开始,贴心的服务员更特别准备了香槟,在泡浴的同时品味香槟的陶醉魅力;随后,为您的挚爱磨上特制玫瑰花及海盐身体磨砂,除有效洁净毛孔,滋润皮肤之外还能添加两人的甜蜜互动;最后以水疗中心的招牌身体护理 "电子排毒身体按摩" 完结整个水疗体验。情人节双人水疗套餐有效期为2018年2月10日至2月14日,所有购买该套餐的顾客可额外获赠一份芳香东方香薰蜡烛礼盒,双人水疗套餐价格为人民币1,880+15%服务费。
Start this magical day with a 120-minute digital device free experience at The Spa. Step away from the daily digital devices and concentrate only on your loved one. The romantic journey begins with a rose petal bubble bath whilst sipping a bottle of champagne, followed by a rose and sea salt body scrub with your love and ending with a 60-minute Digital Wellness signature body massage. The Valentine's Day spa treatments are available from 10 to 14 February 2018, and every couple will receive a complimentary Aromatic Oriental Candle, priced at CNY1,880 + 15% service charge for two persons.
广州文华东方酒店水疗中心营业时间为上午9点至晚上11点,查询及预订电话: + 86 (20) 3808 8879 或电邮:mogzh-spa@mohg.com。
The Spa at Mandarin Oriental, Guangzhou is open daily from 9am to 11pm. For reservations, please call: +86 (20) 3808 8879 or e-mail mogzh-spa@mohg.com.
悦铂尼,满溢于空气中的浓情蜜意
Love is in the air at Ebony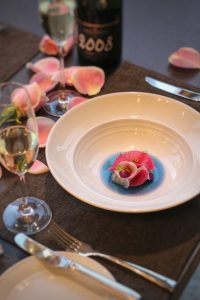 情人节当天,于酒店四楼悦伯尼西餐厅享受专属精致的双人晚宴。酒店行政总厨Jonny运用他精湛的厨艺,为每对甜蜜的恋人制定一套浪漫七道菜的双人晚餐。为节日当天增添浪漫惊喜,凡消费一份情人节双人晚宴将获得一支新鲜玫瑰花、两颗自制甜蜜马卡龙、人民币200元水疗消费券一份及人民币200元的悦铂尼晚餐抵费券一份。情人节双人浪漫晚餐价格为人民币1,899+15%服务费。顾客也可以选购情人节双人水疗及悦铂尼双人晚餐套餐组合,只需净价人民币3,999元。
An exquisite evening planned at the hotel's fourth-floor Ebony, welcomes guests with a Valentine's Day seven-course romantic dinner for two exclusively on 14 February, prepared and designed especially by the hotel's executive chef – Jonathan Shea. For a further romantic touch, every couple will be presented with a fresh rose, two pieces of home-made macarons, and CNY200 credit voucher for both The Spa treatments and Ebony semi buffet dinner. The Valentine's Day set dinner for two is priced at CNY1,899 + 15% service charge. In addition, guests can enjoy both the Valentine's Day spa package and dinner at Ebony at a special price of CNY3,999 nett.
查询及预订电话: + 86(20)3808 8884或电邮:mogzh-ebony@mohg.com。
For reservations or more information, please call +86 (20) 3808 8884 or e-mail us at mogzh-ebony@mohg.com.
广州文华东方酒店
About Mandarin Oriental, Guangzhou
广州文华东方酒店位于享负盛名的太古汇之内,太古汇为一个占地358,000平方米的综合发展项目,集奢华购物、甲级写字大楼及令人赞叹的文化中心于一体,酒店提供广州城中宽敞的酒店客房体验。酒店233 间客房和 30 间套房传承了文华东方酒店品牌精致典雅的经典风格。酒店的设计由季裕棠设计师事务所(tonychi and associates) 操刀。设计揉合了传统东方元素和"新中国"的现代特色。酒店的粤菜餐厅江-由辉师傅主理,辉师傅是中国最优秀的厨师之一,以他的创意粤菜而闻名,以及经典烧烤餐厅Ebony、茶廊悦茶居、文华饼店和独具特色的The Loft酒吧等为宾客提供了丰富选择。广州文华东方酒店的水疗中心 为宾客提供一个难得宁静与惬意放松的机会。设施齐全的健身中心配有25米长的户外温控泳池与配套健身康体设备。一流宽敞的会议与宴会厅配有最新的科技设施,总面积达710平方米的宽阔气派大宴会厅必将成为城中奢华顶级宴会庆典的理想之选。
Located next to TaiKoo Hui Shopping Centre, each of the hotel's 233 spacious guestrooms, 30 suites and 24 serviced apartments reflects the Group's distinctive elegance and style. Diverse dining choices include Jiang by Chef Fei, one of China's most notable chefs known for his creative flair; a classic grill restaurant, Ebony; The Taikoo Lounge; The Mandarin Cake Shop and The Loft. The Spa at Mandarin Oriental, Guangzhou offers city dwellers and visitors a rare opportunity for peace and tranquillity with nine private treatment rooms. Top-tier meeting and function facilities are spacious and equipped with the latest technology, and the hotel's expansive 710-square-metre ballroom is the city's premier celebration and events destination.