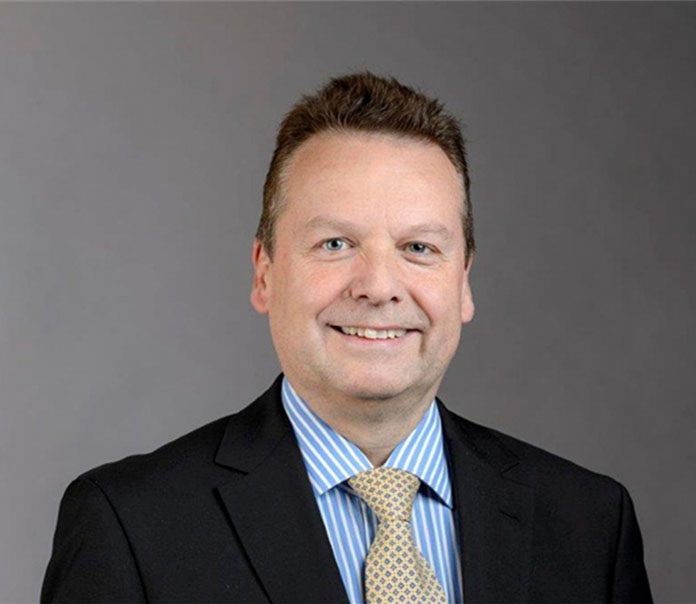 Mr. Didier Boschung – 瑞士驻广州总领事 – Consul-General of Switzerland in Guangzhou
DB was invited to the Swiss Consulate General in Guangzhou to talk to the Consul General Mr. Didier Boschung about the tasks of the Consulate General and the Swiss-Chinese relationship regarding investment opportunities and tourism.
It has always been Mr. Boschung's dream to travel the world, even when he was still young as the story he told us shows: "My parents told me that when I was two years old, I took my tricycle and disappeared. They had to call the police, and my response when they found me was that I wanted to see more than just my house. That was probably the first time I traveled." This passion has not changed since. China is already the 9th country he has been appointed to, and he has been living in foreign countries for 32 years. Two years ago, after being in Karachi, Pakistan, he came to Guangzhou.
As Consul General, he is the head of the Consulate General which is divided into different sections. DB wanted to know from Mr. Boschung, what tasks he and his team pursue.
Firstly, one of his staff members is in charge of the Swiss community which means that if Swiss citizens need some assistance while being in China, the Consulate General will support them in their situation.
Secondly, a big and important responsibility of the Consulate General is the visa section which is responsible for the issuance of Schengen visas for Chinese or for foreigners that are living in China and wish to travel to Switzerland. Mr. Boschung tells us that this task is important, "We issue about 10,000 visas per year in Guangzhou, and in whole China more than 100,000 visas a year are issued for going to Switzerland." In order to increase the efficiency of this section, they successfully outsourced the visa application. "A company called TLS receives all the visa application documents before we decide whether or not the visa will be issued or if an interview is necessary," explains Mr. Boschung.
Thirdly, the two organizations Swissnex and Swiss Business Hub are also represented at the Consulate General. The first is responsible for the promotion of Swiss technology, innovation, and education, whereas the latter is a subsidiary of Switzerland Global Enterprises in Zurich whose task is to promote bilateral trade and investment and to attract Chinese companies to go to and invest into Switzerland.
And what is his principal task? "My main task is to represent and defend Swiss interests. This can be related to political, cultural or economic – trade and investment – affairs," says the Consul General. How diversified his job is, can be seen by looking at his schedule: "A little while ago, I went to a trade and investment fair, and visited an industrial park and some Swiss companies in the area. Yesterday, I attended a cultural event [a photo exhibition from a Swiss photographer, Fernand Gigon from the 1950s], and tonight I am having dinner with the media."
When asked to describe the relationship between China and Switzerland, Mr. Boschung answered: "Switzerland has a very good relationship with China. Last year, we celebrated the 65th anniversary of our relationship. Switzerland was one of the first countries to recognize the Republic of China in 1950. Switzerland is seen as a world economic power, as a leader in technology and innovation, and it stands for quality products, beautiful landscapes, clean air, and many other things that Chinese appreciate."
The good relationship over many years has had a positive influence on the economic conditions for trade and investment between the two countries. In 2013, Switzerland and China signed a Free Trade Agreement which allowed to reduce or drop custom duties completely. Two years after its implementation, first conclusions are being drawn. In the opinion of Mr. Boschung the results are pleasing: "We have received a lot of positive feedback, but it is still not 100% the way it is supposed to be. There is a continuous discussion between the customs authorities of Switzerland and China. It is a new agreement that was enforced in 2014, so it is still young and there are some issues to be resolved. All in all, our trade went up."
Next, DB wanted to know if there is a potential for Swiss investments in South China. "There is definitely a huge potential," confirms Mr. Boschung. Currently, there are about 80 Swiss companies located in the Guangdong Province. Mr. Boschung especially mentions Guangdong's high-tech city Shenzhen, "There are hundreds if not thousands of start-ups, and the Swiss technical schools like Swiss ETH or EPFL are much interested in collaborations." Both universities are very renowned on an international level.
A few weeks ago Mr. Boschung attended the Zhongshan Trade & Investment Fair together with a large Swiss delegation: "We had a delegation of Swiss companies coming from Beijing and Shanghai, because we wanted to visit the so-called Swiss-Sino (European) Industrial Park (SSIP) which has been created in Zhongshan two years ago." The SSIP is a new industrial park built in the Tsuihang New Economic District in Zhongshan. They target Swiss companies but also European ones.
The Swiss government, however, does not get involved directly in business-to-business affairs, unlike other countries. It is Zhongshan's responsibility to find Swiss companies that want to invest in the Industrial Park, but the Swiss Consulate General will still support them in promoting the park.
What about investments on the Chinese side? We asked the Consul General about Chinese investments in Switzerland, "We are very keen to attract Chinese investors to Switzerland."
In general, Mr. Boschung tells us that Chinese investments happen in two ways: "They either buy the Swiss image by a merger or an acquisition of a Swiss company or they open a company of their own." As examples, he mentions the major acquisition of Syngenta by a Chinese investor that occurred recently and the Chinese telecommunications and networking equipment company Huawei: "Huawei, for example, opened Huawei Switzerland in Berne. In Switzerland, you have to register as a Swiss company. Of course, the headquarters is in Shenzhen but Huawei Switzerland is a 100% Swiss company with 500 employees."
Switzerland offers Chinese investors several reasons for considering to invest in the country: "Being in the middle of Europe geographically and close to or in the business hub Zurich is an incentive for Chinese companies. Switzerland has an excellent reputation in technology and innovation, a very steady political system, and stable policies."
Additionally, there is another major advantage according to the Consul General: "If a Chinese company goes to Switzerland, produces, and finishes their products there, then they are allowed to use the Swiss Made label under certain conditions and eventually enter the European market." Importing a product from China to Switzerland, however, does not automatically mean that they are permitted to enter the European market. Overall, Mr. Boschung says, "We hope that more Chinese companies will come to Switzerland."
Switzerland does not only want to welcome Chinese businesses to Switzerland but also China's tourists. We already touched the subject of tourism with the Consulate General's responsibility for the visa issuance. Switzerland is a popular tourism destination for Chinese. Mr. Boschung agrees completely: "The interest of Chinese tourists in Switzerland is high. Last year, we registered 1.5 million overnight stays from Chinese." However, the private stays that are offered by service companies like Airbnb for instance, are not included in this statistic.
Mr. Boschung tells us that Chinese tourists usually travel in groups and come to Switzerland for one or two nights. The most popular places are Lucerne and Interlaken. This is something that Mr. Boschung and the organization Switzerland Tourism aim to change: "Together with Switzerland Tourism we are currently targeting individual tourists. We want them to see other Swiss places." This is why they launched the campaign ˈthe Grand Tour of Switzerlandˈ this year. Mr. Boschung explains to us what it is about: "It targets people that want to rent a car in Switzerland and explore the country on their own. Switzerland Tourism provides the necessary information." The route is 1,000 miles long and leads through all the 4 language regions and over five Alpine passes. It links the major highlights of the country.
"We support Switzerland tourism in promoting the country among Chinese, because tourism is an important part of the Swiss economy, and it is our duty to defend it. Switzerland has lost a lot of European tourists, because of the strong Swiss Franc. This affects the EUR but not the RMB. So, we are hoping that tourists from China and Southeast Asia will fill this gap," Mr. Boschung adds to the question regarding Switzerland tourism.