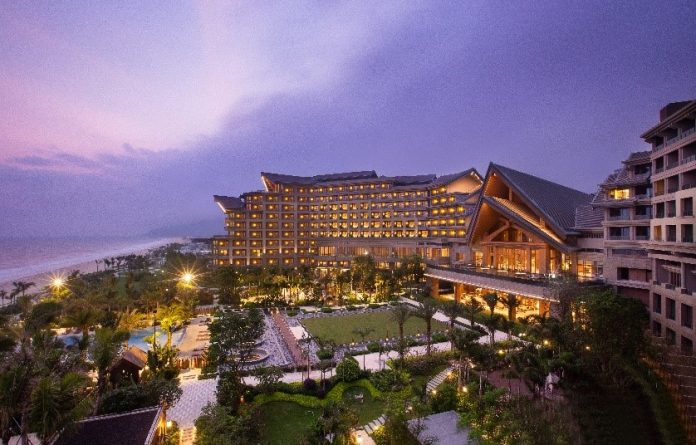 希尔顿近日宣布,汕尾保利希尔顿逸林酒店正式开业迎宾,作为汕尾首家国际酒店及广东省全新滨海旅游度假目的地惊艳亮相。酒店共有 11 层 288 间海景或园景客房,向宾客提供各种休闲娱乐和家庭亲子设施、多样的餐饮选择及宽阔的会议活动空间,是宾客进行家庭度假、举办婚礼庆典或会议活动的理想目的地。酒店由保利发展投资兴建并由希尔顿集团管理经营。
Hilton recently announced the opening of DoubleTree by Hilton Shanwei, which debuts as the first international hotel in Shanwei, a coastal destination in Guangdong province. The 11-storey, 288-room seaside getaway welcomes guests with extensive recreational and family-friendly facilities, a wide range of dining options and expansive event spaces, offering itself as the ideal destination for weddings, family getaways or conferences. The property is owned by Poly Developments and Holdings and managed by Hilton.
希尔顿大中华区及蒙古总裁钱进表示,"我们非常自豪汕尾保利希尔顿逸林酒店成为首家入驻汕尾市的国际品牌酒店。汕尾是风景如画的滨海城市,受益于粤港澳大湾区的地理和资源优势,正快速发展成为深圳、广州和香港等周边城市休闲与商务旅客的首选目的地。随着深汕特别合作区文旅产业的发展,汕尾保利希尔顿逸林酒店将在推进区域商务和休闲旅游国际化发展进程中发挥不可或缺的作用,并且对希尔顿在华发展具有重要战略意义。"
"DoubleTree by Hilton Shanwei is proud to be the first international hotel in Shanwei, a picturesque ocean city that is quickly becoming a destination of choice for leisure and business travelers from neighboring cities such as Shenzhen, Guangzhou and Hong Kong," said Qian Jin, area president, Greater China & Mongolia, Hilton. "As the Shenzhen-Shanwei Special Cooperation Zone furthers the region to become a premier marine hub that sets the benchmark of world-class standards for businesses, residents and tourists, DoubleTree by Hilton Shanwei will play an integral role in the region's economic development and be of strategic importance to Hilton's development in China."
汕尾保利希尔顿逸林酒店坐落于风光旖旎的金町湾,宾客可在客房和套房中欣赏海上落日全景,或从酒店直接漫步到达七公里长的静谧海滩。酒店靠近广州和深圳等周边城市,广深地区旅客开车即可前往酒店欢度周末,距离汕尾高铁站仅 9 公里,便利连接周边城市和国际机场。酒店公共交通便捷,宾客亦可搭乘公交轻松前往繁华的市中心一睹汕尾城市风采。
DoubleTree by Hilton Shanwei is located along the scenic Jinting Bay, where guests can enjoy rooms and suites that offer panoramic ocean sunset views or stroll directly from the hotel onto seven kilometres of tranquil beach. The hotel's proximity to nearby cities such as Guangzhou and Shenzhen makes it easy for urban residents to drive in for a weekend getaway. Shanwei Railway Station is only nine kilometres away, where guests can conveniently connect to nearby cities and international airports. With the hotel's easy access to public transportation, guests can also enjoy easy access to the downtown urban centers.
希尔顿高级副总裁兼希尔顿逸林品牌全球负责人肖恩·麦卡蒂尔 (Shawn McAteer) 表示,"希尔顿逸林今年恰逢品牌诞辰 50 周年,作为希尔顿旗下在大中华区增长第二快的品牌,希尔顿逸林的持续快速扩张证明我们的热情服务与完备设施已与这里的宾客产生共鸣。我们期望继续将希尔顿逸林温暖的个性化服务和标志性的希尔顿逸林热曲奇带到这个轻松愉悦的滨海酒店。相信该目的地配备的高档活动设施、浪漫户外空间和丰富海滨休闲娱乐设施,将为每一个前来度假的家庭带来欢乐难忘的暖"逸"时光。
"As DoubleTree by Hilton celebrates its 50th brand anniversary this year, it enjoys continued rapid expansion in China as Hilton's second-fastest growing brand in the Greater China region, proof that our exceptional facilities and warm hospitality resonate with our guests here," said Shawn McAteer, senior vice president and global head, DoubleTree by Hilton. "We look forward to delivering our personalized service and signature, warm DoubleTree by Hilton Cookie welcome in the relaxing oceanfront hotel – a destination in itself with upscale event facilities, cozy outdoor spaces and ample seaside recreation for the whole family to enjoy."
其他酒店特色和服务设施包括:
Additional hotel features and amenities include:
餐饮 | DINING
酒店的四个餐厅将为宾客带来多样化精致美食体验。
o 全日制餐厅厨艺精选本地食材,提供国际经典美食和本地特色菜肴。灵动多元的餐厅还设有现场烹饪台营造丰富感官体验。
o 宾客可在面聚轩品尝传统手工美食,餐厅提供招牌式手工面条和自制水饺,清新时尚的环境、传统质朴的手工厨艺,给您以面食最本真的味道。
o 青雅中餐厅主理新鲜海鲜美食、潮汕传统美味和正宗粤菜,文化氛围浓厚,传统特色鲜明,内部设计灵感来自中国古代四艺"琴棋书画", 为宾客营造舒适典雅的用餐体验。
o 宾客可在现代时尚的绿洲大堂吧享受舒适惬意的鸡尾酒或下午茶时光。在夜晚,这座滨海酒吧将变身酒廊,提供现场音乐表演和各种精选创意饮品。
o For all-day dining, Kitchencraft offers a diverse selection of international classics and local specialties with a focus on local produce. The dynamic restaurant boasts live cooking stations for an exciting sensory experience and a cozy lounge.
o Guests can savor flavorful comfort food at Nodu, which serves signature homemade noodles and dumplings set in an unpretentious environment inspired by traditional noodle houses.
o Qing Ya, a Chinese fine-dining restaurant, specializes in fresh seafood and regional Chaoshan and Cantonese specialties within a strongly cultural setting featuring interior designs inspired by the mastery of the three arts – the zither, painting calligraphy and the game of Wei Qi – for an elevated dining experience.
o Guests can enjoy refreshing cocktails or afternoon tea at The Oasis, a contemporary bar and café. At night, this oceanfront bar transforms into a lounge with live music and a selection of creatively-concocted drinks. Grab and go options are also available.
服务设施 | AMENITIES
酒店设有 288 间客房,包括 26 间套房,向宾客提供非凡舒适的入住体验。客房设施齐全,包括希尔顿逸林"好梦常在TM"舒适睡眠床品,49 英寸 LCD 卫星频道电视以及宽敞浴室等。
Each of the 288 guest rooms, including 26 suites, offer guests comfort and convenience for a rejuvenating stay. Rooms are equipped with stylish, modern amenities, including the Sweet DreamsTM by DoubleTree sleep experience bedding, 49-inch LCD televisions with satellite channels, as well as spacious bathrooms.
作为滨海目的地,酒店向宾客提供多种多样的休闲娱乐活动、健身场所,以及无与伦比的滨海美景。酒店设有全市唯一户外无边泳池,宾客可直接进入户外家庭游泳池和无边际海景游泳池,在酒店前的海滩上欢度一天的惬意时光。雨天,宾客也可选择在室内恒温游泳池、温泉池或儿童俱乐部欢度美好时光。配备泰诺健® 训练设备的24小时健身中心也为宾客提供放松身心的舒适场所。
To complement the oceanfront location, the hotel offers guests a wide array of activities for entertainment, exercise and relaxation. Boasting the city's only outdoor infinity pool, families can spend the day on the property-front beach with direct access to the outdoor large infinity pool and family pool, or spend rainy days in the heated indoor pool, hot tub or kid's club. Guests have 24-hour access to a complete fitness center with Technogym® equipment.
会议与活动 | MEETINGS AND EVENTS
汕尾保利希尔顿逸林酒店设有 1,480 平方米会议空间,全市唯一配备 500 平方米无遮挡海景户外活动空间,是举行婚礼、商务会议和其他社交聚会的理想场所。精致典雅的 900 平方米无柱式大宴会厅是全市最大的宴会厅之一,可容纳 800 位宾客,还有 7 间其他多功能厅适合各类会议活动。
With 1,480 square metres of meeting space, and the city's only hotel with a 500-square-metre outdoor event space with unobstructed ocean views, DoubleTree by Hilton Shanwei is the optimal venue for weddings, business meetings and other gatherings. The elegant 900-square-metre pillarless Grand Ballroom, one of the city's largest ballrooms, can accommodate up to 800 guests, and is joined by seven other function rooms for conferences, reunions and other events.
正如希尔顿旗下十七个备受赞誉的酒店品牌一样,汕尾保利希尔顿逸林酒店也加入了屡获殊荣的宾客忠诚度计划"希尔顿荣誉客会"。 直接通过希尔顿官方渠道预订的会员可享受即时礼遇,包括让会员灵活选择希尔顿荣誉客会积分与现金组合预定入住的付款选项、任何其他地方无法提供的会员专属折扣和免费标准 Wi-Fi。
DoubleTree by Hilton Shanwei is part of Hilton Honors, the award-winning guest-loyalty program for Hilton's 17 distinct hotel brands. Hilton Honors members who book directly through preferred Hilton channels have access to instant benefits, including a flexible payment slider that allows members to choose nearly any combination of Points and money to book a stay, an exclusive member discount that can't be found anywhere else, and free standard Wi-Fi. Members also enjoy popular digital tools available exclusively through the industry-leading Hilton Honors mobile app, where Hilton Honors members can check-in, choose their room, and access their room using a Digital Key.
---
汕尾保利希尔顿逸林酒店
DoubleTree by Hilton Shanwei
广东省汕尾市城区马宫街金町湾
Jinting Bay, Magong Street, Shanwei, Guangdong
距离深圳宝安国际机场约 130 公里、距离揭阳潮汕国际机场 180 公里。
130km from Shenzhen Bao'an International Airport, and 180 km from Jieyang Chaoshan International Airport.
http://www.doubletree.com
Tel: +86 660-391 8888。