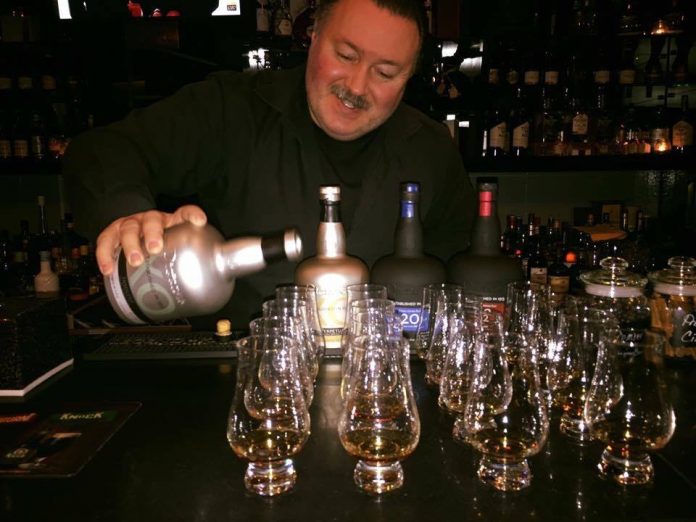 Niall Murray-澳门佳酿的

常务董事

-Managing Director, Prem1er Bar and Tasting Room, Macau.
DB:佳酿有许多烈性酒收藏品,它们主要源自哪里?We notice that there are many different spirit collections at Prem1er. Where are they mainly from? 
我们藏有来自世界各地的上乘烈酒。我们有俄罗斯政府官方饮用的伏特加'克里姆林传说'、蒙古的'成吉思汗'、哥伦比亚的'独裁者朗姆'和'陈年金酒'、法国的Godet Cognac fine Champagnes和红酒、葡萄牙进口酒、亚洲的爱尔兰手工啤酒和威士忌以及经过'最后一滴'投票的世界最佳苏格兰威士忌。
We have the best from all over the world. We have Legend of Kremlin the official Vodka to the Russian Government, Chinggis Khan and Soyombo Vodkas from Mongolia, Dictador Rums and Aged Gins from Colombia, Godet Cognac Fine Champagnes and wines from France, ports from Portugal, Asia's largest selection of Irish Craft Beers and whiskeys, plus The Last Drop voted the best whisky in the world from Scotland.
DB:你自己本身是一位烈酒收藏爱好者吗? Are you personally a spirit-collecting lover?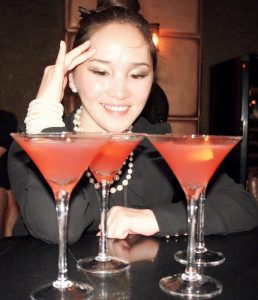 是的,我们都爱烈酒。我们拥有一系列珍稀上乘的烈酒,如"最后一滴 48"、"最后一滴 50"、"1967 格兰盖瑞"、世界第一的"吉姆·穆雷威士忌"、"高帝Renaissance干邑"、源自1900年至1950年的上乘佳品及珍贵的爱尔兰威士忌。
Yes, spirits are our passion. We have one of the finest, rarest and largest selection of fine and rare spirits in Asia. We have the only The Last Drop 48-year-old, 50-year-old, 1967 Glen Garioch in Macau, voted the best in the world by Jim Murray's whiskey bible. We have Godet Renaissance Cognac, a blend of the best vintages from 1900 to 1950. And the largest selection of rare Irish whiskey in Asia.
DB:众多酒品中,你认为佳酿最好的酒藏品是哪种?What are the best collections you have in your bar? 
在亚洲,我们是拥有量最多和质量最上乘爱尔兰威士忌的酒吧,其中包括 Teeling's Single Grain, Single Malt, Small Batch, Poitín等。另外,我们还有Middleton Very Rare、Dair Ghaelach、 Paddy、Powers、Green Spot、Yellow Spot、Redbreast、Tyrconnell、Tullamore Dew、 Kilbeggan、Connemara、Writers Tears、Jack Ryan、Wild Geese、Dunville's、Jameson、 Busmills和Blackbush等,这些只是其中一部分。
We have the biggest and best collection of Irish whiskey in Asia, which includes Teeling's Single Grain, Single Malt, Small Batch, Poitín, 15, 21, 26 and 30-year-old. We also have Middleton Very Rare, Dair Ghaelach, Paddy, Powers, Green Spot, Yellow Spot, Redbreast, Tyrconnell, Tullamore Dew, Kilbeggan, Connemara, Writers Tears, Jack Ryan, Wild Geese, Dunville's, Jameson, Busmills, Blackbush to name just a few.
DB:说出三个能让你的酒吧与其他酒吧与众不同的特点。Name three things that make your bar stand out from the others.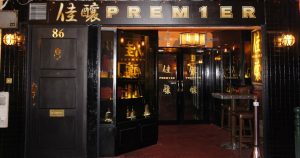 我们除了将自身打造成澳门一流的酒吧外,佳酿会进口和分销各类烈酒、红酒和啤酒。因此,我们拥有许多珍稀和独特的酒饮。顾客的舒适程度是我们首要的考虑因素。酒吧内配有舒软的凳椅和沙发,柔和的光线配上舒心的音乐,给客人营造一种古典优雅的闲适氛围。我们个性化的服务也能帮客人们选择自己喜爱的酒饮。
In addition to operating the best bar in Macau, PREM1ER also imports and distributes spirits, wines and beers. As a result, we offer an extensive selection of rare and unique drinks. Customer comfort is a priority. Our comfy chairs and couches, soft Edison lighting and gentle background music create a warm, cozy and relaxed atmosphere. Our personalized customer service focuses on clearly understanding guest preferences and providing the best bespoke cocktails and drinks possible.
DB:在经营佳酿时,你最喜欢工作的哪个部分? What is the best part for you to run this business?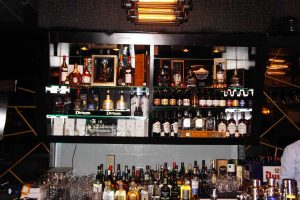 为顾客服务永远是我们最喜欢的部分。我们十分与客人们互动,了解他们的喜好并提供他们理想的酒品。我们喜欢从世界各地进口新和有趣的酒饮,然后与我们的客人分享,让他们可以尽情地在美酒的世界里探索和发现。佳酿十分重视顾客,他们的愉悦和积极反馈将是我们最大的动力!
Our guests are the best part of operating PREM1ER. We really enjoy interacting with guests, getting to know their preferences and providing them with amazing libations. We love to introduce new drinks from around the world, interesting flavor combinations, and to bring our guests on a beverage journey of exploration and discovery. Our guests' delight and positive reactions are priceless, and we love them!
DB:我们能从什么渠道了解更多'佳酿'?Where can we get more information about Prem1er Bar and Tasting Room?
微信公众号 WeChat Account:
Bolorgan
Facebook
Instagram
官方网站 Website