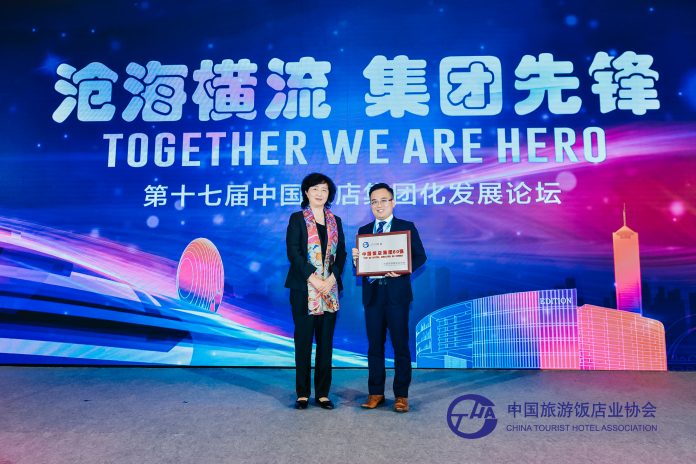 8月22-23日,第十七届中国饭店集团化发展论坛在山东省青岛市举办,围绕酒店行业严守安全生产,走好产业复苏,持续推动更大、更深、更高质量的复工复产展开研讨。文化和旅游部党组成员王晓峰、山东省副省长凌文出席并讲话。
On 22nd to 23rd August, The 17th Forum of China Hotel Grouplization Development was held in Qingdao, Shandong Province, focusing on the hotel industry to strictly observe safety in production, take a good job of industrial recovery, and continue to promote greater, deeper and higher quality resumption of production. Wang Xiao feng, member of the Ministry of Culture and Tourism, and Ling Wen, vice governor of Shandong Province, attended the event and gave a speech respectively.
本届论坛由中国旅游饭店业协会主办,来自国内外饭店集团、单体饭店、投资机构、高等院校、咨询机构等领域的业界代表近300人参加论坛。现场还公布2019年中国饭店集团60强名单,以及《中国饭店管理公司(集团)2019年度发展报告》。华侨城酒店集团凭借发展规模、品牌价值以及在"酒店+"业务模式和产品组合领域的积极实践和探索,再次跻身60强榜单,荣获殊荣。
The forum was hosted by the China Tourist Hotels Association and attended by nearly 300 participants from domestic and foreign hotel groups, individual hotels, investment institutions, institutions of higher learning and consulting institutions. The site also announced the 2019 China Hotel Group Top 60 list, as well as the "China Hotel Management Company (Group)2019 Development Report ". OCT Hotel Group, with its scale of development, brand value and active practice and exploration in the field of "hotel+" business model and product portfolio, has once again been ranked among the top 60.