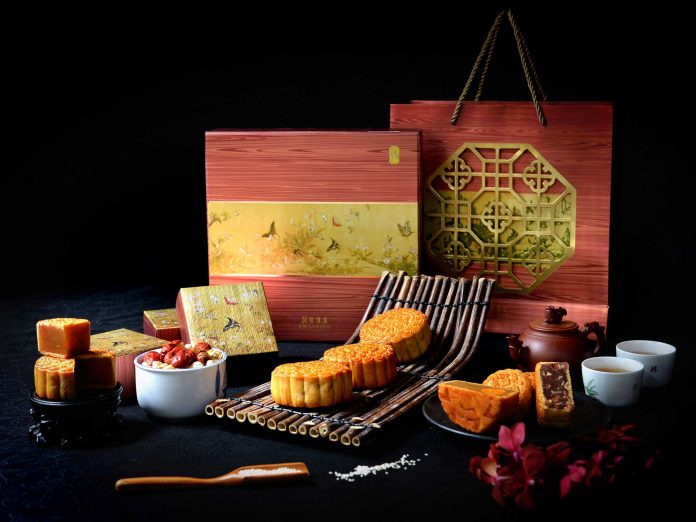 广州人记忆中的中秋月饼,到底是怎么样的呢?在广州花园酒店,传统经典的中秋月饼历年来畅销全国,驰名中外,也伴随着一代代羊城人的传承;第33年的中秋悄然而至,圆月初上,花园作为经典广式月饼之家,精雕细琢,倾心呈现中秋月饼礼盒。
The LN Garden Hotel proudly presents its best-selling classic Mooncakes to celebrate the upcoming Mid-Autumn festival. For over 30 years, the LN Garden Hotel has been presenting skillfully hand-crafted mooncakes all packaged beautifully to make an impressive gift for friends, business partners and family.
广州被称为"花城",广州人热爱种花、赏花、买花、赠花,彩缕穿花。走进花园酒店,满眼是花,随处是园,处处为画;独具岭南特色的后花园,有着大面积开阔草坪,飞水扬泉、绿草如茵、鲜花盛放。花,便成为了今年月饼礼盒的灵感来源。纵观盒身,花开倾城,盒面以清代宫廷十大画家之一郎世宁的余省百蝶图为设计灵感,花开凝香,蝴蝶起舞,月圆如诗。既代表着幸福、又象征吉祥美好。而中秋,依是花城赏花时。盒身的设计,则是延续了金陵十二钗的经典非凡,与花园酒店大堂红楼梦镶金壁画相互辉映;金秋月饼礼盒通体木纹,月饼礼袋呈镂空状,典雅大方。而盒体呈满月的金色,象征着温暖与幸福,也代表了丰收。花园月饼礼盒契合了中秋团圆之意,每一年,花园月饼礼盒也作为一种文化的传承,供客人购买用于饼盒收藏。
Guangzhou's city theme "The Flower City in Bloom," is rooted in the way the people of Guangzhou use flowers in their celebrations and daily life, and embodies the city's environmentally-friendly and warm character.  The spirit of the flower city is also evident in the hotel's beautifully landscaped gardens, embellished with variety of vibrant and colorful flowers. Inspired by the flower city theme, this year's mooncakes come encased in an attractive package with an elegant and distinctive golden casing, adorned with flowers and butterfly artwork. Continuing from last year's theme, you will also see the famous scene from a chapter of Chinese novel 'The Dream of Red Chamber,' inscribed on the sides of the box.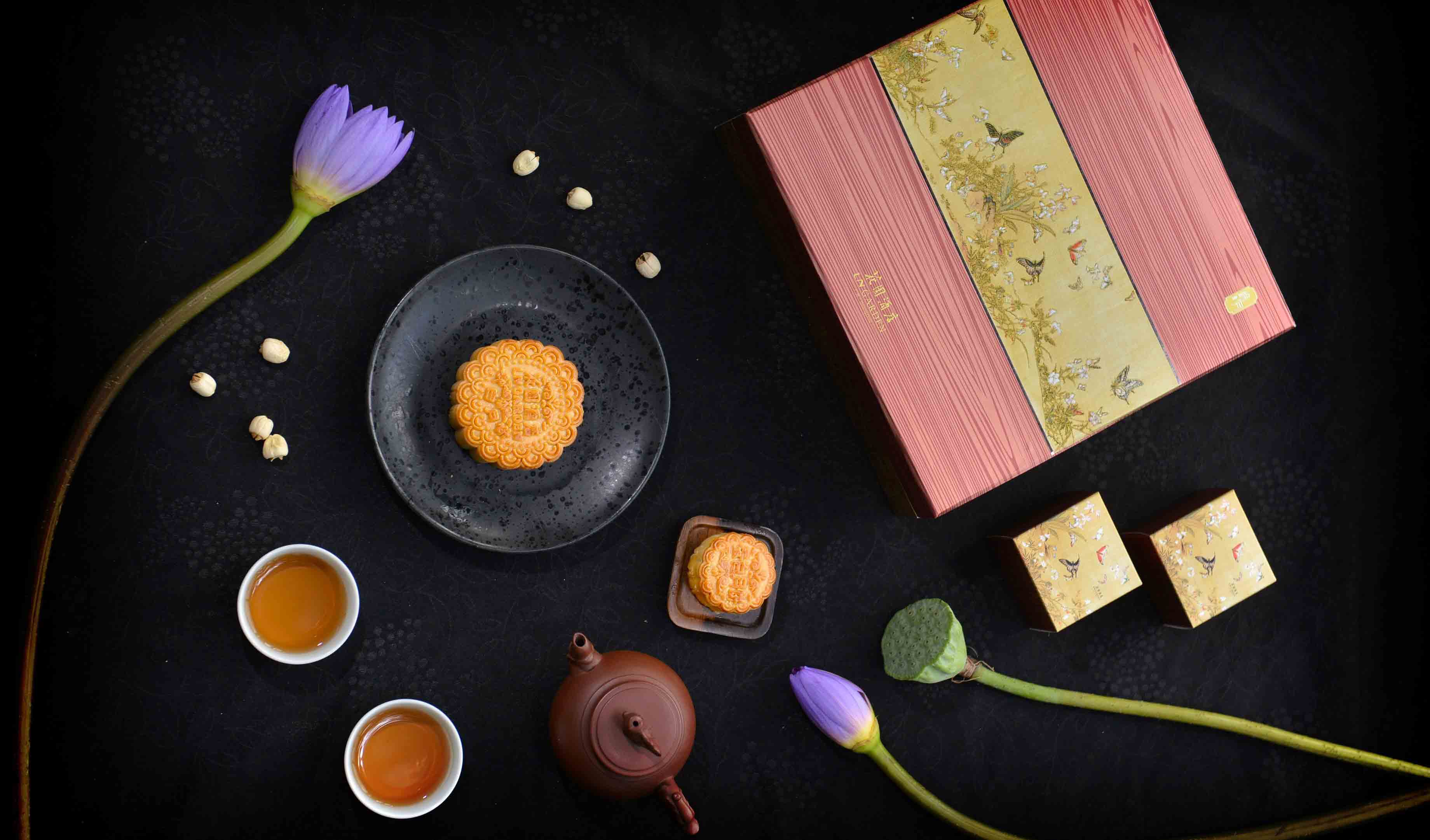 中秋的美好就是人心中有牵挂,于此时此刻,名正言顺地放下所有的忙碌,以月饼带出问候与牵挂。作为地道广式月饼,花园酒店传统月饼皮薄松软,色泽金黄,油润软滑、甘甜不腻,其花纹玲珑清晰,饼身呈腰鼓形,经历一按一压、细腻揉搓等数十道工序而成。三十三年来,不变的是那最原始的味道。至此,传统的广式月饼,也牵动着人们对这个节日的美好期待。
Our mooncakes are prepared using time-honored recipes and upholding the highest standards of texture and taste, which includes selecting the finest lotus seed to grind into the delicious paste for our Mooncake filling.  In addition to the traditional White Lotus Seed Paste with Double Egg Yolk Mooncake, we have introduced some new flavors to celebrate the festival: Mini Cantonese-style, Premium Custard, Red Bean Paste with Melon Seed, Chinese Ham with Assorted Nuts, Lingnan Signature and Ice Mooncakes.
For  those with  an  appetite  for unique blend  of flavors, the 'Premium Assorted Mooncakes' offers a delicious mix of following cakes:
– White Lotus Seed Paste with Double Egg Yolk
– Chinese Ham with Assorted Nuts
– Orange Peel and Red Bean Paste
– Black Sesame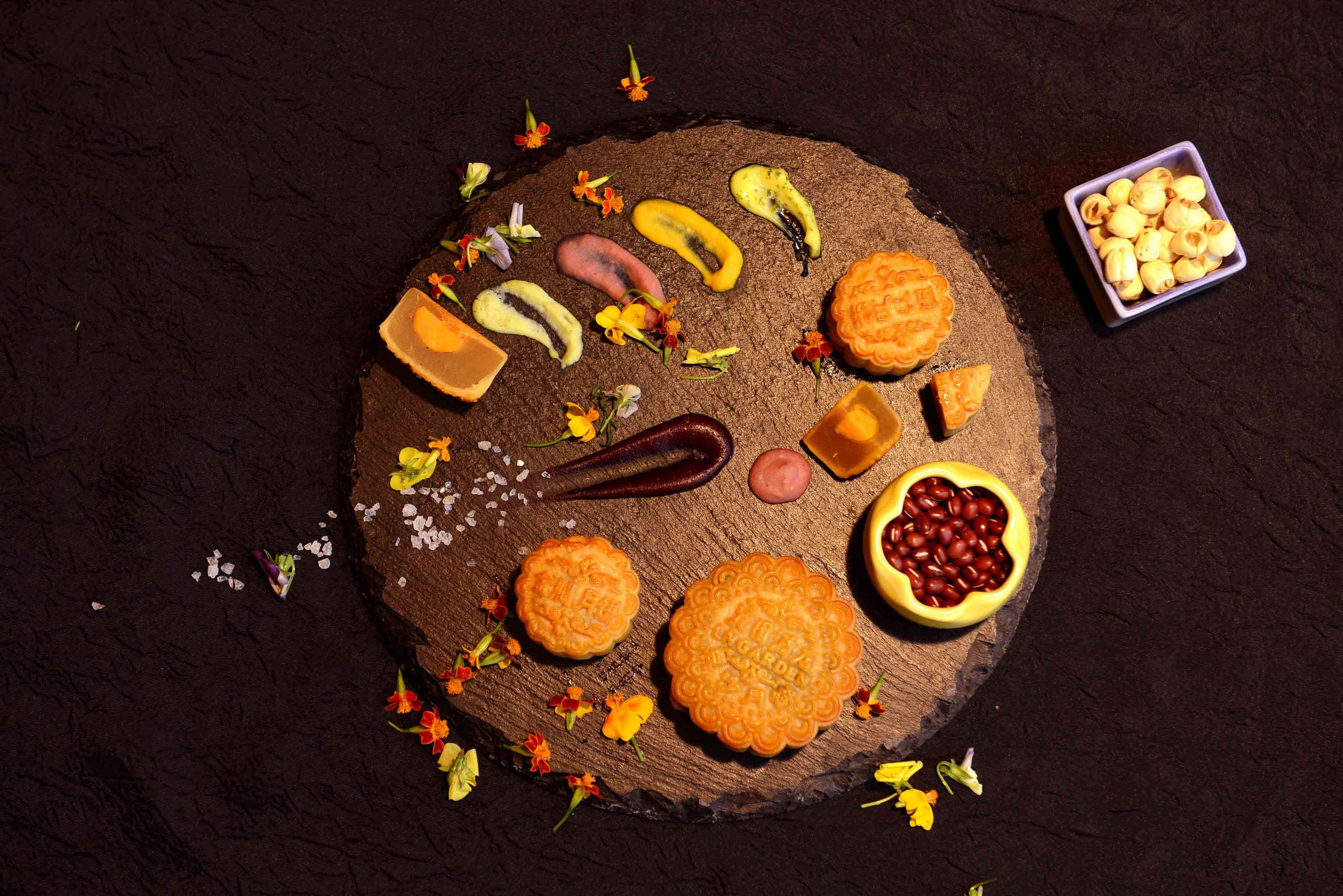 今年,除了传统双黄白莲蓉月饼,花园酒店还推出金腿五仁月饼、瓜子仁豆沙月饼、尚品奶黄月饼以及三种口味的冰皮月饼;客人可享受多款折扣优惠,包括月饼早鸟优惠、大量订购优惠及礼盒定制服务等;8月20日至9月22日,如有购买或查询,敬请请致电(020) 8333 8989 3694或前往酒店大厅。
Dessert lovers can look forward to the delicious, refreshing and exquisite Ice Mooncakes, which are available in an assortment of Litchi, Mango and Cherry flavors.
For order or enquiry, please call (020) 8333 8989 3694 or visit our Mooncake Booth at the Hotel Lobby from August 20 to September 22.
更多优惠,"码"上关注花园酒店微商城 
For special Mooncake offers, scan the below QR code now.

地址:广东省广州市越秀区环市东路 368 号
Address: 368 Huanshi Dong Lu, Guangzhou, 510064, China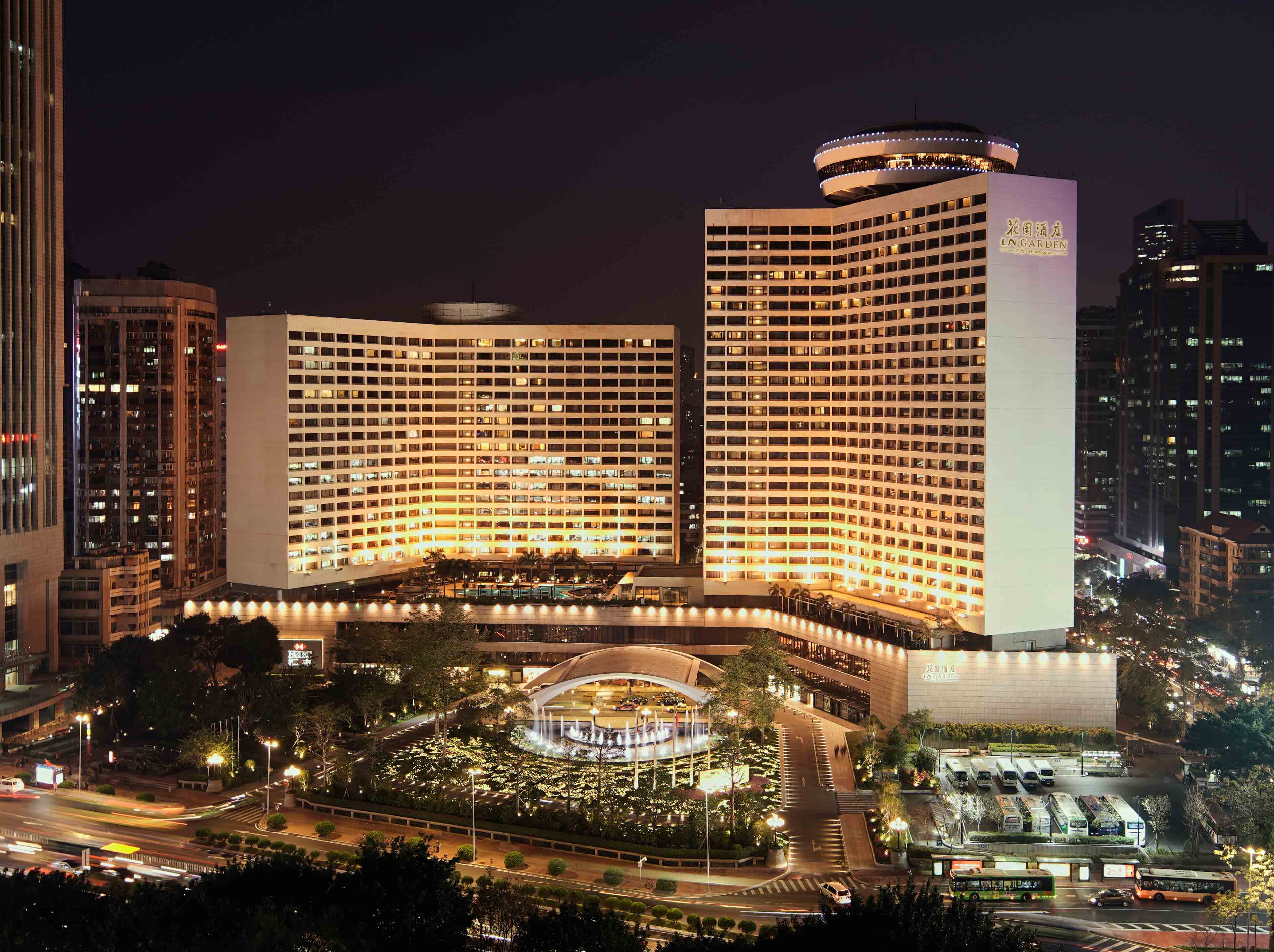 条款及细则 | Terms & Conditions:
* 此推广优惠不能与酒店其它优惠同时使用。 | This offer cannot be used in conjunction with any other promotion.
* 广州花园酒店对以上推广享有最终解释权。 | LN Garden Hotel, Guangzhou reserves all rights to the above promotion.