这个春夏,半岛精品店联同金马影后林嘉欣小姐及她的两位女儿携手合作,推出 "Dip in Love" 限量版爱心手工朱古力曲奇联乘礼盒。
This spring and summer, The Peninsula Boutique collaborates with Golden Horse Best Actress Karena Lam and her two daughters to launch the limited-edition "Dip in Love" Hand-dipped Chocolate Cookies gift set.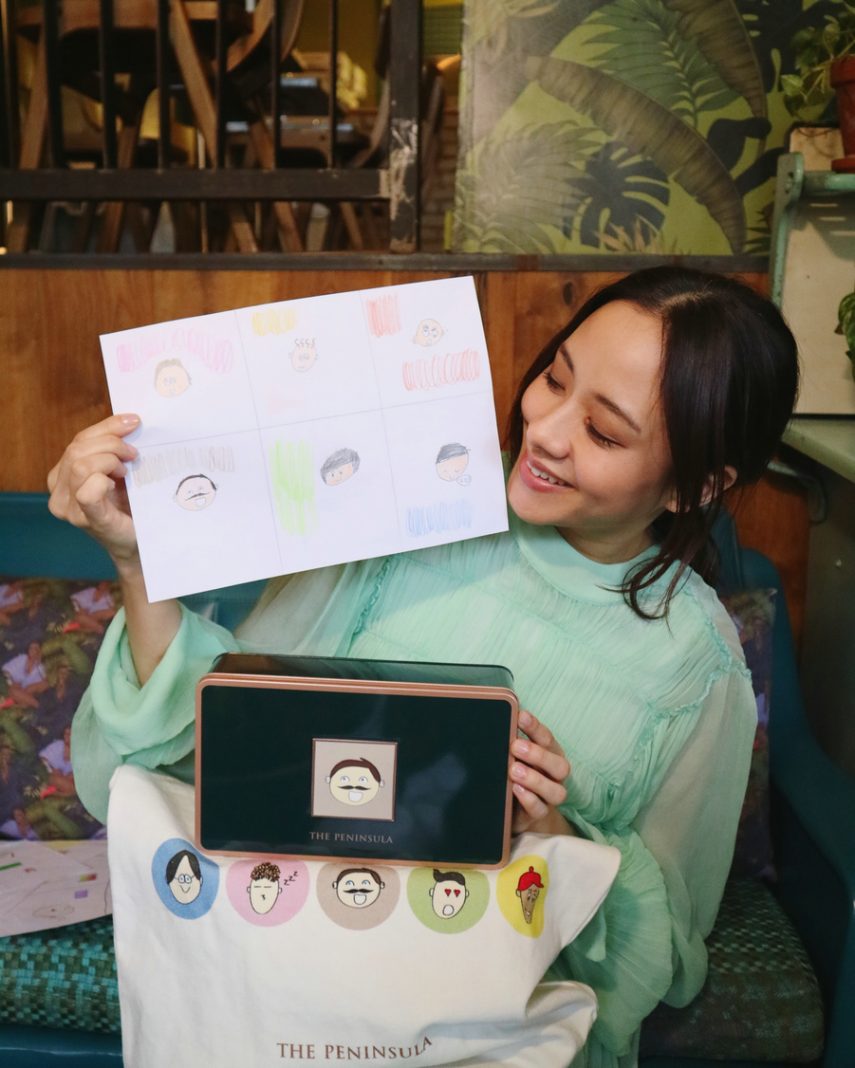 林嘉欣热爱艺术,她的两个女儿亦受其熏陶,对艺术充满浓厚的兴趣。为了这次联乘,林嘉欣更特意和女儿共同创作,以孩童的角度描绘出父母的各种独特形象,并由设计师将画作融入包装上。
Passionate about art, Karena has inspired her two daughters to work on a collage of faces of mums and dads. Through their youthful eyes, the children were able to depict the unique personas of the male and female pillars of the family. Then, working alongside our talented designers, their artistic efforts were transformed into icons for this special collaboration.
从她两位女儿的对父母形象的诠释中,大家会看到无穷的想像及创造力;孩童的画作纯真而直接,色彩活泼奔放。正如著名画家毕卡索所说:"每个孩子都是艺术家。问题在于我们长大后,如何继续当个艺术家。"母亲及父亲节将至,除了藉此机会对父母聊表心意之外,亦不要遗忘了心中的那个"小艺术家",让这份纯真活泼的热情感染身边的每一个人。
The creative expression of children through art is pure and direct, while the colours are often lively and unrestrained. Pablo Picasso summed it up well: "Every child is an artist. The problem is how to remain an artist once he grows up." With Mother's Day and Father's Day upon us, apart from showing our love to our parents, we can also bring out the "little artist" within us – that innocence and purity with which to hearten those around us.
半岛精品店特别为 "Dip in Love" 爱心手工朱古力曲奇礼盒制作了两款期间限定全新口味——茉莉花茶及伯爵茶,浓郁的巧克力配以清雅的茶香,一试难忘。加上小艺术家们设计的父母亲画像磁石贴及环保袋,活泼可爱,趣味盎然。首批环保袋还附有林嘉欣小姐的亲笔签名,只限半岛精品店网上独家预售,独一无二,极具收藏价值。
The Peninsula Boutique "Dip in Love" gift sets feature two exclusive new flavours – Jasmine and Earl Grey – making these delectable tea cookies with complementing rich chocolate simply impossible to resist. Furthermore, they are packaged with a souvenir magnet and presented in a delightful tote bag depicting the icons created by Karena and her two young daughters. A limited quantity will also be signed by Karena herself for a truly one-of-a-kind gift, exclusively available for pre-sale at The Peninsula Boutique website.
此外,现更可下载 WhatsApp 贴纸,将这份缤纷爱心传开去:
What's more, the icons are now available for download as animated WhatsApp stickers here:
http://bit.ly/ThePeninsulaXKarenaLam_WS
由4月15日起于网上开始预售,每盒十二件售价港币450元,每售出一份 "Dip in Love" 礼盒,部份收益将捐赠予香港食物回收及援助慈善机构"惜食堂",延续爱和关怀,回馈社会。
Available for online pre-sale from 15th April at HK$ 450 for 12 pieces. Part of the sales proceeds from the collection will be donated to Food Angel, a food rescue and assistance charity in Hong Kong.
"Dip in Love" 女士礼盒——由5月2日起于半岛精品店公开发售,每盒十二件售价港币450元。手工巧克力曲奇制作精良,蘸上高级瑞士巧克力,诱人味道包括期间限定茉莉花茶口味、合桃、杏脯及提子干、榛子及提子干。礼盒附有精美环保袋及 "好妈妈" 磁石贴及环保袋以供留念。
"Dip in Love" For Her – Available in store from 2nd May at HK$ 450 for 12 pieces; the cookies are half-dipped by hand in fine Swiss chocolate and available in a range of enticing flavours including the limited-edition jasmine tea, walnuts, apricots and raisins, plus hazelnuts and raisins. The set comes with an adorable tote bag and a "mum" magnet to cherish forever.
"Dip in Love" 男士礼盒——由6月3日起于半岛精品店公开发售,每盒十二件售价港币450元。以手工巧克力曲奇礼盒孝敬严父及长辈,定必令其满怀欣喜。手工巧克力曲奇蘸上高级瑞士巧克力,诱人味道包括期间限定伯爵茶口味、白巧克力碎、杏脯及提子干、榛子及提子干。礼盒更附有限量环保袋及及"好爸爸"磁石贴以供留念。
"Dip in Love" For Him – Available in store from 3rd June at HK$ 450 for 12 pieces. Show dad (or indeed, any father figure) your appreciation with this limited-edition cookie gift set that's sure to delight. Filled with a dozen assorted hand-dipped cookies including exclusive Earl Grey flavour half-dipped in fine Swiss chocolate, white chocolate chips, apricots and raisins, plus hazelnuts and raisins. This limited-edition set comes with a delightful keepsake "dad" magnet and canvas tote bag.
---
半岛精品店
The Peninsula Boutique
九龙尖沙咀梳士巴利道半岛酒店商场
The Peninsula Arcade, Salisbury Road, Tsim Sha Tsui, Kowloon
Tel: +852-2696 6969
半岛精品店分店
The Peninsula Boutique
新界赤鱲角香港国际机场一号客运大厦第七层离港层7E144号铺("心系香港"零售区域内)
Shop 7E144, Level 7, East Hall, Terminal 1 (Restricted Area), Hong Kong International Airport, New Territories (in the "I Love Hong Kong" retail zone)
Tel: +852-2812 0421
hongkongtpb@peninsula.com
www.peninsulaboutique.com