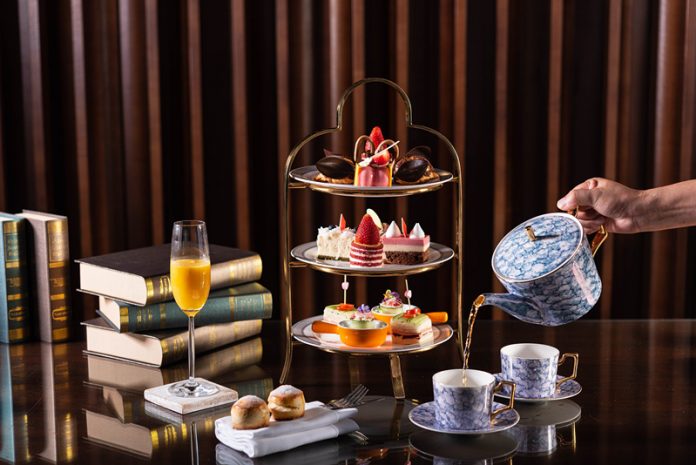 天鹅,一个别致的族类,在中国被视为美丽和高贵的象征。而黑天鹅作为大家族中最漂亮的品种,兼有挺拔优美的体态和斯文端庄的气质,深受大家喜爱。黑天鹅一生只寻一伴,一夫一妻,形影不离,寓意着执子之手的约定,君子之交的情谊。
Swan, a unique race, is regarded as a symbol of beauty and nobility in China. The black swan, as the most beautiful species in the big family, has both a graceful appearance and elegant temperament, and is well appreciated by people. Black swan have one companion for life, like a vow of Chinese old saying that hold the hand of the lover and grow old.

深圳温德姆至尊酒店大堂吧以黑天鹅为主题,推出黑天鹅双人下午茶套餐。一袭黑羽,他们在十月风度翩翩地出道,但只营业三个月,十二月底便结束行程。巧克力泡芙,巧克力草莓慕斯,红丝绒蛋糕,杨枝甘露,蟹肉黄瓜卷,纽约芝士蛋糕,水果拼盘……各式甜品上线,却如黑天鹅刚刚好的爱情,甜而不腻。新鲜的水果与恰到好处的甜蜜层层叠加,铸就味蕾的幸福。
With the beautiful meaning, Vintage Bar of Wyndham Grand Shenzhen has promoted Black Swan-themed Afternoon Tea for guests from October to December. Chocolate puff, chocolate strawberry mousse, red velvet cake, yang juice dew, crab cucumber roll, New York cheesecake, fruit platter… A variety of desserts, like black swan' love, sweet but not greasy. Fruits, cheese, chocolate together cast the happiness of taste bud.

深圳温德姆至尊酒店的甜品在福田CBD区有拥有良好的口碑,主厨曾多次参加国内外大型比赛,由带领的团队制作的甜品高颜值与好味道并存,吸引了很多甜品爱好者。温吧邀请大家一起品尝下午茶,猜猜黑天鹅指的是哪款甜品。
Wyndham Grand Shenzhen has a good reputation for its dessert in Futian CBD area. The chef has participated in many domestic and foreign large-scale competitions, their desserts always being considered as works with pleasant appearance as well as good taste, which has attracted a lot of dessert lovers. Come and guess which dessert the black swan refers to!
价格:268元/2位
时间:2019年10月1日至2019年12月31日 周一至周日14:00-17:00
垂询或预定请致电+ 86 755 8299 8888转8550
地址:深圳市福田区彩田路2009号温德姆至尊酒店1楼大堂吧
Price: RMB268/two persons
Time: Daily from 2pm to 5 pm, October 1 to December 31, 2019
Venue: Vintage Bar (Wyndham Grand Shenzhen)
Address: 1st Floor, Wyndham Grand Shenzhen, 2009 Caitian Road, Futian District, Shenzhen (深圳市福田区彩田路2009号 深圳温德姆至尊酒店一层)
Contact: 0755-8299 8888 ext.8550