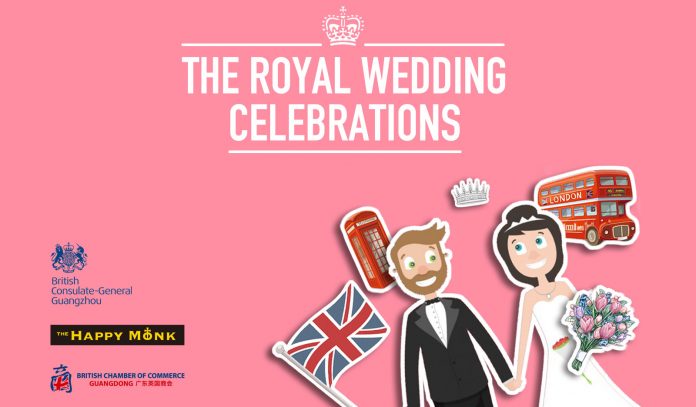 尽管许多人不能前往英国,或是被邀请出席哈里王子和梅根·马克尔的皇室婚礼,我们仍然借此机会在千里之外的广州欢庆了一把!5月19日,在王子和梅根喜结连理的当天,英国驻广州总领事馆在广州珠江琶醍啤酒艺术区的The Happy Monk餐吧举办了一场皇家婚礼观礼活动。
For us who are not in England – and not invited to the royal wedding, we still enjoyed the oppotunity to celebrate the union of Prince Harry and Ms. Meghan Markle all the way from Guangzhou, South China. On the BIG day, 19th May, a special Royal Wedding viewing event organized by the British consulate general in Guangzhou at The Happy Monk of Party Pier Guangzhou.
英国驻广州总领事馆总领事梅凯伦女士致开幕词,并欢迎所有到场的观众共同见证王子和梅根这一对新人的皇室婚礼。
Ms. Karen Maddocks, British consul general in Guangzhou gave a welcome speech and welcomed everyone who came to witness the enduring love match taking their marriage vows.
广受爱戴的王子和颇为耀眼的电视明星,哈里王子与梅根·马克尔的结合就像是现实版的童话故事。如何才能正确的打开一场隆重的皇室婚礼?那就当属极具英国特色的飘仙力娇酒特调鸡尾酒和一瓶冰凉解暑的啤酒了!The Happy Monk琶醍分店还精心准备了各式小食和冷饮给在场的热情观礼观众。
The romance between a popular prince and a glamorous TV star is a real-life fairytale. What is the best way to celebrate this? Watch the Royal Wedding live and get into the British spirit with a traditional English Pimm's cocktail and a bottle of cold beer is certainly the way!
大婚后的英国哈里王子和美国女星梅根·马克尔,获英国女王伊丽莎白二世册封为萨塞克斯公爵和萨塞克斯公爵夫人。
Queen Elizabeth II had conferred a Dukedom on Prince Henry of Wales. Prince Harry thus becomes His Royal Highness The Duke of Sussex, and Ms. Meghan Markle on marriage becomes Her Royal Highness The Duchess of Sussex.
据统计,此次观礼共吸引了超过250位观众。观礼前100位观众能免费获得一杯赠饮,仅在半小时内就已认领一空。英国驻广州总领事馆通过此次活动旨在加强中英文化交流,并与宾客分享哈里王子与梅根·马克尔大婚的喜悦。
The first 100 guests were welcomed with a free drink. According to The Happy Monk, the Royal Wedding viewing event has received more than 250 guests that day. By this viewing event, the British consul general in Guangzhou aims to create an oppotunity for Chinese and British culture exchange as well as to share the happy moment with audiences in South China.