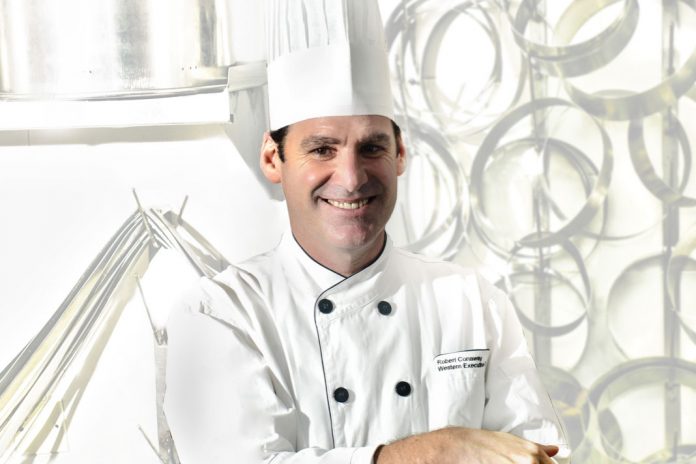 Robert Conaway-广州花园酒店西餐厅行政总厨-Western Executive Chef at Garden Hotel Guangzhou.
Adding more splashes to its 30th glory, Garden Hotel, Guangzhou welcomes its first American chef, Chef Robert Conaway from Sunny California. With 27 years of professional cooking and 19 years of kitchen management experience in Vietnam, Dubai and U.S.A., Chef Robert is one of the very few American chefs in Guangzhou who specializes in American Regional, Californian, Italian, Organic, Pan-Asian, and Steakhouse Cuisine.
Chef Robert has been trained as a child in his Grandmother's kitchen, learning to prepare the favourite meals of his family and friends. On his way to become a renowned chef, he honed his skills further in the kitchens of the founding fathers of Californian cuisine, Chef Jeremiah Tower (Stars) and Chef Bradley Ogden (Lark Creek Inn). He started from helping to feed his family and now his dishes have been enjoyed by people all over the world.
Best known for his Californian Cuisine dishes, Chef Robert uses fresh and local ingredients, emphasizing freshness and authentic flavor.
DB:What exactly is Californian Cuisine?
CHEF ROBERT: California food is taking influences from Asian flavours, using organic, fresh and seasonal products, letting the flavours of the food speak for themselves. California food is not heavily sauced, no heavy cuisine technics are applied. It is fresh and quick-cook.
DB:How was your journey of creating new dishes in California style in Guangzhou?
CR: It has been fun and full of surprises. My journey is inventing and having the dishes in my head, then going out to explore for ingredients. I am impressed with the various fresh products in Guangzhou. Here is much more like California, you can find almost everything. The local products sometimes give me new ideas as well.
DB:What is your expectation for the reaction from people to California food?
CR: The certain market segment will react to it. Right now, there are a lot of travellers from mainland China to the U.S.. For those who have enjoyed the food in California, our dishes will bring familiarization to them. I heard that Cantonese are adventurers in fine dining, as California food uses light cooking technics, once guests have tried it, they will fall in love.