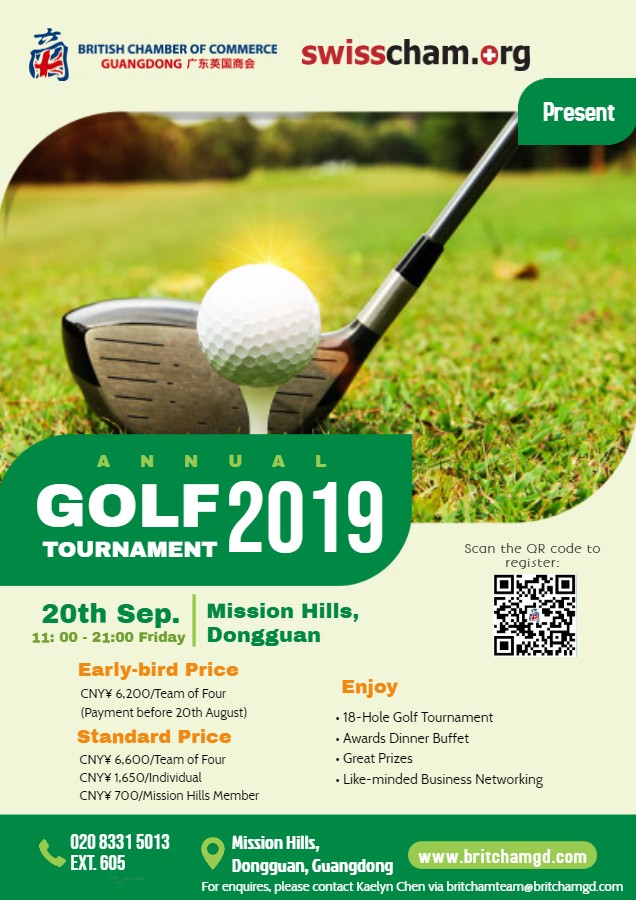 2019年高尔夫球赛现已公开报名!球赛将于9月20日周五于东莞观澜湖高尔夫俱乐部开球。作为商会的旗舰活动,您可以在活动现场与近百名来自香港及华南地区的精英球手们同场竞技。
We are delighted to announce that the 2019 Golf Tournament will be held at Mission Hills, Dongguan on Friday 20th September, and registration is now open! Sign up and join the Chamber's flagship sporting event of the year, and compete with approximately 100 golfers from across South China and Hong Kong.
本届球赛由广东英国商会以及中国瑞士商会共同举办。本次球赛是一个慈善活动,活动当天可以体验纯正英式高尔夫球赛和趣味的赛事活动,并有机会赢取丰富的奖品。球赛结束后将举行颁奖典礼,届时嘉宾们可休闲畅享自助餐,回顾当天趣事。
This year, the event is co-organised by British Chamber of Commerce Guangdong and Swiss Chamber, and will be a Charity Event. The tournament will be a fun and high-quality golf tournament with special prizes. Afterwards, we will hold an awards ceremony, whilst enjoying a laid-back seated dinner to talk about the day's events.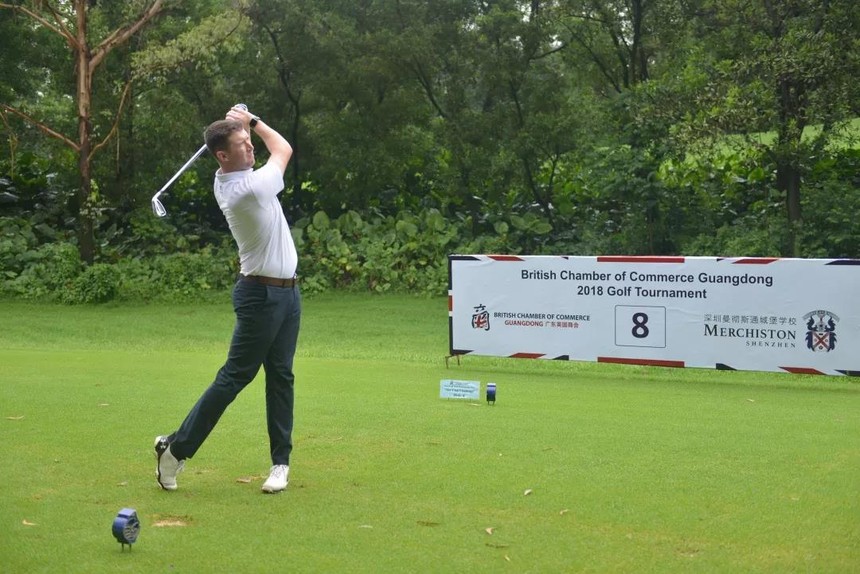 2019高尔夫球赛为您提供极好的休闲娱乐,结识新的生意伙伴,以及做慈善的机会。本届高尔夫球赛将举办慈善幸运抽奖,幸运儿可获得惊喜大奖。快来加入我们,一起期待这场年度运动盛宴吧。
2019 Golf Tournament is a great day out, play some golf, meet with business peers & professionals from across the region, and a chance to help those in need. Charity raffles will be offered at the events where lucky winners can take home surprise prize during the day and dinner.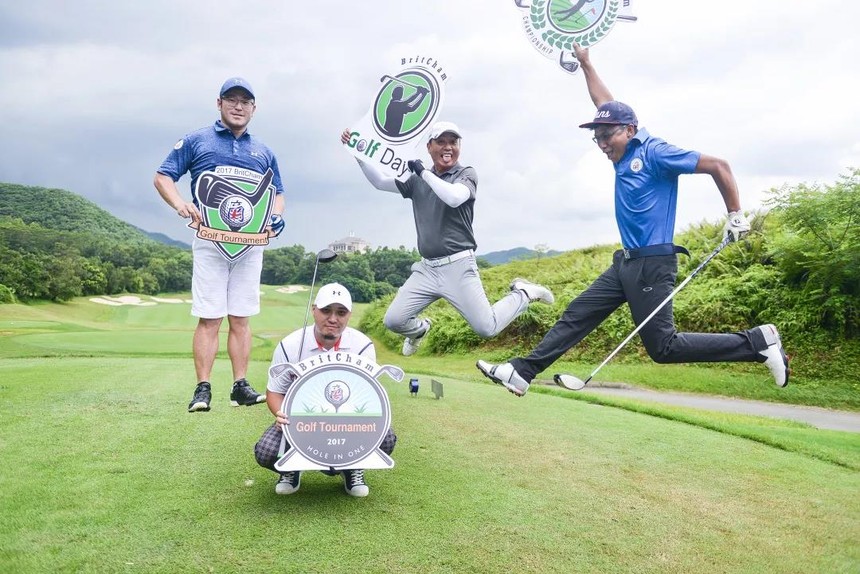 Events Detail 活动内容
Time: 11:00 – 20:30 (subject to change)
时间: 11:00 – 20:30 (待定)
Date: Friday 20th September 2019
日期: 2019年9月20日(周五)
Event Venue: Mission Hills, Dongguan, Guangdong
活动地点: 广东省东莞市观澜湖高尔夫俱乐部
Agenda 活动流程: *subject to change 待定
11:00-11:40 Registration 登记入场
11:40-12:00 Opening speech & Photo 开幕演讲 & 集体合照
12:00 Shot gun start 开球仪式
12:00-17:00 Go golf! 正式开赛
17:00-18:30 Shower, change and transport to Dinner 整理更衣&前往宴会厅
18:30-20:30 Award Ceremony (Buffet and drink included) 颁奖仪式 (提供自助餐和酒水)
Ticket Prices 票价:
| | | |
| --- | --- | --- |
| Price 价格 | Early-bird Price 早鸟价(Applicable for payment received on/before 20th August, 需在8月20日前完成支付) | Price 标准价 |
| Team of Four Golfers 团队(4名球手) | CNY¥ 6,200 | CNY¥ 6,600 |
| Individual 个人 | / | CNY¥ 1,650 |
| Mission Hills Member 观澜湖会员 | / | CNY¥ 700 |