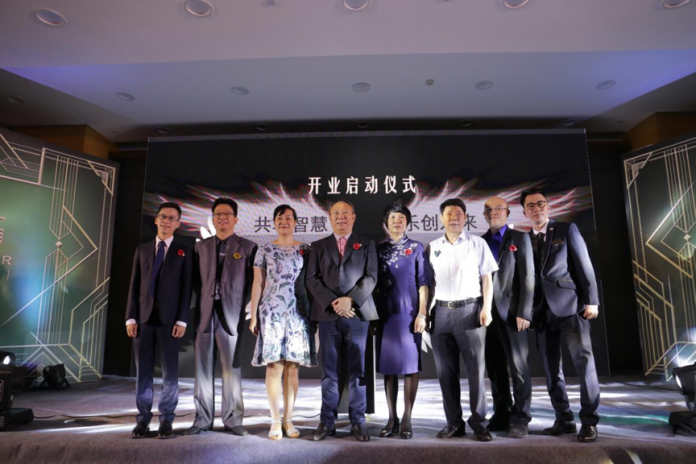 SOLER(所乐)联合办公空间开业-新理念+新形态引爆珠海办公方式新想象 SOLER Co-working space is open: a new concept and way of working!
5月19日,由大粤地产打造的所乐联合办公空间正式揭开帷幕,以"共享智慧、乐创未来"为主题的项目发布会在蓝海金融中心隆重举行,珠海市侨联、商务局、统战部、工商联、投促中心等领导莅临开业庆典活动现场,本次庆典得到了珠海普宁商会、潮人海外联谊会、民营商会、医药学会、河北商会等商会及优秀企业家的大力支持以及同行的密切关注。
On May 19th, SOLER by DAYUE Real Estate presented its debut in the project conference featured "Sharing Wisdom,Joyous Future" in Lanhai Financial Center. Many leaders from Zhuhai Overseas Chinese Federation, Commercial bureau, United Front Work Department and Association of Industry and commerce attended this celebration and successive supports and attention from various associations and federations have been given to the opening ceremony.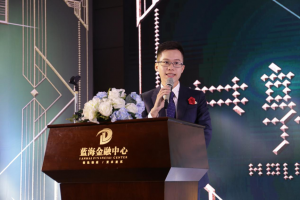 珠海市文华里集团董事局主席总裁苏攒淘、大粤地产董事长苏少辉出席了开业盛典,大粤地产总经理苏忠志致辞。苏总表示,大粤地产将积极响应中央"大众创业,万众创新"的指导,打造适合中小微及创业型企业的办公场,倡导共享精神,成为初创企业的孵化器、成长型企业的"加速器",精英企业的"助推器",希望所乐能为珠海联合办公业态带来新力量。
Su Zantao, the chairman of Zhuhai WENHUALI Group and Su Shaohui, the president of DAYUE joined the opening ceremony, and Su Zhongzhi, the general manager of DAYUE delivered an opening speech, advocating "mass entrepreneurship and innovation" so as to build a sharing working space for small and medium start-ups or companies. As disseminating the spirit of sharing, he continued with his full wish that this co-working space would be an incubator for start-ups, an accelerator for growing enterprises and an engine for elite companies.
所乐所在的蓝海金融中心是由广东大粤地产投资有限公司倾力打造的高端商业管理服务平台,前山区域5A甲级写字楼,接轨珠三角,引领商务办公新时代,为所乐联合办公体系的全方位、深层次发展打下扎实基础。
Lanhai Financial Center, where SOLER is located at, is built by DAYUE, which serves as a high-end business and management service platform. It bridges across the delta with its 5A office building and an all-around OS.
所乐联合办公空间总经理肖健蕾先生对所乐进行了详细介绍。所乐不仅仅是为创业者提供一个办公的场所,更是希望打造一个全新"漫商务"的生态办公空间,在这里将颠覆传统沉闷、呆板的工作场所,重新定义一个轻松、高效、舒适、愉悦办公的"生活"空间。在这个平台上,所有创业者一起成长、一起共享资源,共享智慧,共创未来。
Xiao Jianlei, the general manager of SOLER gave a brief introduction to how SOLER functions as a fun, creative and new-business co-working space. It aims to overthrow the conventional idea of working and redefine a more relaxing, cosy and joyous working environment, which gives people a chance to grow together, share together and create the future together.
发布会结束后,所有来宾在工作人员的带领下参观了所乐联合办公空间的办公环境,共同感受了所乐舒适的办公环境和智能化的办公硬件。在参观期间,一起打造所乐的合作商准备了精彩的活动,来宾们在玩乐中更进一步的了解所乐。
As the conference came to an end, all participants were invited to pay a visit to the SOLER space where they were encouraged to know more by actually seeing it.
Soler所乐联合办公空间以"smart office let easy reality"为服务核心,打造"漫商务"的生态办公空间。可以根据客户需求,定制办公空间,入住企业或会员可以灵活的选择专属办公空间,考虑到商务办公的高效、专业, 所乐还提供商务咨询、虚拟办公、法律财税、工商注册、资源共享、金融服务、品牌设计、设备租赁、集中采购、市场推广等一站式企业顾问服务,另外Soler所乐还将重磅打造SLC社区,不定期的举办社区活动,使企业间可以轻松地实现业务合作、日常交流、资源置换等,形成一个资源互通的生态圈。
"Smart office let easy reality" is what makes SOLER today. Companies or registered members can select their own office space based on their actual needs. Also, SOLER provides various services such as business counselling, virtual offices, laws and accounting, industrial and commercial registration, brand design, financial services, resource sharing, facility renting and buying and so forth. SOLER, in addition, is about to build a SLC community where registered enterprises can have an easier access to the business cooperation, communication and resource sharing.