当奥丰素家族主厨 Ernesto Iaccarino 于11月28日至12月2日期间亲临当奥丰素1890意式料理,为宾客奉上来自南意大利圣阿加塔的家族农场内栽种新鲜有机食材制作而成的特色佳肴,以可持续来源食材打造多款意式美馔。
Casa Don Alfonso is pleased to welcome the return of Chef Ernesto Iaccarino, son of Chef Alfonso, to Grand Lisboa Hotel. From 28th November to 2nd December, Chef Ernesto will present sustainably sourced signature dishes for guests to experience the fresh, organic ingredients from the Don Alfonso family farm for the wonderful evening at Casa Don Alfonso.
源自家族传统 | All in the family
几十年来,Don Alfonso 家族在位于圣阿加塔的家族自家农场内栽种蔬果,尊重可持续来源食材。现在,当奥丰素1890意式料理的宾客将可以首次有机会品尝由名厨 Ernesto 亲自准备圣阿加塔的特色佳肴。
For decades, the Don Alfonso family has paid homage to sustainably sourced ingredients by producing their own food on their farm in Sant'Agata. Now, for the first-time, guests of Casa Don Alfonso will be able to experience the signature dishes of Sant'Agata prepared by Chef Ernesto himself.
"自1980年起,我的家族就一直从事餐饮行业。我的祖父和父亲先后教会我如何品尝美食,而后如何烹饪美食。"名厨 Ernesto 说道,"自幼以来,我的家人就开始教我如何分辨食物原材料的质量。他们告诉我,'蕃茄不仅仅只是蕃茄'。蕃茄种类繁多,同时它也是意大利文化的重要组成部分。此外,有机特级初榨橄榄油及源自我们有机农场的蔬菜是我们烹饪的主要食材。"
"My family has been in the restaurant business since 1890, and I was taught by my grandfather and then, my father, first how to eat, and then, how to cook," Chef Ernesto said. "Since I was a child, my family prepared and taught me about the quality of raw materials. They told me, 'a tomato is not just a tomato'. There are a wide variety of tomatoes, and they are a profound part of the Italian culture. Also, the usage of organic extra virgin olive oil and the organic vegetables that come from our organic farm are the key ingredients of our cooking."
呈献新鲜有机食材 | Presenting fresh, organic ingredients
名厨Ernesto从家族的17英亩有机农场"Le Peracciole"中精选最优质的食材并带到澳门。有机农庄里满是柠檬林及橄榄树,亦种植了无添加化学药物的蕃茄、茄子、辣椒、生菜、洋葱、马铃薯、无花果、桃子、樱桃、杏子、葡萄等蔬果。
Chef Ernesto is bringing the very best ingredients from his family's 17-acre organic farm, "Le Peracciole" to Macau. The farm is filled with lemon groves and olive trees where the family grows their own tomatoes, eggplants, peppers, lettuce, onions, potatoes, figs, peaches,
cherries, apricots, grapes and more, entirely without the use of chemicals.
名厨Ernesto将会在11月28日至12月2日期间为"当奥丰素1890意式料理"宾客设计了一个以家族农场食材制作的七道晚膳菜单,其中包括特色幼蛋面配牛肝菌伴意大利黑松露、脆皮黑毛猪配甜酸豆、芹菜、黄姜薯蓉伴红洋葱及慢煮黑鳕鱼配椰菜花汁、意大利蘑菇伴意大利黑松露。这个七道 Ernesto Iaccarino 特色菜单价格为每位澳门币1,200元*
Chef Ernesto has crafted special 7-course dinner menus for guests at Casa Don Alfonso to try his home-grown Italian ingredients from 28th November – 2nd December. Guests will have an opportunity to savour Chef Ernesto's Home-made tagliolini with Porcini mushrooms and Italian black truffle, Suckling black pork with sweet tamarind, celery, turmeric mashed potatoes and Tropea red onion chutney, Slow-cooked Alaska black cod with cauliflower sauce, Pioppini mushrooms, Italian black truffle and much more. This 7-course "Chef Ernesto Iaccarino" menu is priced at MOP 1,200* per person.
意大利大师亲授薄饼制作工艺 | Italian masters teach the art of making pizza
名厨 Ernesto 将携手联同"当奥丰素1890意式料理"的主厨 Giovanni Galeota 以及薄饼大师 Maurizio Ferrini 将一同演绎如何制作地道的意式薄饼。在11月30日及12月1日期间,三位大厨还将开设薄饼制作课程,届时宾客将有机会了解从面团到薄饼的所有知识、享用免费香槟一杯,还可近距离观摩意大利大师的现场制作过程。随后,宾客可选择自己喜欢的配料制作薄饼。薄饼会根据"当奥丰素1890意式料理"的传统做法,置入高达华氏一千度的 Izzo Scugnizzo 电炉内烘烤一分钟,以确保宾客能品尝到拥有最佳口感的意大利薄饼。这次有趣而且具有教育意义的薄饼制作课程连同晚餐价格为每位澳
门币1,500*元。
Chef Ernesto will also partner with Casa Don Alfonso Chef de Cuisine Giovanni Galeota and pizzaiolo Maurizio Ferrini to demonstrate how to make truly Italian pizzas. On 30th November and 1st December, the three chefs will host pizza-making classes, where guests will have an opportunity to learn all about pizza dough, enjoy a complimentary glass of champagne and watch the Italian masters in action. Following on from the demonstration, guests will make their own pizzas and select their preferred toppings. And in true Casa Don Alfonso tradition, the pizzas are then placed in an electric Izzo Scugnizzo oven at 1,000°F for less than a minute. This fun and educational pizza class with dinner at Casa Don Alfonso is priced at MOP 1,500* per person.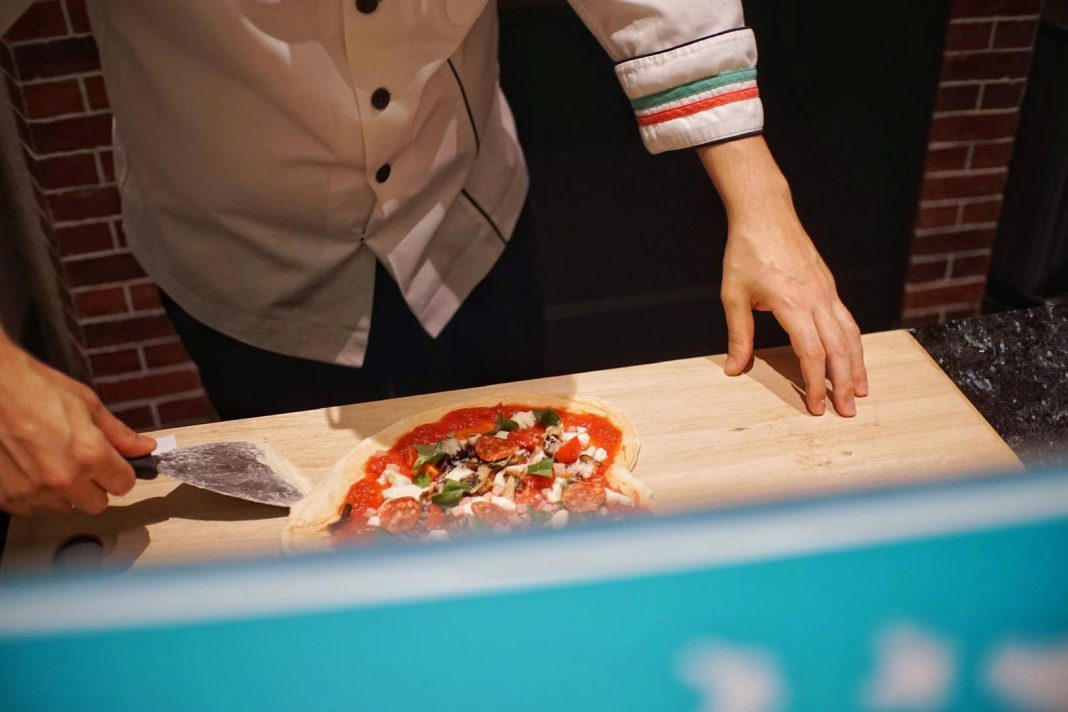 *以上价格需另加壹服务费
*Prices are subject to 10% service charge.
---
当奥丰素家族主厨 Ernesto Iaccarino 呈献南意大利纯朴自然的原始美味
"Chef Ernesto Iaccarino" Menu
11月28日至12月2日
28th November to 2nd December
当奥丰素1890意式料理
Casa Don Alfonso
澳门新葡京酒店三楼
3/F, Grand Lisboa Hotel, Macau
Tel: +853-8803 7722
www.grandlisboahotels.com/zh-hans/dining/casa-don-alfonso