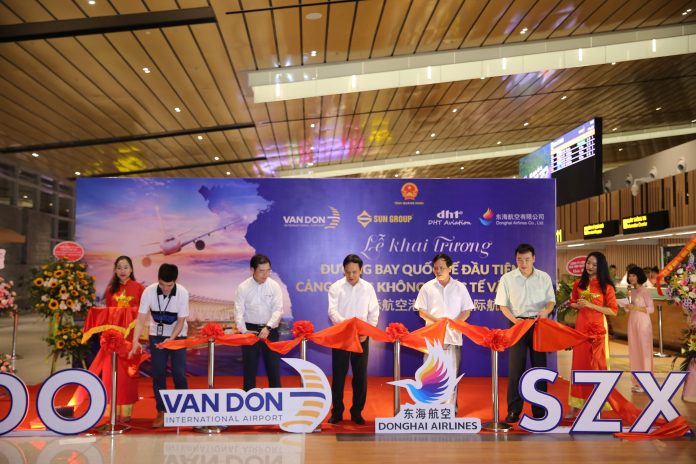 2019年5月27日凌晨,来自中国深圳宝安国际机场的 DZ62249号航班降落在由Sun Group投资兴建的越南云屯国际机场。这是降落在该机场的首趟国际航班,使越南首个私人机场正式开辟了潜力十足的国际市场。执飞云屯-深圳航线的航空公司是中国东海航空,其以包机的形式(专为旅行社游客承租)经营该航线。
The first international flight landed at Van Don International Airport, developed by Sun Group, in the early morning of 27th May, 2019, helping Vietnam's first privately-built airport to officially enter the international market. The flight No. DZ62249, which departed from Shenzhen Bao'an International Airport in China, was operated by China's Donghai Airlines which exploits the Van Don-Shenzhen route with charter flights twice a week on Monday and Friday.
在欢迎首个国际航班到达机场的仪式上,云屯国际机场经理范玉六强调,机场将致力于为东海航空公司的航班运营创造最佳条件,同时向深圳以及中国内地市场宣传介绍云屯与下龙。
Van Don International Airport held a ceremony with a memorable water salute and ribbon cutting to mark the new air route. Addressing the ceremony, Pham Ngoc Sau, director of Van Don International Airport, promised to ensure the best conditions for Donghai Airlines' operations, while simultaneously stepping up promotion activities about Van Don and Ha Long destinations in Shenzhen province and the larger Chinese market.
2019年6月云屯机场将开通云屯 – 台湾、云屯 – 仁川(韩国)航线。 对于中国内地市场,未来将有更多飞往海南、南宁和广州的航线。
In June 2019 Van Don Airport will open new routes to other international destinations, such as Van Don-Taiwan (Bamboo Airways) or Van Don-Incheon (South Korea, by Vietnam Airlines).
根据越南航空公司在2019年第一季度对机场质量管理计划(APMP)的评估,云屯机场是越南唯一一个跻身全球五大最佳服务机场的机场。
Van Don is also the only Vietnamese airport that has carved out a spot among the top five airports offering the highest services quality in Vietnam Airlines worldwide operation network in the first quarter of 2019 by the Airport Performance Measurement Programme (APMP) announced by Vietnam Airlines.