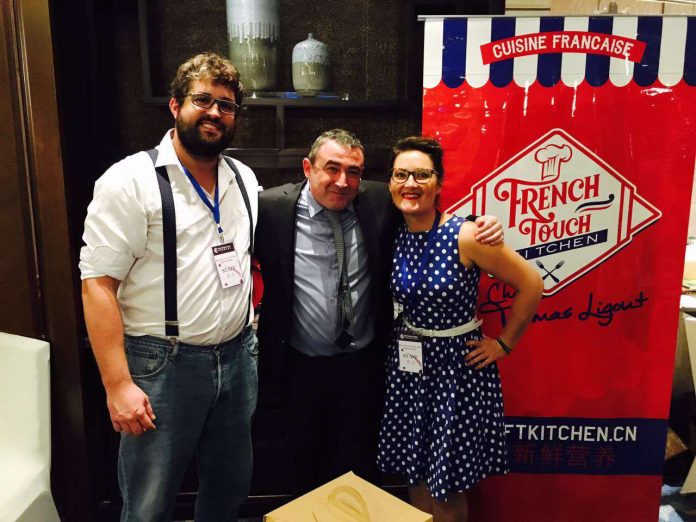 Vinciane DUMSER, 深圳French Touch Kitchen的共同持有者 - Co-owner, French Touch Kitchen, Shenzhen.
DB:您是怎么想到自制"午餐盒"的想法?How did you come up with the idea of home-made food 'lunch box'?
在中国,你很难找到能将"新鲜"、"实惠"和"多元"融为一体的西式简餐,而且营养均衡搭配的食物也是少之又少。因此,我们产生了"午餐盒"的想法,并在每日早上准备好当天独特的菜单。
It all started because in China, it's difficult to find a western meal that combines freshness, affordability, diversity, and that is also balanced! That's how we decided to offer a unique full set menu per day, prepared in the very morning.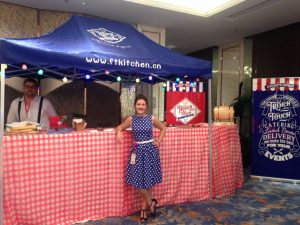 DB:  "午餐盒"的多样性是如何在菜单上体现的?最受欢迎的午餐盒有哪些?How does the 'lunch box' work with its diverse menus and what are the most popular speciality lunch boxes people often order?
不用烦恼每天要从菜单中选什么。我们的菜单每日都在变化,独一无二:前菜、开胃菜、主食、甜点和水果等。即便是素食主义者也能找到他的所爱。
No headache picking dishes from a menu, the menu is unique and changing every single day: a starter, an appetiser, a main hot dish with its side, a dessert, a fruit portion. A veggie option is also available.
每周四都是世界美食菜单,它们通常都倍受欢迎(印度菜、智利菜、南非菜、马达加斯加和日料)。传统的法式餐点也是很受欢迎;而其他世界美食亦是如此。
Each Thursday is world cuisine, they are usually very popular (India, Chile, South Africa, Madagascar, Japan…). Typical French dishes are also a hit (quenelles lyonnaise or duck confit for example), as well as other worldwide known dishes such as Lasagnas or… Fajitas!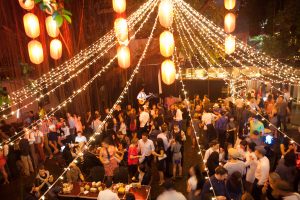 DB: 这个品牌成功的背后不仅仅是它创新的想法,还有其幕后的厨师,您能和我们简要介绍一下吗?The success of French Touch Kitchen is not just about the cool idea, but also the chef. Could you briefly introduce him to us?
大厨托马斯用心制作每份餐盒料理,不仅创意无限,而且营养美味和价格实惠。身为一名旅行家和美食全能者,托马斯熟悉法国里昂传统的烹饪技法。他的食物不仅独特,而且凭借他对环球美食的了解,为他的厨艺创作增色不少异国风情。
Chef Thomas Ligout puts is heart and creativity concocting affordable, tasty and balanced lunch boxes. Great traveller and culinary all-rounder, Thomas learned the basis of French traditional cooking in the area of Lyon, France. His food is unique and reflects all the countries he visited, added to French techniques and the savoir-faire of his experience.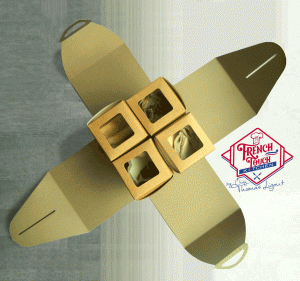 DB: 食品精品店是什么?What is the grocery boutique about?
我们每个月会组织一到两次的短期销售:顾客从法式食品清单中挑选可购买的物品(图卢兹香肠、熟肉酱等),然后我们会对下单货品进行生产或采购,最后送货到家。好消息是,我们现在正接受全广东省送货。为什么我们会这么做?第一,新鲜度(我们专程为你提供最新新鲜的食物);第二,实惠(购买实体店物品会增加自己的成品,而网购却节省这一环节的成本);第三,可持续性:避免包装浪费,同时又能与顾客建立直接的商客关系。这十分符合我们的理念。
Once or twice per month, we organise private sales: customers order from a list of available French grocery products (Toulouse sausages, pâtés, rillettes, etc.), we then produce based on their orders, and deliver to them. And good news, we now deliver in whole Guangdong! Why do we do it this way? First, for FRESHNESS (the products are the freshest you can find as we produce them especially for you!). Second, AFFORDABILITY (costs related to a physical store would impact the selling price). Third, SUSTAINABILITY: avoiding waste and overpackaging, promoting direct relationships between producers and consumers… That's 100% aligned with FTK values!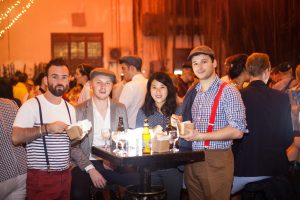 DB: 您们团队亦提供餐饮和宴会的承办服务,具体流程是如何呢?Your team in this magical open kitchen also provides catering services, how does it work exactly?
截至目前为止,我们所承办的活动过于多样和不一,因此每个菜单都是量身定做。不过,我们更偏爱法国古格特晚宴,我们每年在深圳会举办一到两次这类活动,而且这个活动总会吸引超过300个人,这些活动会包含现场音乐、法国美食与美酒、舒适的环境与一些意想不到的惊喜…
Today, because the events we cater for are very different, we design each menu accordingly. But between us, the events we prefer are the French Guinguette evenings we organise once or twice per year in Shenzhen! Gathering more than 300 people, they feature live music, French food & wines, a friendly atmosphere and usually a few surprises…
DB:我们能从什么渠道了解更多'French Touch Kitchen'?Where can we get more information about French Touch Kitchen?
微信公众号 WeChat Account:FTKITCHEN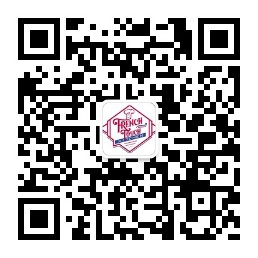 脸书 Facebook:French Touch Kitchen
官方网站 Website