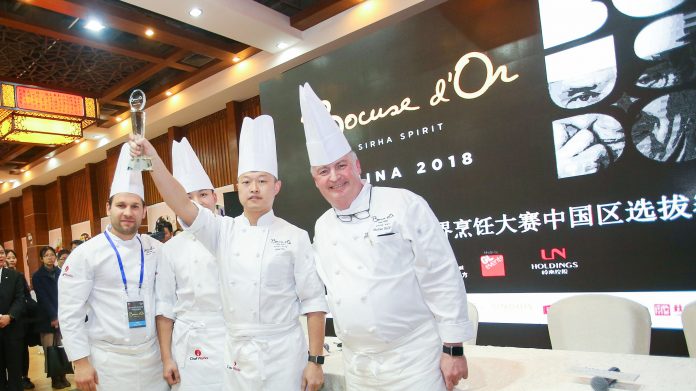 Top chefs, foodies and culinary experts were invited to a fierce and fiery contest at the food paradise of China – the city of Guangzhou to witness the world's top cuisine competition of Bocuse d'Or China Selection 2018 earlier this week. The Bocuse d'Or China 2018 is hosted by Lingnan Group and GL events at Guangzhou Vocational School of Tourism and Business.
Top chefs, six in total from all over Greater China region (including Hong Kong and Macau) were put to an individual three hours challenge to present a special dish for all judges. Based on the total score from six categories of taste, plating, local specialty, use of ingredients, techniques and sustainability, and standard of hygiene to finally decide one winner for Bocuse d'Or China Selection 2018.
After nine hours of heated and continuing competition, Chef Alex Fu and his team from Taian Table, Shanghai won the trophy for Bocuse d'Or China Selection 2018. This trophy is also an invitation and entry ticket for the upcoming Bocuse d'Or Asia Pacific Selection 2018, which will be hosted in Guangzhou on 5th May later this year. Representing China, Chef Alex Fu and his team will compete with chefs from all over Asia Pacific region to fight for the opportunity to compete later at the Bocuse d'Or 2018 Finale in Lyon, France.