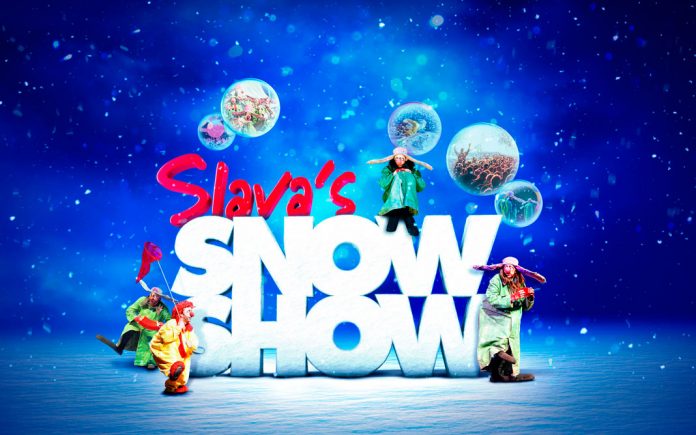 《下雪秀》是俄罗斯声名显赫的丑角大师斯拉法•波鲁林的惊世之作。斯拉法被认为是世界上最伟大的丑角,他在创作《下雪秀》的过程中,揉合了喜剧的氛围和抒情的元素,使用了极漂亮的场景、令人惊叹的舞台视觉效果和经典著名的音乐,可以说是一部非语言类、视觉艺术类的领军戏剧。该剧诞生于1993年,全剧没有一句台词,由小丑用细腻、丰富的默剧语言表现想象力十足的各种片段,观众的情绪整场随之起伏,上一刻让人直面心灵深处的悲伤与孤寂,下一刻又会破涕为笑,给观众带来令人意向不到的种种体验。
Slava's Snow Show has been put on the stage for 20 years and has toured more than 30 countries and over 100 cities. In 2007, the show received a rave review with consecutive 16 performances in Shanghai. It will arrive in Huafa CPAA Grand Theatre on January 2017 and amaze Zhuhai fans with a strong snow storm!
演出的高潮是突然其来的"暴风雪"铺天盖地袭向在场的观众。当突如其来的"狂风暴雪"猛烈地从舞台向观众席袭来时,强光照射下,强风吹得人睁不开眼睛,而此时,主角却张开双臂,在舞台中央坚毅地屹立着,勇敢而坦然地迎接这场凛冽的狂风暴雪,这感觉极其独特和震撼。这部伟大的作品曾获得来自全球观众和媒体的各种好评和赞誉,如"笑着流泪;地球上最窝心的演出;罕见的视觉美感;一次难忘的奇迹;人类快乐最纯真的表达……",等等。
据悉,该作品自横空出世至今的23年间,已席卷全球众多大奖及提名,如:1995年巴塞罗那国际小丑艺术节金鼻奖;1996年爱丁堡艺穗节先锋天使奖;1998年伦敦劳伦斯奥利佛最佳娱乐奖;2009年第63届托尼奖最佳特别戏剧提名;2016年索契年度国际专业马戏艺术奖之最佳小丑奖及年度最佳马戏奖,等等。凭借着优异的口碑,该剧已连续5年(2011-2015年)受邀于英国伦敦皇家节日大厅作为跨年演出作品,成为最受伦敦观众欢迎的国际家庭秀之一。
Snow Show is a universal and timeless theatrical poetic spectacle which has unanimously enchanted and empowered the imagination of audiences and critics since 1993 in dozens of countries, hundreds of cities with multiple thousand performances resulting in millions of ecstatic spectators from all nationalities, genders, beliefs, types and ages, probably like no other show. It is a genre of its own and remains as spontaneous and magical as on the first day it was performed, systematically catapulting adults back in childhood.
Snow Show has restored the art of clowning by seducing back all those who claim no interest in the ageing clown's traditional circuses.They call it a stage spectacular, but it's really a caravan of organized chaos, revelry and enchantment that ceaselessly trundles round the world. It offers everybody – the young and the old – an opportunity to leave their regulated lives at the theatre doors and enter a condition of delighted idiocy. We could say that Snow Show is just an excuse to celebrate life in a foolish way.
It is reported that this show has been globally nominated and awarded many times during these 23 years since its birth.
EVENT DETAILS
Friday, 20th January to Sunday, 22nd January
VVIP: 688 (暴风雪区) ; VIP: 580; 480; 380; 280; 180;
珠海华发中演大剧院 剧院厅
Huafa & CPAA Grand Theatre
Ticketing: 400 888 6845
www.zhgt.org