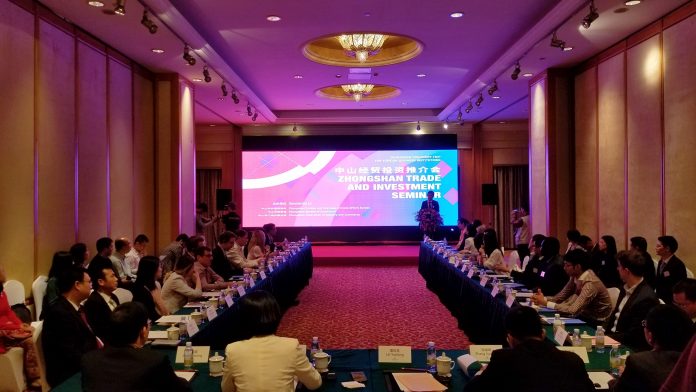 Over 21 consulate generals in Guangdong and foreign chambers of commerce took part in a business promotion event organised by Zhongshan Foreign and Overseas Chinese Affairs Bureau, Zhongshan Bureau of Commerce and Zhongshan Federation of Industry Commerce to attract more foreign investors to be a partner in the city's economic growth. The two-day event last week took the delegation of over 21 consulate generals and foreign chambers of commerce representatives from America, Germany, Switzerland, France, etc. to a site visit at Zhongshan's new development district, Tsuiheng New District. Approved by Guangdong Provincial Government in December 2012, Tsuiheng New District was set up to become one of the key development areas of Zhongshan with a concentrated construction area of 35 square kilometres. The development orientation of the District is to construct an international costal district and a centre that gathers innovation technology, advanced industries and high-tech enterprises.
Tsuihang New District is located at the east part of Zhongshan as well as in the geographical centre of the Pearl River Delta. It is a strategic "bridge" that connects the west and the east bank of the Pearl River estuaries. This district holds north to Nansha District in Guangzhou, and is connected the south to Hengqin Free Trade Zone in Zhuhai, east to Qianhai Area in Shenzhen, and is connected the west to the Torch Development Zone of Zhongshan. The delegation visited some of the strategic development projects already developed in the District, including the Sino-Swiss Industrial Park. Established in 2013, the Park is located in the core area of Tsuiheng New District, covering an area of 7 square kilometres, positioning to become a Sino-European & American synergetic development platform with the characteristics of innovation-driven, technology orientation, high-end industries, cultural integration and ecological demonstration. By now, the Park hosts a total of 24 foreign projects, including Germany Fassmer-Marland, Switzerland SSM, the United State Poolpak, etc.
By hosting this event, Zhongshan government aims to attract more foreign investment to the District. According to a Market Entity Development Statistical Report released by Zhongshan Industry and Commerce Administration Bureau for the second quarter of 2017, there are 4,017 foreign investment companies registered in Zhongshan with 3,121 of them are registered under a foreign national as company's legal person. The total capital of foreign investment has reached 2.44 billion USD. The report also shows that in the first half of 2017, Zhongshan has attracted 163 new foreign investment companies to register and set up their business in the city with a new foreign investment capital of 24.14 million USD.
For more information, please click here:https://v.qq.com/x/page/y0519tmt6ok.html  or https://www.facebook.com/db.sanjiaoling/videos/1845615882136293/