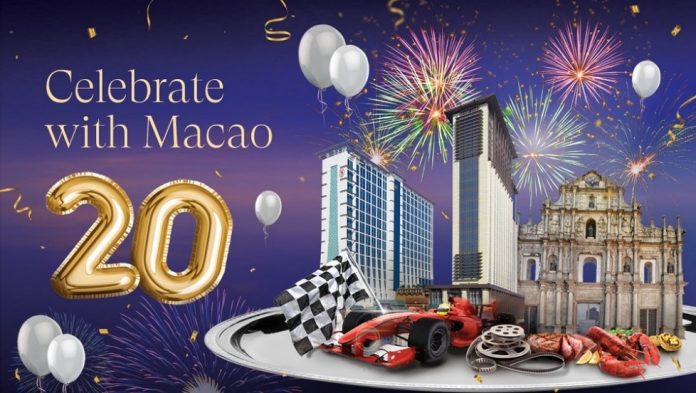 时值澳门回归二十周年,又有诸多年终节庆将接肘而来,澳门喜来登金沙城中心大酒店诚邀旅客一同感受澳门浓厚的冬季节日气氛,为此特意推出"乐庆澳门"住宿套票,让旅客尽情感受澳门的独特魅力。
At the time of celebrating the 20th anniversary of the return of Macau, as well as many year-end festivals, travellers to Macau are being invited to embrace the festive spirit this winter at the Sheraton Grand Macau Hotel, Cotai Central with a special Celebrate with Macao Package.
一票随兴,此次推出的"乐庆澳门"住宿套票,不仅可入住澳门喜来登大酒店豪华客房一晚,并可享用双人自助早餐或午餐。旅客更可享受一系列特别节庆礼遇,包括酒店餐厅、指定水疗护理、购物及一系列娱乐优惠。
All in one package! As part of the Celebrate with Macau Package, guests will enjoy a one-night stay in a spacious Deluxe King or Twin Room with a complimentary buffet breakfast for two, as well as a range of special celebration-themed extras, including discounts at hotel restaurants and spa, as well as other retail and entertainment offers.
澳门的冬季弥漫浓厚的节日气氛,宾客在入住期间将能和亲朋好友参与一连串冬日节庆活动及国际盛事,体验缤纷澳门,共度精彩时刻。大型国际赛事及活动包括有十月举办的澳门国际音乐节,十一及十二月举行的第66届澳门格兰披治大赛车和五光十色的澳门光影节,紧随其后的澳门回归二十周年庆典及圣诞节,旅客能在各处感受不同的文化色彩。
With Macau's calendar full of events and festivities right through to the end of the year, the Celebrate with Macau Package gives travellers a great opportunity to experience all of Macau's world-famous attractions and events, including the Macau International Music Festival in October, the 66th Macau Grand Prix and Macau Light Festival in November, followed by the vibrant colour of Macau in the lead up to Christmas and Macau's 20th Anniversary celebrations.
---
"乐庆澳门"住宿套票包含了以下礼遇:
The Celebrate with Macau Package includes:
• 豪华入住豪华大床房或双床房
• 于指定餐厅享用双人自助早餐或午餐
• 以港幣20元於喜柏咖啡酒廊享用指定咖啡或茗茶一份
• 以港币20元于桃园中餐厅享用特别礼遇
• 于炫逸水疗可享指定水疗护理八折优惠
• 所有酒店餐厅八折优惠
• 金光飞航船票、历险Q立方、历险Q立方2、Q立方王国、澳门巴黎铁塔、Planet J冒险王国、Ed Hardy及Calvin Klein折扣优惠
• Accommodation in a Deluxe King or Twin Room
• Buffet breakfast for two at a designated restaurant
• HKD 20 for a coffee or tea at Palms Café & Bar
• HKD 20 for a special treat at Yum Cha Chinese Restaurant
• 20% off selected spa treatments at Shine Spa
• 20% off food and beverage at hotel restaurants
• Special offers and discounts from Cotai Water Jet ferry, Qube, Qube 2, Qube Kingdom, Eiffel Tower, Planet J, Ed Hardy and Calvin Klein
旅客更可以每晚港币1,488++起升级至行政套房并尊享行政酒廊特别使用权,享受更舒适的住宿体验。
Guests can upgrade their stay to a luxurious Executive Suite with complimentary access to the Sheraton Club from just HKD 1,488++*.
++*上述价格须加10%服务费及5%政府税
++* Subject to a 10% service charge, and 5% government tax
---
"乐庆澳门"住宿套票
The Celebrate with Macau Package
双人住宿每晚由港币1,038++*起
Available from HKD1,038++* per night
即日起至2020年1月23日
From today till 23rd Jan., 2020
Tel: +852-6269 9088
4001-693-388
sheratongrandmacao.com