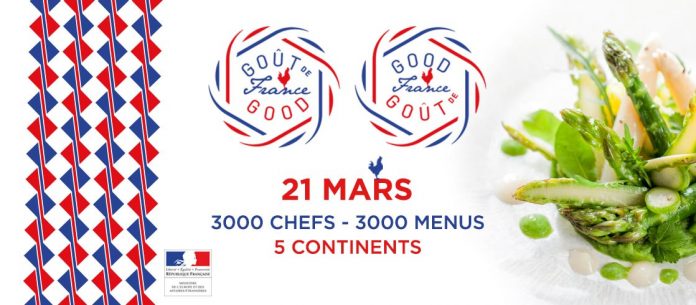 2018年3月21日:"好味法兰西"美食活动将在五大洲汇集3000名厨师、3000份套餐
On 21st March 2018, Goût de/Good France will bring together 3,000 chefs and 3,000 menus on five continents
3月21日,"好味法兰西"将汇集150个国家的3000多家餐厅以节日的形式弘扬法国美食。由法国欧洲与外交部和名厨阿兰·杜卡斯联手打造的这场盛宴源于奥古斯特·艾斯克菲在1912年推出的"伊比鸠鲁晚餐":同一天在世界各地的城市向最大数量的宾客提供同一份套餐。
On 21st March, over 3,000 restaurants in 150 countries will participate in the Goût de/Good France event to celebrate French gastronomy. This event, orchestrated by the French Ministry for Europe and Foreign Affairs and chef Alain Ducasse, is inspired by Auguste Escoffier, who launched the "Dîners d'Épicure" (Epicurean Dinners) initiative in 1912: the same menu, on the same day, in several world cities, for as many guests as possible.
世界各地的厨师们将借一顿晚餐的形式表达对法国烹饪的敬意,推崇其卓越性、创新力以及所承载的价值共识:在尊重地球和人类健康的基础上分享并愉悦。
Chefs from all over the world will cook a dinner to pay tribute to the excellence of French cuisine and its capacity to innovate and unite people around the common values of sharing and enjoyment in a planet-friendly and healthy way.
目标:弘扬法式生活艺术和地方特产,更广一点就是向世界推介法国。实际上,有三分之一的游客表明他们到法国来是冲着法国的美食,"法国美食大餐"已被联合国教科文组织列入非物质文化遗产名录。
The aim is to showcase the French lifestyle, regional products and, more broadly, to promote France as a tourist destination worldwide. A third of tourists have in fact said they visit France to enjoy its cuisine, including the "gastronomic meal of the French" inscribed on UNESCO's list of Intangible Cultural Heritage of Humanity.
"好味法兰西"套餐包括一道"丰盛"的餐前酒、一道前菜、一道或多道主菜、奶酪和甜点,配有法国葡萄酒和法国香槟。
The Goût de/Good France menu includes an aperitif with finger food, a starter, one or two main course(s), a cheese platter and a dessert, accompanied by French wines and champagnes.
全球各地的餐馆,从高档的美食餐厅到优质的小酒馆都可以登录www.goodfrance.com 网站申请参加,同时提交一份弘扬法国美食的套餐菜单:以新鲜、当季并且就地取材的产品加以烹饪。
Restaurants the world over, from high gastronomy to high-quality bistros are invited to apply on www.goodfrance.com by proposing a menu that showcases French gastronomy, a cuisine using fresh and seasonal regional produce.
国际厨师评选委员会将于2018年1月31日开始确认入选厨师名单。该委员会将负责评估各地注册餐厅所提供套餐的一致性和质量。
An international selection committee of chefs will approve the list of participating chefs as from 31st January 2018. The Committee will assess the coherence and quality of the menus proposed by the restaurants that have signed up in their respective geographic areas.
2017年3月21日,有2000多位厨师参加了活动。此外,在150多家大使馆、在庞洛公司的海中游艇上、在法国航空公司24小时内运营的空中航班上也都供应了活动晚餐。总计,近25万人在3月21日晚品尝了"好味法兰西"的晚餐。
On 21st March 2017, over 2,000 chefs participated in the Goût de/Good France event. The Goût de/Good France dinner was also served in over 150 French embassies, across the seas on board Ponant Company cruise ships, and in the air for 24 hours, on Air France flights. In total, over 250,000 people savoured Goût de/Good France dinners on the evening of 21st March.
本次第四届好味法兰西活动的重点将是与法式晚餐不可分割的法国葡萄酒和法国烈酒。活动还将推介新阿基坦大区,那里是优质产品、美食、上等葡萄酒和美食餐厅的代名词。
French wines and spirits – an essential part of the French dinner – will be the highlight of this fourth Goût de/Good France event. Special focus will also be given to the Nouvelle-Aquitaine region with its high-quality products, gastronomy, exceptional wines and outstanding restaurants.
---
好味法兰西华南地区: 参加活动的餐厅名单
List of the participating restaurants in South China
广州圣丰索菲特大酒店Le Grill (广州)
Le Grill, Sofitel Guangzhou Sunrich (Guangzhou)
广州富力君悅大酒店 (广州)
Grand Hyatt (Guangzhou)
橄榄园餐厅 (广州)
Jardin d'Olive (Guangzhou)
广州W酒店WET餐厅 (广州)
WET at W Hotel (Guangzhou)
麦琪家法国餐厅 (广州)
Chez Maggy (Guangzhou)
L'Etoile法国餐厅 (深圳)
L'Etoile (Shenzhen)
Greg's法国餐厅 (厦门)
Greg's Restaurant (Xiamen)
Fuel露台江景法餐 (广州)
Fuel by Grégorie LOURAICHI (Guangzhou)
皮尔先生法餐 (广州)
Le Fournil de Pierre (Guangzhou)
---
更多关于"好味法兰西"的信息
More about Goût de/Good France 2018
http://www.goodfrance.com/
致信"好味法兰西"
Write to Goût de/Good France 2018
Email: good.france@diplomatie.gouv.fr
更多关于法国文化与美食在华南的信息
Read more about French Culture and Cuisine in South China